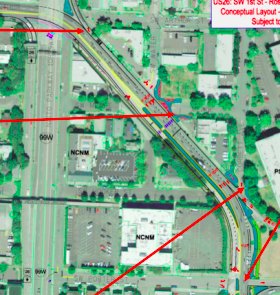 Detail of project plans.
(ODOT graphic)
The Oregon Department of Transportation (ODOT) has just rolled out plans for a project that will improve biking and walking access along SW Kelly Avenue near US 26 and the western end of the Ross Island Bridge.
Along with project partners TriMet and the City of Portland, ODOT will make a host of significant changes along SW Kelly Ave., including the reduction of motor vehicle lanes, new median islands, new bike lanes, installation of rapid flash beacon, new crosswalks, a bus stop improvement, and even a new path to connect bikers and walkers to the forthcoming Gibbs Street Bridge.
ODOT project manager Robert Hopewell says they started looking at this area three years ago after getting feedback from local residents and business owners. After launching an in-depth analysis of how Kelly Ave was being used, Hopewell says, "We determined we had a facility that seemed out of date for what it's being used for today and that we could remove a southbound lane on Kelly Ave."
Here are a few images and notes from ODOT (captions taken from project website) describing what's in store:
Kelly Avenue at Naito Parkway
Reduces the exit to Naito Parkway from northbound Kelly Avenue from two lanes to one.
---
Kelly Avenue at Meade Street
Constructs a cul-de-sac on Meade at Kelly Avenue. Drivers will access Meade via Water, Arthur & Corbett. Installs a Rapid Rectangular Flash Beacon and marked crosswalk on Kelly Avenue just south of Meade. Removes the inside southbound Kelly Avenue travel lane and replaces it with a raised concrete median island (from Meade to just south of Corbett).
---
Kelly Avenue at Corbett Avenue
Restricts access to Corbett Avenue from Kelly Avenue for drivers traveling from the Ross Island Bridge – drivers will access Corbett via Water and Arthur.
---
Kelly Avenue at Porter Street/Hood Avenue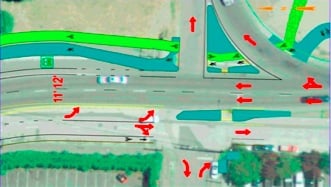 Replaces the existing northbound Kelly Avenue access to Corbett with a new bus pullout and stop. Installs a sidewalk and a new bike path adjacent to the new bus pullout. Installs a pedestrian refuge island at the intersection of Kelly and Porter. Installs a pedestrian refuge island at the intersection of Kelly Avenue and Hood Avenue.
---
Kelly Avenue at Hood Avenue
Installs a sidewalk with an adjacent planter strip that will connect to the new Gibbs Street Pedestrian Bridge.
ODOT didn't have funding for the project initially, but spokesperson Shelli Romero says the agency had several recent projects that came in under budget so they allocated those savings to this project.
Estimated cost of the project is between $500,000 and $600,000. PBOT has also stepped in and will contribute around $40,000 to install a rapid flash beacon on Kelly Ave just south of Meade St. TriMet's getting into the act too with a $20,000 contribution toward the bus stop improvement.
Construction is estimated to begin in November 2012 and wrap up by August 2013.
ODOT is hosting an Open House on the project at the National College of Natural Medicine (2717 SW Kelly Ave) on April 18th between 5 and 7:00 pm.
For more on the project, check out the detailed image below (click for PDF):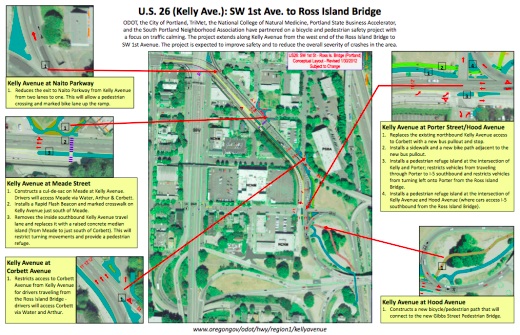 Contact Jonathan at @jonathan_maus on Twitter, via email at maus.jonathan@gmail.com, or phone/text at 503-706-8804. Also, if you read and appreciate this site, please become a supporter.