Eric Carter rides in the newly
rebuilt Eichler Bike Park.
(All photos © Tim Zimmerman)
The non-profit Northwest Trail Alliance has wrapped up work on their major renovation to the bike park in Eichler Park near downtown Beaverton (13710 SW Farmington Road).
The new design features three different "jump lines" suitable for all skill levels as well as a small pump track where riders flow through a series of whoops and berms to build momentum. The park was specifically designed for both 20-inch (kids/BMX) and 26-inch (MTB) wheeled bikes.

As you can see in the photos below, it's fun for all ages. Check out young rider Max Suffin…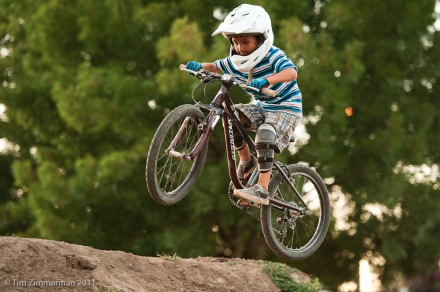 Mike Hogan is a local rider who was one of the key builders of the new bike park…
Speaking of building, a project like this is only possible because of dedicated volunteers…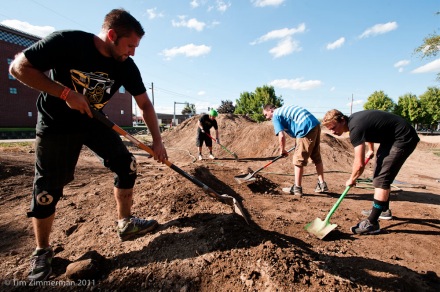 And one more shot of GT-sponsored pro Eric Carter…
The NTWA signed an agreement with Tualatin Hills Parks and Recreation District (THPRD) back in April to redesign, rebuild and manage the long-neglected park.
Speaking to the rise in popularity of this style of riding, THPRD project management and support coordinator Jon Campbell said, "This partnership is really just a great way to provide something we don't have anywhere else in the district."
To celebrate the completion of the park, the NWTA is hosting a grand opening party on September 24th.
As I shared back in April, this is one of two urban bike park projects the NW Trail Alliance is actively working on. Just this week, the group signed an agreement with the City of Portland to build a new pump track at Ventura Park in East Portland. Stay tuned for more on that project, including the announcement of work parties to help get it started.