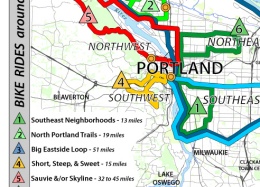 PBOT is at it again. Last fall we shared a new series of maps that offered detailed routes of 100+ mile bike rides/tours you could easily take from Portland. Now they've completed a new series of maps for rides that offer quick escapes without leaving the city.

At their Best Rides Around Portland webpage, PBOT offers free maps of seven great rides — from the Springwater Trail in Southeast all the way north to Sauvie Island, and some fun routes in between. The routes range from flat to hilly and from short (like the 13 mile "Southeast Neighborhoods" loop) to long (like the "Big Eastside Loop" at 51 miles).
PBOT's bike map expert Jeff Smith says, "The intention of these suggested recreational rides is to give Portland visitors, new residents, new bicyclists, and experienced utilitarian cyclists who are interested in starting to do some recreational rides an idea of where to go for some good rides right in central Portland."
The maps point out bike shops along the route, have symbols marking where the hills and caution areas are, and even have arrows pointing in the recommended loop direction. Turn-by-turn cue sheets are also included in the free PDF downloads.
These maps have been developed by PBOT's Transportation Options Division, with a goal to make it easier for folks to make more trips by bike.
Print out these maps (or load them onto your smartphone), grab the City's new Public Art App, and you've got a perfect way to spend the day.