Tomorrow's meeting will likely be
packed as the fate of $24
million hangs in the balance.
(Photo © J. Maus)
Active transportation advocates will be listening closely to Metro's 17-member Joint Policy Advisory Committee on Transportation (JPACT) when they meet tomorrow morning. Based on proposals currently on the table, JPACT's vote on how to set parameters for doling out $20-24 million in federal funds is likely to result in less funding for biking, walking and trail projects.

JPACT is deliberating how to allocate their pot of Regional Flexible Funds from the federal government — a funding source that has played a critical role for active transportation infrastructure in past years. In the last week, nearly ever major biking or walking committee and group in town has put out urgent notices warning about tomorrow's decision. Meanwhile, freight advocates and a new coalition have emerged (with a message backed by a PR firm) to persuade JPACT to invest more of these funds in "green" freight projects.
The reason for debate this time around is because JPACT has decided to try "a more strategic approach" and wants to "develop a more collaborative method for supporting transportation investments."
Unfortunately for active transportation advocates, this new allocation method is very likely to result in a decrease in funding for biking and walking projects.
Freight advocates are pushing for a 75/25 funding allocation in their favor, while active transportation advocates want the opposite — a 75/25 split — in their favor. Seeking a compromise, sources say JPACT might opt for a 60/40 split in favor of active transportation.
That 60/40 split would be a blow for active transportation advocates (the BTA says they won't support it), but even in the best case scenario — an allocation of 75% of the funds to active transportation — biking and walking projects will still see a decrease.
In the last five Regional Flexible Funds funding cycles, the "Active Transportation/Complete Streets" category has received 79% of the available funds ("Green Economy/Freight Initiatives" have received 21% of the funds). If JPACT decides on 75% for active transportation tomorrow morning, it would mean a decrease in funding for biking and trail projects.
Yesterday, the City of Portland's Bicycle Advisory Committee sent a letter to Mayor Adams (a JPACT member) urging him to support the highest level of funding possible for active transportation. They also noted that any funding decrease would be even more severe this year because the definition for projects eligible in the "Active Transportation/Complete Streets" category has been expanded to include things like bus stop development and green street features — things that had previously been considered separately from biking, walking and trail projects (and thus increasing competition for an already smaller pot of funds):
"Under this scenario it is conceivable that pedestrian, bicycle and trail projects could receive significantly less than they have in the past. In our minds, this simply strengthens the argument that the active transportation category should receive as much funding as possible."
The graph below was produced by PBOT. It shows the historical allocations of flexible funds toward active transportation. The three lines on the right side represent three funding scenarios (the green one being the 75% scenario):
Given the importance of this funding source for active transportation projects (it accounts for 30% of the total amount of dollars spent on such projects in our region in the past 15 years) it's understandable why advocates are concerned about any decrease.
In that same letter mentioned above, the City's BAC presented a graph that illustrates how much money has been spent on road, bridge and freight projects relative to biking, walking, and trail projects in the past 15 years: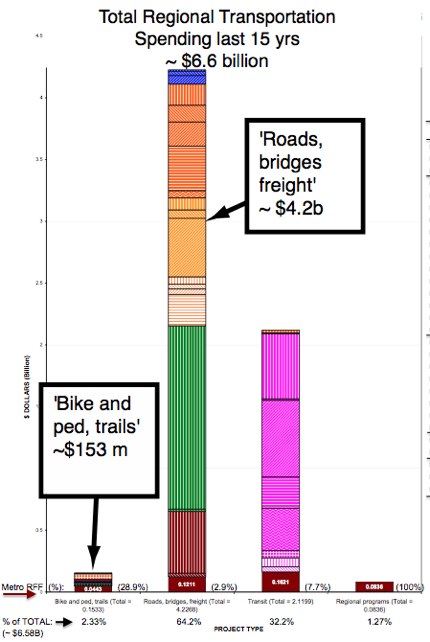 Regional Flexible Funds make up a large percentage of the relatively small chunk of money our region spends on biking and walking projects.
Those numbers above give support to active transportation advocates' claims that freight advocates should find other sources of funds for their projects. Also, as pointed out by a commenter below, that graph contradicts the claim made in a document we shared from a pro-freight campaign that, " A disproportionate share of… dollars available for transportation projects… are being allocated to… bicycle, pedestrian, and commuter infrastructure while critical freight-related projects go unfunded."
The 17 member JPACT panel is made up of elected leaders and other representatives from Oregon and Washington (see this PDF for a list of members). Their decision will be forwarded (and likely adopted by the full Metro council) and the project selection process will begin this fall.
Contact Jonathan at @jonathan_maus on Twitter, via email at maus.jonathan@gmail.com, or phone/text at 503-706-8804. Also, if you read and appreciate this site, please become a supporter.