Posted by Spencer Boomhower on February 2nd, 2009 at 10:39 am
[Editor's note: This guest editorial was written by first-time BikePortland contributor Spencer Boomhower. Spencer testified in front of City Council during a hearing on the Columbia River Crossing held last Thursday.]

Spencer Boomhower
I'm sitting at a table with a microphone sticking in my face, and a little digital counter telling me how much time I have to talk. Or rather, telling the guy to my right how long he has to talk; I'm up next, after him. I recline in the polished wooden chair, cast my eyes down, and try to relax.
I look up and I'm faced with a who's-who of local-politics luminaries straight out of my voting guide: Randy Leonard, Amanda Fritz, Sam Adams, Dan Saltzman, and Nick Fish. This doesn't help.

I'm about to give testimony in front of the Portland City Council, on the Columbia River Crossing I-5 bridge project. The council is meeting to receive public testimony on the number of lanes for the proposed bridge.
"I have a devotion to sustainable communities, and the nagging feeling that pouring several billion dollars into yet another piece of massive highway infrastructure is a Really Bad Idea."
I came to this meeting to contribute my two cents, but seeing the VIP status of the many people testifying – the business leaders, the community leaders, the union leaders – and seeing how many of them there are (over 60, the clerk at one) makes me hesitate. In part because of my relative lack of preparedness. Oh, and my stage fright. And then there are the other speakers. I mean, these people have written down what they're going to say! And they have suits!
advertisement
Myself, I'm no pro. I just find this stuff wildly interesting because I have a devotion to sustainable communities, and the nagging feeling that pouring several billion dollars into yet another piece of massive highway infrastructure is a Really Bad Idea. That and another nagging feeling which tells me that this deserves my attention, despite the fact that I hardly ever use the current CRC, comfortably and safely ensconced as I am in my pleasant Southeast Portland Neighborhood.
So I switch into observer mode, making rough notes of the testimony: for and against, salient points, and how many lanes they favor.
There's solid support in the room for a 12-lane CRC. With transit, with bike and pedestrian facilities to be sure, but make no doubt about it, TWELVE, that's ONE-TWO, lanes. Anything less would be unthinkable.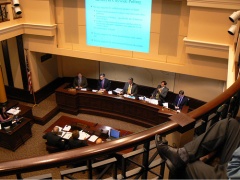 A view from the balcony during
public testimony at City Hall in 2008.
(Photo:
Matt Picio
)
These folks have some compelling testimony. They haul cargo, and are stuck for hours trying to cross the bridge. They are EMTs, and they're stuck for hours trying to cross the bridge. Their livelihood — and by extension, ours — depends on their being able to get from point A to point B on time, but — you guessed it — they're stuck for hours on the bridge.
One gentleman who lives on Hayden Island jokes that the over 50% of residents over age 60 on the island time their heart attacks so as to not coincide with the impenetrable rush-hour traffic.
The day's testimony is skewed, as you might expect, toward people living up around the crossing, and/or who are severely impacted by the shortcomings of the current bridge. I don't see many of my Southeast Portland neighbors represented here. I stop taking notes after the 42nd speaker, but my tally up until then is: 34 wildly in favor of the 12-lane option.
There are some impressive speakers on the smaller-bridge side of the argument, despite their being distinctly in the minority. CRC critics include economist Joe Cortright and businessman Ron Buel (who had an opinion piece on the project in last Sunday's Oregonian).
In the hot seat at City Hall
in 2008. (Photo:
Matt Picio
)
These two are among the few speakers who are challenged and questioned by the council. This is notable, coming as it does after the many 12-lane proponents made their cases to a mostly impassive council. Cortright and Buel seem a little taken aback by the challenges. Commissioner Nick Fish is quick to point out that as such high-profile speakers that it's assumed they can withstand the challenge.
The clerk calls my name, and the counter resets: I'm on. I start talking, more or less hitting my talking points, though I'm distracted by a fluttering motion on the big video screen above my head. The commissioners look like they want to go home, which is understandable, considering it's three hours in, and I'm the final speaker. At least they're not asking me questions!
All jitters and unpreparedness aside, I'm glad I testified, even if I only got out a fraction of what I wanted to say.
I encourage others to speak up also. The CRC has huge implications for sustainable development, transportation planning, and allocation of funds that will impact Portland cyclists from multiple directions, for years to come. Those of use who will be affected by the project — and that's pretty much all of us — need to get our say in while we still can.
— Metro will hold a public hearing on the CRC on Thursday, February 5 at 2:00 pm (600 NE Grand Ave.). Portland City Council is scheduled to make their decision about the number of lanes on February 25th. Browse our previous CRC coverage here.