TriMet's 7.3 mile Portland-Milwaukie Light Rail project includes a new bridge that will cross the Willamette River. The bridge is poised to be the nation's first-ever transit/bike/ped only crossing and TriMet, along with bridge designers and other project stakeholders have narrowed down the design to two — a cable-stay, or a "wave" design.
The adopted alignment leave the South Waterfront (south of the Marquam Bridge) and will land on the east side just south of the Oregon Museum of Science and Industry.
Randy Gragg has covered the design issues very closely over at Portland Spaces and today, the Portland Architecture blog has more discussion and analysis of the cable-stay and wave designs.
Here are renderings from Rosales and Partners of the two potential designs. How would you feel biking over them?
The cable-stay design.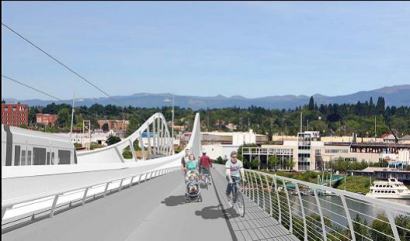 The wave design.
If I had to choose, I would go with the wave design. I like the uncluttered views it offers.
The design of the bike and pedestrian facility on the bridge is still being discussed (it will definitely exist, but width, etc… is still being worked out). TriMet project managers presented their thoughts at the City of Portland's Bicycle and Pedestrian Advisory Committee meeting on Tuesday. We'll have more on that next week.
Construction is set to begin in late 2011 with completion in 2015.
— For more on this project visit, TriMet.org.