by Jonathan Maus ( Publisher/Editor ) on August 21st, 2012 at 2:55 pm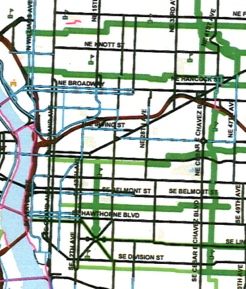 Is your favorite greenway on the
map? See larger version below.
At their meeting tomorrow, the Portland Bureau of Transportation (PBOT) will ask City Council to adopt a map of streets where they plan to install hundreds of new 20 mph signs.
Back in July, I shared details on how PBOT plans to roll out the new signs. The signs are the final piece of PBOT's effort to lower speed limits on low-traffic neighborhood residential streets that are part of the existing neighborhood greenway network. (PBOT helped pass a state law in 2011 that gave them the authority to reduce speeds by 5 mph in certain circumstances.)
According to the ordinance filed by the City, they're planning to install up to 300 new signs on 70 miles of streets. Most of the installations will be on already well-known neighborhood greenways streets in north, northeast, and southeast Portland. A few streets in southwest will also get the treatment, including portions of SW Illinois, Vermont, Maplewood, 52nd, SW Cheltenham, and others. Only a few of the signs will be installed downtown, with SW Harbor Way near Riverplace the only location in the plans. PBOT plans to eventually install some in the Pearl District/Northwest Portland area, but they are still analyzing data. (more…)