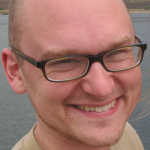 by Michael Andersen (Contributor) on October 10th, 2013 at 10:52 am
An unsafe street that isn't being improved can be one of the most frustrating experiences in city life. One of Portland's most thoughtful safety activists has some smart ideas on what to do next.
This exchange in our comments section came from a story this summer about a hit-and-run that injured a nine-year-old girl at North Bryant and Borthwick, on a neighborhood greenway that's supposed to be free of fast-moving auto traffic but which was, according to a reader who once lived there, built to invite fast speeds. Several readers expressed frustration with the difficulty of getting police to do speed enforcement in a spot like this; one, Kevin Wagoner, said he's tried calling the city's official 503-823-SAFE line in a similar situation to no avail.
Here's Ted Buehler's response, lightly edited: