by Jonathan Maus ( Publisher/Editor ) on July 26th, 2012 at 1:08 pm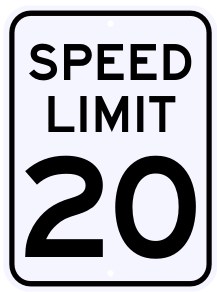 Portland is about to embark on a new era in traffic safety. The Portland Bureau of Transportation (PBOT) is prepping plans to install 250-300 new 20 mph speed limit signs throughout the city's expansive network of bike-friendly streets known as neighborhood greenways. The plans come after the City and advocacy groups worked to pass a new law in the 2011 legislative session that, for the first time, gave PBOT the authority to change existing speed limits without going through the Oregon Department of Transportation.
The law gives PBOT the authority to lower the speed limit on certain residential streets by 5 mph. There are specific criteria that must be met before a street can get the 20 mph signs such as; the number and speed of motor vehicles and the types of engineering improvements that are installed. The law also said each roadway must be specified in ordinance and passed by City Council before going into effect.