Friday, March 28th, 2014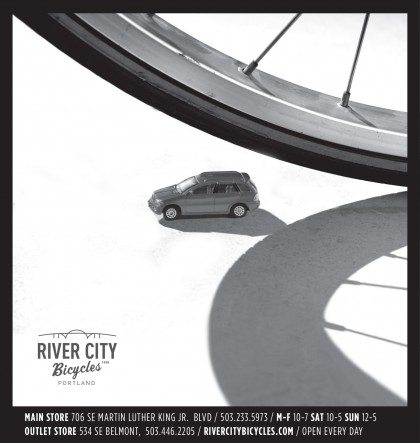 He's co-created major TV ads, like this one launching Apple's iPad Air. He led the team that came up with Oregon Humane Society's "End Petlessness" campaign and the concept for Oregon Public Broadcasting's signature news show, Think Out Loud.
One year, in a gig he's still sheepish about, he commuted weekly from California to Detroit to do ad work for Chevrolet.
But about 20 times each year for the last decade, Andrew Reed has sat down with Adobe Illustrator to put together River City Bicycles' quarter-page black and white ad for page 3 of Willamette Week.
"I can't think of another bike shop in the country that does this," said Reed, a freelance creative director who moved from Portland to Los Angeles in 2012, in a phone interview Thursday. "It's kind of a life's work kind of thing."