by Jonathan Maus (Publisher/Editor) on April 29th, 2016 at 1:07 pm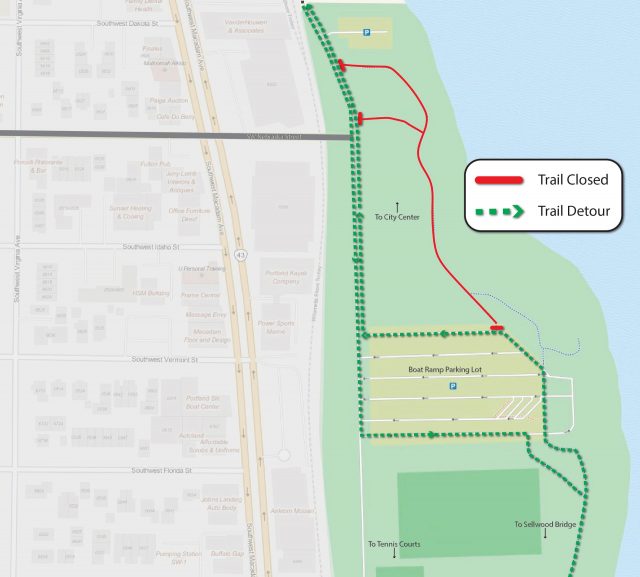 The City of Portland is doing work near Willamette Park on their Hannah Mason Pump Station Project that will close the Greenway Trail for three weeks beginning Monday May 2nd.
The official city press release is below:
Hannah Mason Pump Station Project Update
Greenway Trail Detour

April 28, 2016​​

Trail Detour – Beginning the week of May 2
Section of Greenway Trail Temporarily Closed in Willamette Park

As part of the Hannah Mason Pump Station construction1 project, a section of the Greenway Trail in the north area of Willamette Park will be closed for three weeks beginning Monday May 2. Bike and pedestrian traffic should follow detour signs and connect back to the Greenway Trail through the boat ramp parking lot in the center of Willamette Park.

The closure is required to make improvements to the Greenway Trail within Willamette Park. Travelers are reminded to exercise caution, obey closure signs and follow detour/traffic control signs due to the busy activity in the parking lot and along the main road in the park.

Click here for detour map or visit www.portlandoregon.gov/water/article/574851.

For more information contact Sam Beresky or Kenya Williams at 503-235-5881.

Project Information
The Hannah Mason Pump Station is being built to replace the aging Fulton Pump Station on SW Nevada Street. Work began in March 2015 and will continue into fall of 2016. The Portland Water Bureau is working closely with Portland Parks & Recreation and other local agencies to coordinate this project with ongoing operations and other projects in the area. The Water Bureau will keep neighbors, local businesses, and other stakeholders updated as work progresses. For more information, visit www.portlandoregon.gov/water/hannahmason.