*** Update, 5/16/2023: The SW Gibbs Street closure has been extended another week until May 19th according to a sign posted at the site. ***
Cyclists and pedestrians scrambled to find alternate routes to the Oregon Health & Science University (OHSU) on Monday, the first day of a two-week road closure at the western entrance to the Marquam Hill campus.
SW Gibbs Street is the only direct access to OHSU from the west and its closure has left OHSU employees and students who walk and cycle to work in a lurch. Although the closure is marked with detour signs, the detour is only practical for drivers.
Early this morning, I followed the marked detour from the east end of the Gibbs closure down the hill to the city center, and then back up Marquam Hill along SW Broadway Dr, and then took the Fairmount loop to campus. That's right, this two-block Gibbs closure has been assigned a four and a half-mile detour, involving elevation changes of several hundred feet. And as the sign says, cyclists and pedestrians should take this route too!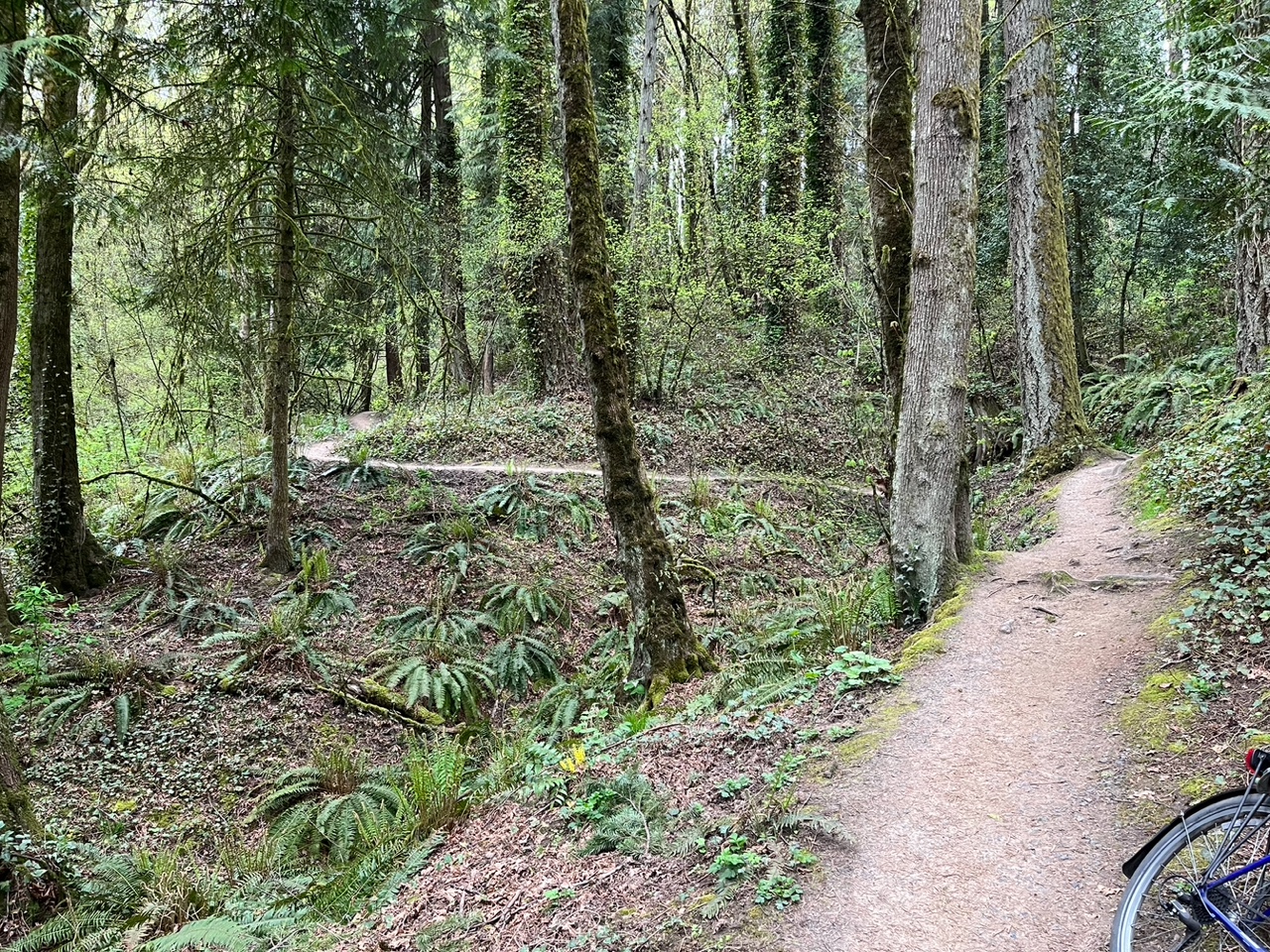 As a service to the community, allow me to suggest an alternate detour for sure-footed cyclists (below). This involves taking one of the Marquam Nature Park trails from near the water tank on SW Marquam Hill Rd to SW 12th Ave. It's a short trail, not flat, but you can walk it with a bicycle.
I've learned that some pedestrians are also taking the "Whitaker easement," which you can reach from Marquam Hill Rd by going up the staircase near the pump house of the same water facilities.
If you don't want to dismount, and are OK with adding about a half hour to your commute, a scenic (and safer) alternative to the official detour is shown along Fairmount Blvd to Terwilliger.
That gets the practical matter of how to get to work out of the way. Now I can focus on how poorly this has been handled. Gibbs Street is closed directly in front of the new apartment building BikePortland has been covering, the one with the frontage on which the city will not allow the developer to build a sidewalk. The closure is most certainly for utility hookups and shoulder widening.
The city, for its part, has gone from treating people who don't commute by car as an after-thought, to not considering them at all. Maybe it is not possible to keep open a four-foot wide path through the utility hookups. Maybe. But a group of city reviewers who did not see the need for a protected sidewalk on the dangerous curve at the building's frontage, might also not have given much thought to what pedestrians and cyclists might need during the road closure.