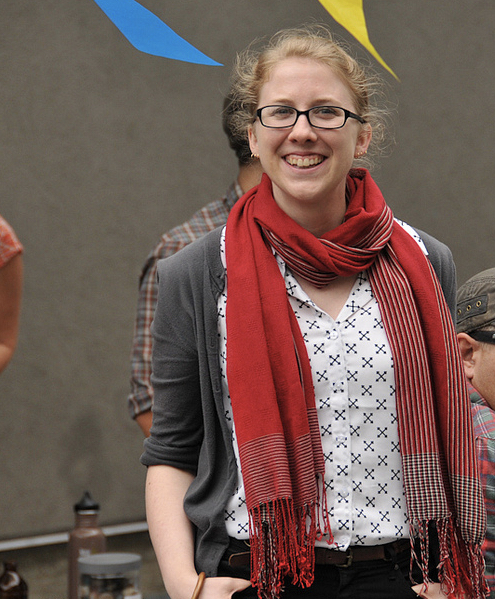 Katrina Johnston-Zimmerman is putting what she learned in Portland to very good use: addressing the sexism in urban planning and helping women take leadership roles in how our cities are designed.
"The city, as we know it today, has been designed and shaped primarily by men," she wrote in a recent email, "By bringing women's voices to the forefront of the urban discussion, the Women Led Cities Initiative aims to achieve a greater level of equity in urban planning and design – both bottom-up and top-down – and start conversations about developing feminist city policy towards greater equality for all people in our cities."
Johnston-Zimmerman, an urban anthropologist with a Master of Urban Studies degree from Portland State University (and who shared a guest article here on BikePortland in 2013), moved to Philadelphia a few years ago; but not before cutting her teeth on local activism efforts like Better Block and Parking Day. Back in 2012 I worked with Johnston-Zimmerman (and two others) on a project for GOOD Magazine where we envisioned a Portland where bicycling was just as easy as driving or taking transit.
Those projects were just the start for Johnston-Zimmerman. She's also founder of the THINK.urban consulting firm, part of the tandem (along with fellow urbanist Kirsten Jeffers) that hosts the Third Wave Urbanism podcast, and one of the driving forces behind the Women Led Cities initiative.