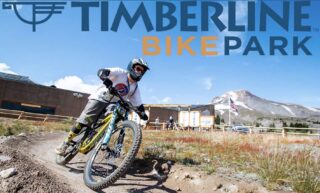 After finally opening last summer following years of major lawsuits and then facing impacts of a viral pandemic, Timberline Bike Park has had a rough first year.
But with snow clearing from upper sections and thanks to many hours of trail maintenance, the mountain is ready to welcome customers starting tomorrow, July 10th. It's perfect timing for everyone itching to ride their new bike and bust out of their neighborhood quarantine rut
An announcement yesterday said four trails will be rideable during this phased opening: Gravy Train (long green, beginner/flow trail), Re-Align (blue intermediate machine built flow trail), The Rock (blue hand built intermediate trail), and Camino de Michoacán from Norm's down (black advanced trail). Timberline says more trails will open within the next few weeks.