Posted by Jonathan Maus (Publisher/Editor) on May 17th, 2013 at 12:36 pm
"We really do not have a problem with mountain biking at all. In fact, we would affirmatively support mountain bike access on Mt. Hood and we'd love to build allegiances with those folks, but we just don't believe this is the proper place for this development."
— Rhett Lawrence, Conservation Director, Sierra Club (Oregon Chapter)
Plans to build a mountain bike park on Mt. Hood have taken another turn. Yesterday, four non-profit organizations filed a lawsuit against the U.S. Forest Service (USFS) to stop the project. The plaintiffs on the suit are Bark, Friends of Mt. Hood, the Northwest Environmental Defense Center, and the Oregon Chapter of the Sierra Club.
In the 56-page lawsuit (PDF), that coalition says the area of Mt. Hood where RLK & Company wants to build the Timberline MTB Park is, "ecologically significant" and consists of ,"fragile alpine ecosystems" that feed directly into Still Creek and the west fork of the Salmon River. The plaintiffs also claim that the Forest Service did not adhere to adequate public processes as defined by federal environmental review laws.
The project would build 17 miles of new, lift-assisted mountain bike trails on a 500-600 acre parcel of land (*I originally posted the incorrect acreage). In November of 2012, the Forest Service approved RLK's permit to build the park. In doing so, a USFS rep said he believes that mountain biking at Timberline, "represents yet another new opportunity for play in every season of the year." An appeal of that decision made by an even larger coalition of environmental groups was denied back in March (it's interesting to note that some groups on the original appeal have chosen not to join this new lawsuit).

In a statement (read full text below), Bark's Lori Ann Burd said, "The fragile alpine soils at Timberline are the wrong place for a downhill lift-assisted mountain bike park." Dennis Chaney with Friends of Mt. Hood referred to the project as an "adventure park" and said it would jeopardize Mt. Hood, "… by allowing high-speed downhill biking, races, and more development."
The Sierra Club's participation in the lawsuit, with their 580,000 members nationwide and 20,000 members in Oregon, is significant. They're walking a very fine line given their history in working with mountain bike advocacy groups on national wilderness policy. In their "Park City Agreement" with the International Mountain Bicycling Association, Sierra Club says they see mountain biking as, "a legitimate form of recreation and transportation on trails, including single track, when and where it is practiced in an environmentally sound and socially responsible manner."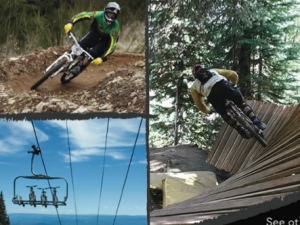 Image from Timberline Mountain Bike Park brochure.
In a statement about the lawsuit, Sierra Club Oregon Conservation Director Rhett Lawrence was careful to not say anything against mountain biking specifically. Their opposition has more to do with the USFS process and a general lack of trust that RLK/Timberline have been — and will be — good land stewards. In an email to BikePortland about the lawsuit, Lawrence explained that, "Though they may not believe it, we really do not have a problem with mountain biking at all. In fact, we would affirmatively support mountain bike access on Mt. Hood and we'd love to build allegiances with those folks, but we just don't believe this is the proper place for this development."
Portland resident Billie Cleek plans to end his Bark membership due to their continued opposition to this project. He contacted us after we shared news of this lawsuit via Twitter yesterday. Cleek is a frequent visitor to Mt. Hood for hiking, snowboarding, and mountain biking. He calls himself a "preservationist" and he wants to see more areas designated as wilderness (which prohibits mountain biking). But "Mt. Hood is not wilderness," he says, "It's a national forest." As such, he thinks it should be used for recreation. "Seventeen miles of single track below one of the lifts at Timberline lodge is not much. Modern trail building techniques result in significantly less run-off than many people realize. The trail system at Sandy Ridge [a few miles down the mountain from Mt. Hood] is a great testament to our ability to build solid trail without significant run-off."
"I have yet to see an explanation from Bark, Friends of Mount Hood, or Sierra Club that makes a strong case against the park; most arguments they are making seem to be based on faulty assumptions and/or fear. I'm more concerned about clear cuts, high grading, and ATV use throughout Mt. Hood National Forest than I am about a small mountain bike park in an already developed section of the mountain," added Cleek.
For more coverage of this issue — including a guest article from Bark explaining their opposition in more detail — browse our Timberline MTB Park story archives.
UPDATE: 2:19 pm: The Executive Director of the Oregon Bicycle Racing Association Kenji Sugahara has contacted Sierra Club leadership to express his "disappointment" with their decision. Read his email to Brian Pasko below:
Dear. Mr. Pasko,

On behalf of the 5,000+ members of the Oregon Bicycle Racing Association, I would like to let you know we are very disappointed
with the decision of Sierra Club to join in the lawsuit to stop Timberline Park.

As a progressive who has been a supporter of efforts by the Sierra Club to help the environment (coal trains etc), the lawsuit makes me question whether I should be supporting the Sierra Club. Most importantly the Sierra Club, by joining the lawsuit is damaging relationships that the Sierra Club should be looking to strengthen.

While I appreciate some of the concerns that were brought up by opponents, the work with IMBA ensures that trail building is done in
an environmentally conscious manner.

We request that you immediately withdraw from the lawsuit.

Sincerely,

—
Kenji Sugahara
Executive Director
Oregon Bicycle Racing Association
Phone: 503-278-5550
http://www.obra.org
UPDATE, 2:07 pm: In order to provide additional context to the positions of the plaintiffs in this lawsuit, I have pasted the full text of their press release about it below:
Coalition Files Suit to Protect Fragile Alpine Meadows on Mt. Hood
Destructive Mountain Biking Expansion at Timberline Lodge Threatens Summer Recreation Opportunities, Fish and Wildlife in Sandy River's Headwaters

May 16, 2013 — Today Crag Law Center filed a lawsuit on behalf of Friends of Mt. Hood, the Oregon Chapter of the Sierra Club, the Northwest Environmental Defense Center, and Bark challenging the U.S. Forest Service's (USFS) decision to allow high-impact lift- assisted mountain biking that would harm fragile alpine habitat near Timberline Lodge on Mt. Hood. Over one million people visit Mt. Hood annually to climb, hike, ski, fish, bike, and play. Providing recreational opportunities and safeguarding our public land are at the core of the Forest Service's mission, and the agency has an obligation to reject environmentally destructive development proposals.

"Mountain biking is growing in popularity and we support Forest Service efforts to provide environmentally-responsible, quality recreational opportunities for mountain bikers and other recreationists. However, the fragile alpine soils at Timberline are the wrong place for a downhill lift-assisted mountain bike park," said Lori Ann Burd with Bark. "The Forest Service has failed to meet its responsibility to the public. Bark has worked with mountain bikers to encourage the Forest Service to convert unused logging roads into trails, but the Forest Service has failed to take action to seize these opportunities. Instead it has approved the construction of 17 miles of new trails in the sensitive headwaters of Still Creek and the West Fork of the Salmon River, leaving us no choice but to go to court to stop this development."

The area around Timberline Lodge is cherished for summertime recreation such as wildflower viewing in the shadow of Mt. Hood. "Timberline Lodge in the summertime has always been a place to seek peace and quiet, and generations of families have treasured memories of hiking, picnicking, and sightseeing around Timberline," said Dennis Chaney of Friends of Mt. Hood. "This project would jeopardize this beloved place by allowing high-speed downhill biking, races, and more development that will further degrade this fragile alpine environment. A National Historic Landmark and the Pacific Crest National Scenic Trail are not compatible with an adventure park."

Marla Nelson of the Northwest Environmental Defense Center (NEDC) noted: "NEDC opposes this project because it would harm trout, salmon, and the aquatic environment that supports them." She stated that the project will also:

– Increase sediment in Still Creek and the West Fork of the Salmon River, undercutting the significant investment of time and money in restoring downstream trout and salmon habitat
– Convert vegetation into bare mineral soils and encourage the further spread of noxious weeds
– Disturb wildlife, including elk, which rely on these high alpine meadows during calving season

"Timberline's master plan to build a new day lodge, a new parking lot, and this mountain bike park was accepted by the Forest Service without adequate consideration of the cumulative effects on this fragile alpine environment," said Rhett Lawrence, Conservation Director with the Sierra Club. "Timberline has not been able to successfully restore the areas it has already damaged and any new construction would simply add to the area's degradation. The Forest Service needs to engage the public in a meaningful discussion of how to provide for ecologically responsible recreation on our public land, instead of taking more risks with Mt. Hood."
Jonathan Maus is BikePortland's editor, publisher and founder. Contact him at @jonathan_maus on Twitter, via email at maus.jonathan@gmail.com, or phone/text at 503-706-8804. Also, if you read and appreciate this site, please become a supporter.