by Jonathan Maus (Publisher/Editor) on February 7th, 2017 at 10:30 am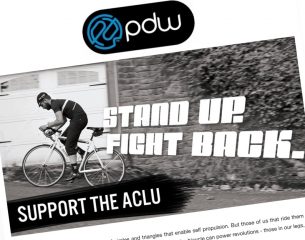 Drawing a parallel between the power of the simple bicycle and the work of the American Civil Liberties Union, locally-based Portland Design Works has taken a stand against the Trump administration.
From today through February 14th the company just announced they will donate 100 percent of gross sales in their online store — RidePDW.com — to the ACLU.
PDW founder Erik Olson said the decision is about trying to make a difference in these extraordinary times.
"Normally our charitable contributions are aimed at efforts to get more people out there riding bikes," he shared with BikePortland via email this morning. "But these aren't normal times. We have to do what we can to ensure, like we recited in grade school, 'liberty and justice for all.'"[Read more…]