Posted by Jonathan Maus (Publisher/Editor) on November 26th, 2014 at 3:52 pm
Two new products from Portland-based bike companies deserve your attention — especially as evening commutes get darker and rides get colder.
Body-Mapped Baselayer from Showers Pass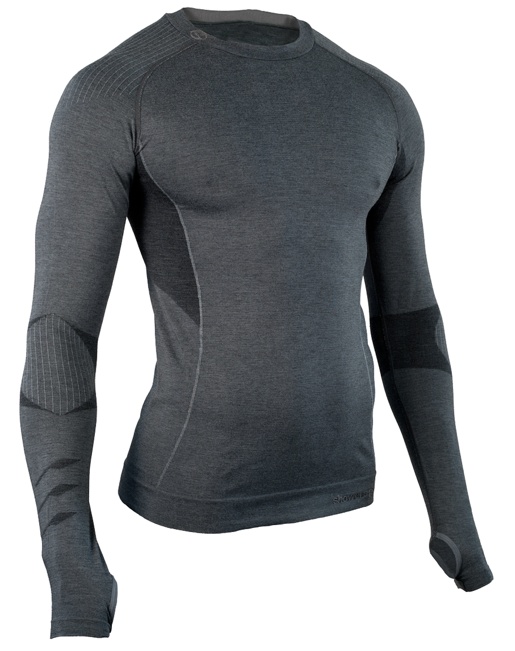 Male version shown. It also comes in a female version.
Showers Pass rain jackets are sort of an unofficial uniform for Portland bike riders. Given how many of them dot the streetscape when weather turns wet and cold, you'd think they were handed out at the border.

We've loved watching this company grow and expand ever since they moved to inner southeast Portland. They launched a line of gloves last year and they've also expanded their line of pants. Now Showers Pass has broken into more new territory with their first inner-wear product to complement their popular outerwear.
The new Body-Mapped Baselayer (suggested retail $69) is a mix of four materials: Modal(35%), Spandex (8%), nylon (47%), and merino wool (10%). That mix, says Showers Pass, makes their baselayer soft, form-fitting, stretchy, durable, warm, and odor resistant. I haven't worn mine enough myself to see if all those claims are true — but I can already attest to its softness and stretchiness.
So, what about how it performs? Here's a bit of tech from Showers Pass:
"The Baselayer features a body-mapped knit pattern designed to vent out excess heat in the areas where you tend to sweat the most – an important design point for the active users who are fans of the brand's outerwear. Multiple knit patterns are used to achieve the body-mapping without adding additional seams; the torso is seamless to minimize chafing."
The Body-Mapped Baselayer is available in two sizes for both men and women. Learn more at ShowersPass.com.
Lars Rover 650 from Portland Design Works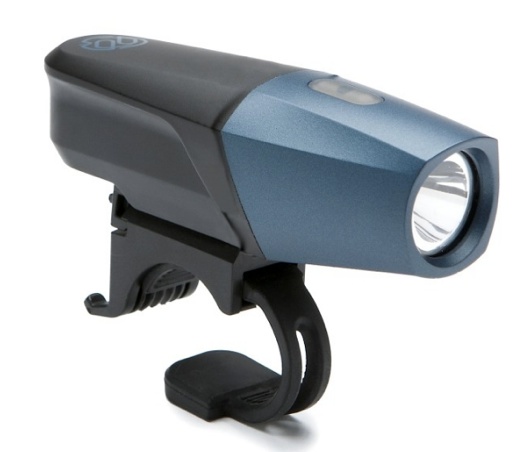 I'm a sucker for a good light. And, as a captain of a family fleet that numbers five bikes, I'm always in need of them. That's why I was excited by the new offering from our friends at Portland Design Works. Their Lars Rover 650 ($110 suggested retail) is a very solid addition to their line-up. It's a USB rechargeable front light that packs plenty of brightness for everything from neighborhood rides to nighttime off-road excursions.
What I love about PDW stuff is that they take design seriously. There are so many lights on the market that just don't feel or look very appealing to me. The Lars Rover is different. It's got smooth lines and it looks great. You can also feel its build quality just by picking it up. It comes with three mounts: one that clamps to your bars for rough rides, a quick-release buckle for city riding, and a helmet mount.
At its highest of five settings, the Lars Rover burns at 650 lumens (and will do so for two hours at full charge). At its lowest setting, 175 lumens, it will last 7 1/2 hours on a single charge. It also has two flashing modes — which put out just 125 lumens so as not to be annoying to induce seizures and/or annoy those who detest flashing lights.
Learn more about the Lars Rover at RidePDW.com.
Both of these new products can be found at your local bike shop. If you're lucky, you might even find one under your Christmas tree!
Jonathan Maus is BikePortland's editor, publisher and founder. Contact him at @jonathan_maus on Twitter, via email at maus.jonathan@gmail.com, or phone/text at 503-706-8804. Also, if you read and appreciate this site, Jonathan hopes you'll become a supporter.