by Jonathan Maus (Publisher/Editor) on April 10th, 2012 at 12:26 pm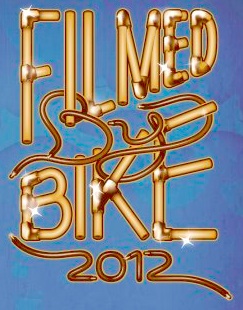 It's hard to believe that Portland's bike film festival — Filmed by Bike — is set to celebrate its 10th anniversary. The festival kicks of this Friday night and continues through Wednesday with nine screenings and 75 movies on the schedule.
In addition to the usual weekend slate of films, organizer Ayleen Crotty has added two additional days of screenings. Tuesday (4/17) will be a special program dedicated to the "relentless creative spirit of Cyclocross." And on Wednesday there will be two showings of the "Best of the Best!" — a mix of favorite films of the past decade.
With more movies than ever, Crotty says she also expects an unprecedented number of filmmakers to attend the event this year. Among them are a trio of bike-loving movie makers from France who are in the middle of a three-year global bike tour. The way Crotty tells it, these guys made a movie while taking a respite in Puerto Vallarta, Mexico and, upon getting it accepted to Filmed by Bike, decided to change course and ride to Portland for the event! You can meet these adventurous Frenchmen after the Sunday 7:00 pm showing. There's also a filmmaker Q & A session following Saturday's 5:00 pm showing. [Read more…]