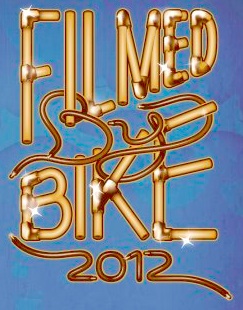 It's hard to believe that Portland's bike film festival — Filmed by Bike — is set to celebrate its 10th anniversary. The festival kicks of this Friday night and continues through Wednesday with nine screenings and 75 movies on the schedule.
In addition to the usual weekend slate of films, organizer Ayleen Crotty has added two additional days of screenings. Tuesday (4/17) will be a special program dedicated to the "relentless creative spirit of Cyclocross." And on Wednesday there will be two showings of the "Best of the Best!" — a mix of favorite films of the past decade.
With more movies than ever, Crotty says she also expects an unprecedented number of filmmakers to attend the event this year. Among them are a trio of bike-loving movie makers from France who are in the middle of a three-year global bike tour. The way Crotty tells it, these guys made a movie while taking a respite in Puerto Vallarta, Mexico and, upon getting it accepted to Filmed by Bike, decided to change course and ride to Portland for the event! You can meet these adventurous Frenchmen after the Sunday 7:00 pm showing. There's also a filmmaker Q & A session following Saturday's 5:00 pm showing.
One of the things I love about this festival is the huge diversity of films that are shown. There's everything from a music video shot in San Francisco by fixie-riding female Detroit rapper Breezee One, to a film by Portland photographer Daniel Sharp chronicling a cyclocross race that took place on a beach in Japan.
The festival kicks off with a bang on Friday night with a ride to the opening night street party led by cycling celebrity Gary Fisher. Fisher will lead a ride from the downtown Bike Gallery (1001 SW 10th Ave) at 6:00 pm (get there early for free pizza, socializing, and shopping).
In addition to the great films and parties, there are tons of prize giveaways and the entire event is a benefit for local non-profit NW Documentary. Check out FilmedByBike.org for complete details.