Friday, May 7th, 2010
– Stories and photos by Jennifer Clunie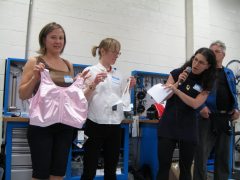 Susan Otcenas (in black), President of Team Estrogen,
demonstrates cycling attire intended
support women of all shapes and sizes.
In a field still often dominated by male interests and pursuits, women are coming together to stake their claim in Portland's $90 million a year bicycle industry. Last night, approximately 150 people gathered at United Bicycle Institute for Bike Economics a forum showcasing women-owned, bicycle-related businesses based right here in Portland.
Serving as both an educational sampling of local commerce and a valuable networking opportunity, co-organizers Elly Blue and Ellee Thalheimer planned the event as a fundraiser for the newly created Women in Active Transportation Scholarship Fund. Proceeds from the event will be used as seed money to grant scholarships encouraging women to toe-up to the starting line and take their (rightful) place at the head of the peloton in the active transportation movement.[Read more…]