An off-set intersection and a sweeping curve combine to make the crossing of Northeast Prescott at 37th very unsettling. To make matters worse, 37th is an important north-south connection in our cycling network.

Three years after we first shared the plans, the Portland Bureau of Transportation finally updated the crossing last month. After reading negative reviews on Twitter and previously reporting skepticism of the initial designs, I rolled over yesterday to take a closer look.
Elements of the $10,000 project include: caution signs on Prescott (a relatively fast neighborhood collector with no dedicated space for cycling) to warn people of vulnerable cross-traffic, painted curb extensions to create a narrower road and provide buffer space for bicycle users, two wide crosswalks that have space for walkers (white) and bicycle riders (green), green bike lanes to direct bicycle traffic onto the sidewalk, and plastic wands and curbs to help define space and protect vulnerable users.
Here's how it looks in video form:

We were skeptical from the start about a design that forces bicycle riders onto narrow sidewalks and does very little to car users by comparison. In 2016 our former news editor Michael Andersen wrote, "It's a little odd that instead of doing anything to change the angle of auto traffic or force slower, sharper turns by people in cars, this plan will divert bike traffic on and off of the sidewalks in each direction." When we reported on the project again in 2018 we shared strong concerns about the design from members of the PBOT Bicycle Advisory Committee. BAC member Catie Gould (also a BikePortland contributor) pressed PBOT bike coordinator Roger Geller on the design because it didn't go far enough. Initial designs didn't even include the plastic posts and curbs and people wanted to see more aggressive measures to change traffic flow on Prescott.
But given the project budget and other constraints, PBOT's hands were tied.
"The issue Roger mentioned was that Prescott is classified as a Major Emergency Response Route and fire trucks would not be able to navigate the turn with significant changes were made to the footprint of the street," she shared in a comment below a few minutes ago.
I really don't like these improvements to the 37th Greenway & NE Prescott intersection. Seems like @PBOTinfo is putting a lot of focus on cyclist movement onto a very narrow sidewalk (is this legal?) & nothing to slow drivers down. @bikeloudpdx @BikePortland @Eguise pic.twitter.com/XEZXqDU4bU

— Sam Balto (@CoachBalto) July 3, 2019
While it's rare for PBOT to route a bikeway onto the sidewalk, it's not unheard of. And in this case, PBOT bike coordinator Roger Geller said they did it because the sidewalk is, "The one place where it's possible to see both directions of traffic and be out of the wheelpath [of drivers]."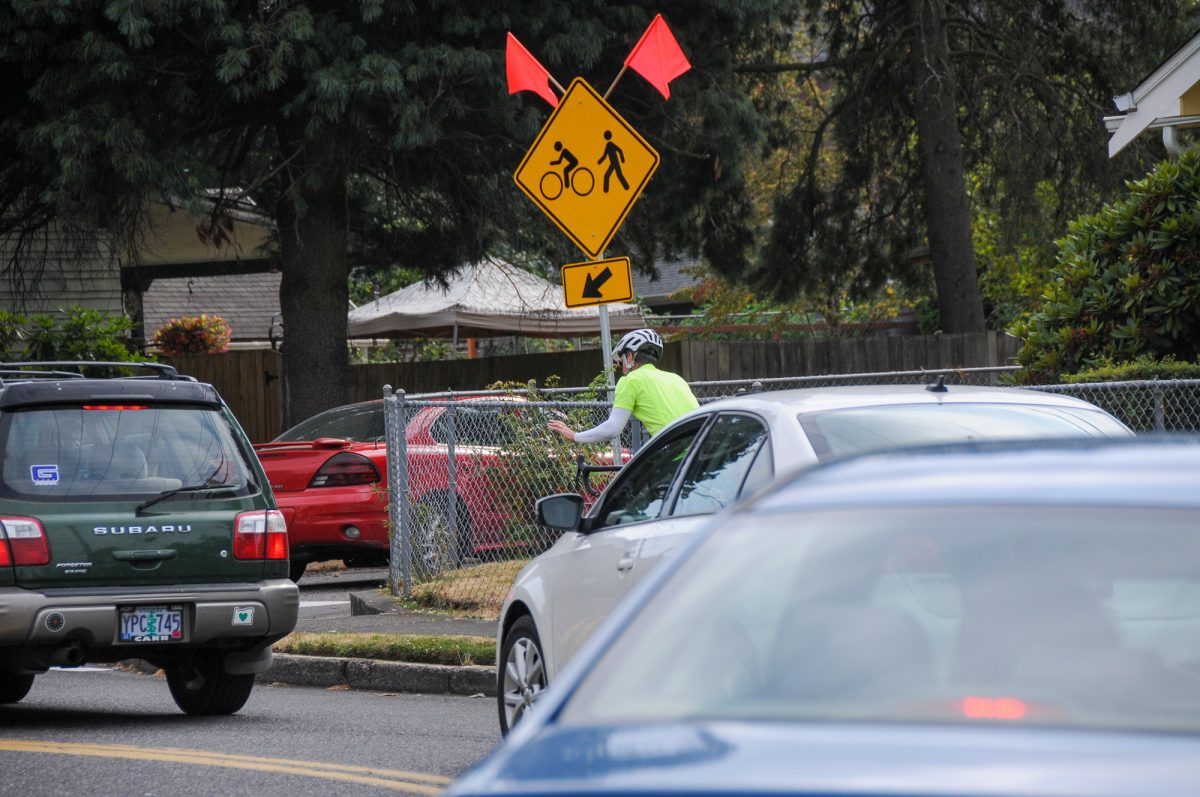 I don't like being corralled into a narrow space when I'm biking — especially onto a sidewalk. When I'm on my bike (especially my electric bike) I feel much more akin to a car driver than a walker. And as you can see in the photos above, it's a pretty tight squeeze. I wondered about people carrying kids and groceries on a cargo bike, or pulling a trailer, or riding a tricycle. I don't think they'd be able to make the transition from street to sidewalk. And this is to say nothing of the problem of trash and debris piling up in a space that the city cannot or will not sweep.
And Geller is right, it is possible to see both directions from that corner of the sidewalk where the new crosswalks have been striped. However, it's not easy. For many people, it will require a full stop and dismount to make sure there are no people driving by. While I was out there drivers were very polite and would stop as I approached the crosswalk. But that type of behavior cannot be counted on.
Overall, the narrowing of the driving space and addition of the striping, pavement colors, signage and plastic posts will definitely slow drivers down and make them more alert when driving through this intersection.
Have you ridden this? What do you think?
Below are a few more photos to help illustrate the design and context:
— Jonathan Maus: (503) 706-8804, @jonathan_maus on Twitter and jonathan@bikeportland.org
Never miss a story. Sign-up for the daily BP Headlines email.
BikePortland needs your support.