The Oregon House of Representatives passed Senate Bill 998 today by a vote of 31 to 28. From here the bill will go to Governor Kate Brown's desk for signing.
This is a huge victory for bike advocates who have worked for years to get this legislation through. Once it becomes law, every bicycle rider in Oregon will be able to legally treat every stop sign and flashing red signal as a yield sign. That is, you will no longer have to come to a complete stop at every frickin' stop sign!
Here's the official summary of the bill (PDF below):
Permits person operating bicycle to enter intersection controlled by specified traffic control devices without stopping. Permits person operating bicycle to turn without stopping at intersection with specified traffic control devices. Creates offense of improper entry into intersection where traffic is controlled by stop sign. Punishes by maximum fine of $250. Creates offense of improper entry into intersection where traffic is controlled by flashing red signal. Punishes by maximum fine of $250.
[pdf-embedder url="https://bikeportland.org/wp-content/uploads/2019/06/sb998A-Engrossed.pdf"]
After passing with strong bipartisan support in the Senate and several committees, the debate prior to today's vote was very nerve-wracking for supporters of the bill. One by one, several House reps stood up and gave reasons why they would not support the bill. Fortunately, none of them had good arguments. It was the same old, uninformed opinions and it was clear that everyone who spoke against it simply didn't understand the bill. Either that, or they are just so blinded by their driving privilege they couldn't fathom this type of change to traffic law.
*Reps Gorsek, Findley and Noble voiced strong opposition to the bill.
The bill was carried on the floor by Rep. Barbara Smith Warner. She stood with great strength in support of the bill and
She introduced the bill by explaining how it was about "usability" and that, unlike driving a vehicle, bicycle riders constantly need to start and stop under their own power. Rep Smith Warner also explained that bicycle users have superior peripheral vision as they approach intersections. She addressed safety concerns by sharing a statement from the Oregon Association of Chiefs of Police and Oregon State Sheriff's Association: "While we have some concerns," the statement read, "There are studies that indicate the law could actually improve safety… The bill places the entire burden for good decision-making on the bicyclists who must proceed through intersections safely… We believe it will be important for this new law to be carefully monitored to be determined if it's resulting in positive outcomes in terms of safety for both bicyclists and motorists.
Rep. Chris Gorsek (D-Troutdale) was first to stand up and debate the bill. "In a place like Portland," he said, "Where you have cars and buses and trucks and skateboards and roller-bladers, and now these zipping, whatever-they-are… scooters! I think when you consider how hazardous it is for motor vehicles to try and drive around places like Portland and their concern about reducing traffic accidents, that this is probably something that is problematic at best and I would urge a no vote."
Rep. Paul Holvey (D-Eugene) did some heavy-lifting on the floor today, and his voice mattered because he's chair of the House Rules Committee where the bill was heard. He explained to lawmakers that being able to retain momentum at an intersection is a major safety benefit — especially for riders like him who aren't very fast and strong. "I'm coming up a very slight incline. I come to a full stop. I look both ways. No traffic. I try to get going and make it across the intersection. By the time I get to the other side there are cars bearing down and honking their horns because I'm not fast enough to make it across the damn street! This is true. And I've seen it with kids too."
"I don't think we are interjecting a law into an environment where we should assume that bicyclists are unaware or careless. I think we can count on them to use this new ability responsibility."
— Rep. Ken Helm
Rep. Ken Helm (D-Washington County), a dedicated rider himself, had positive words about the bill. "Bicyclists take their role on the road very seriously," he said, "I don't think we are interjecting a law into an environment where we should assume that bicyclists are unaware or careless. I think we can count on them to use this new ability responsibility."
Rep. Ronald Noble (R-McMinnville), a former police officer, didn't support the bill. He also didn't seem to understand it. "I could apply the same rationale when I ride a motorcycle," he said. "I'm very aware of my surroundings and there are times when there is no traffic and it'd sure be nice to just ignore the traffic control device and make my way through. Similar to driving a patrol car in the middle of the night when the streets are bare and it would be nice to disregard the traffic signals." What Rep. Noble gets wrong in his analysis is that a motorcycle has a motor and one of the main rationales for the bill is to allow human-powered bicycle users to retain their precious momentum. He also let slip that he think the bill would apply to "traffic signals". That's wrong. It would only apply to stop signs and flashing reds.
In her final speech before the vote, Rep. Smith Warner answered every concern that was brought up and closed out the debate by saying, "On behalf of all the bicyclists in this state and in each of your districts, I would urge an aye vote."
The vote was excruciatingly close. But none of that matters because it passed. It passed! After so many years of struggle and effort by legislators, volunteer activists, advocates, and community leaders, it passed. The law will go into effect January 1st, 2020.
Here's how the votes went down: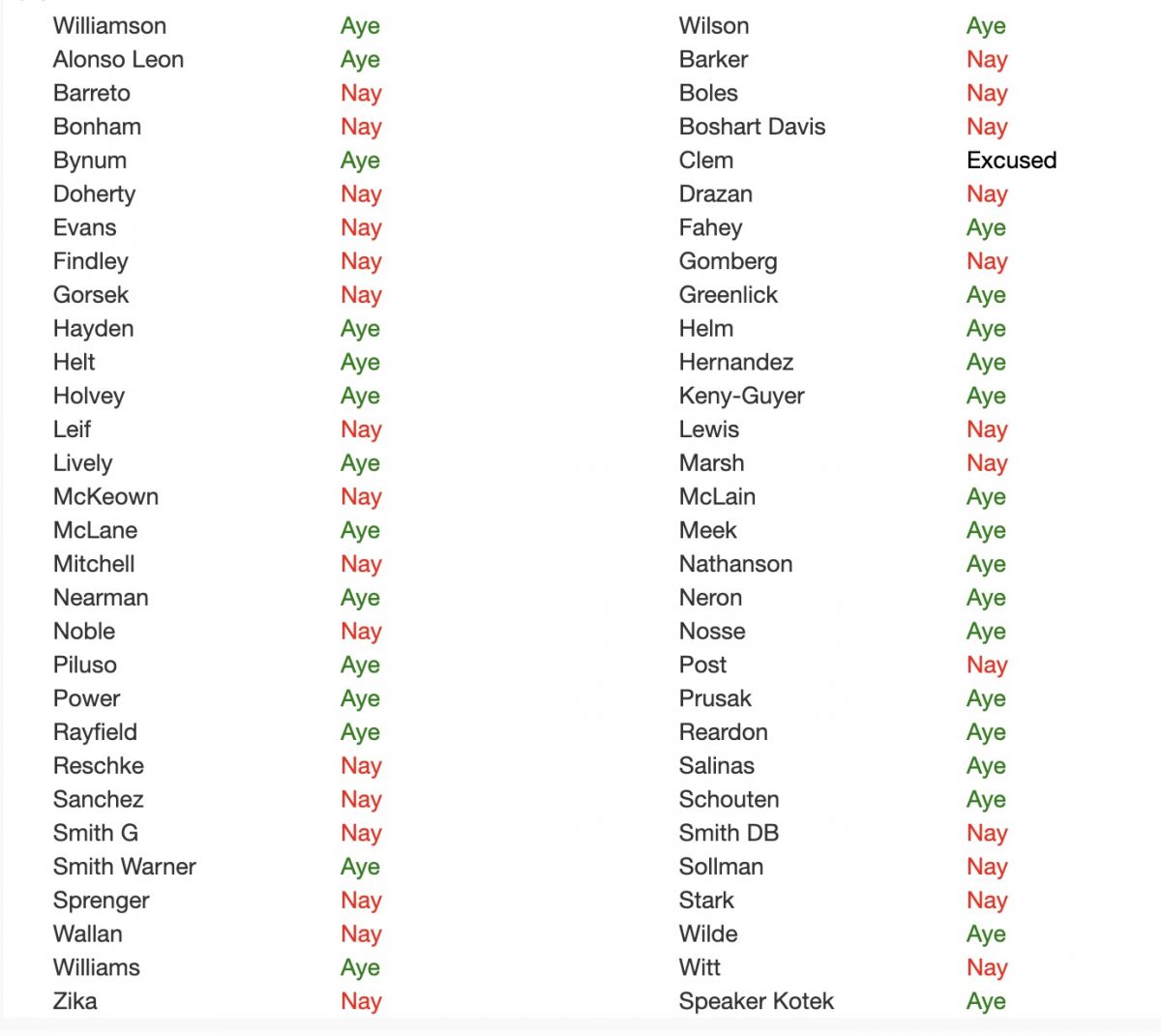 I want to especially thank Senator Floyd Prozanski for so capably shepherding this bill through — not just this time around but for pioneering this legislation in 2003! And let's not forget that we wouldn't be here without the dedication of volunteer activist Bjorn Warloe. Bjorn single-handedly introduced the "Idaho Style" movement to Oregon in 2007 and spent countless hours lobbying legislators and rounding up advocates to push it forward. Despite frustrations, he never gave up. Even this past weekend he told me he was going through his list of advocates and leaders to make sure they emailed testimony to the House Rules Committee. Thank you Bjorn!
Thanks are also due to former House Rep Jules Bailey who fought for this bill and took a lot of heat in the tumultuous Battle of 2009. Thank you Jules!
With so much bad news out of Salem right now, it feels good to get a victory for bicycling.
UPDATE: Here's a 14 minute video I spliced together of the floor speeches (might still be processing, but should be done soon):

— Jonathan Maus: (503) 706-8804, @jonathan_maus on Twitter and jonathan@bikeportland.org
Never miss a story. Sign-up for the daily BP Headlines email.
BikePortland needs your support.