Hoping to create a stronger appetite among policymakers for more off-road cycling trails, volunteer advocates with the Northwest Trail Alliance offered up a tasty appetizer on Friday.

The all-volunteer nonprofit that has surged to over 1,600 members over the past year hosted dozens of staffers, planners, and policy advisors from the city, state and region at the Gateway Green bike park. Their message was loud and clear: Please help us create more off-road cycling access in Portland, and let us help you make it happen.
For several of the planners and policy advisors in attendance it was their very first time riding singletrack trails and off-road paths.
After meeting at Pioneer Square, NWTA volunteers led groups of attendees on MAX light rail out to Gateway. It's just a short downhill ride on the I-205 path between the transit center and the bike park. Once there, participants sipped on free pour-overs of Bike Park Blend from Loam Coffee, a local brand that caters to the Pacific Northwest mountain biking scene. Portland bike shop Fat Tire Farm (located on NW Thurman about a mile from the most popular entrance to Forest Park) brought loaner bikes and gear to make sure everyone could ride.
Faces in the crowd included representatives from Prosper Portland, the City of Portland's transportation, governmental affairs, environmental services, parks and planning bureaus, the Oregon Department of Transportation, Metro, Lake Oswego Parks Department, Travel Oregon, Mayor Ted Wheeler's office, and many others. (Click images below to read names and titles.)
NWTA Advocacy Director Andy Jansky emceed the event. He offered brief remarks and introduced a few other advocates to share their perspectives.
Jansky invited who he referred to as "just the right kind" of mid-level bureaucrats that can get things done (not too high or low on the org chart). "We want to connect kids and families to nature close to where they live," he shared during a speech at the outset of the event. And while there's a lot of interest in mountain biking and locations throughout the region to do it, "What we don't have," Jansky said, "Is a place you can get to without having to drive a car."
Another NWTA leader, Erin Chipps said, "I know a lot of people that have left Portland because there's no place to mountain bike." Chipps spent over a year as a volunteer on the advisory committee for the City of Portland's Off-Road Cycling Master Plan, which she said has been languishing for over a year without any progress. "We're hoping those of your out here today can talk to those around you and push this plan forward."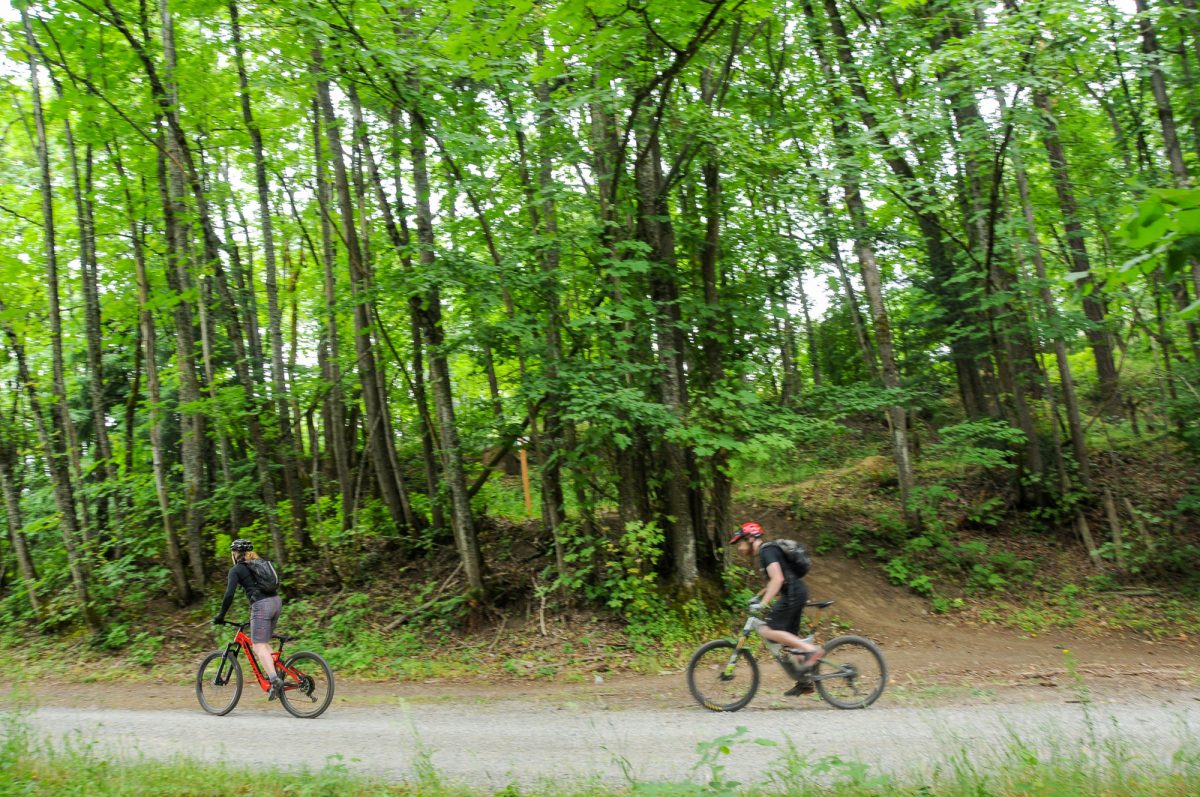 The NWTA has had major success building new off-road trails with land managers and government agencies at many locations surrounding Portland like Scappoose, Lake Oswego, Stub Stewart, and others; but there's been an ongoing impasse over similar projects within city limits. Sadly, Portland has become an island of no mountain biking while surrounding communities are eagerly moving forward and embracing the stewardship, environmental, community livability, and public health benefits that urban off-road cycling provides.
At Friday's event the idea was to cement relationships between off-road cycling advocates and policymakers in order to push through the logjam. And what better way to do that than to share lunch and a bike ride together?
One of the hottest topics shared among participants was the concept of urban off-road cycling corridors. There's an effort to stitch together parks and other green spaces using unpaved right-of-way to create trails adjacent to existing roads. ODOT Planner Glen Bolen had never ridden Gateway Green before Friday and he had a great time on the trails. He said there's potential for a pump track and/or off-road trails at an ODOT-owned site south of SW Slavin Road between I-5 and Barbur Blvd.
"I went to City Hall and asked for more trails when I was in first grade. Now I'm in fourth grade and I still don't have trails to ride."
— Gigi Greenstadt, in a speech to attendees.
Another idea is to work with Prosper Portland, Portland's economic development agency, on a placemaking tool referred to as a "pop-up pump track". This would be a skills course/pump track that could be installed on a temporary basis anywhere in the city in order to activate public space and build awareness for more permanent facilities in local parks.
There's no shortage of ideas on how to improve off-road cycling opportunities in Portland. What we need is political and bureaucratic urgency to make it happen.
Fourth-grader Gigi Greenstadt is tired of waiting. She testified at Portland city council in 2015 when the Off-Road Cycling Master Plan got started. "I went to City Hall and asked for more trails when I was in first grade," she said in a short speech on Friday. "Now I'm in fourth grade and I still don't have trails to ride."
Bureau of Planning and Sustainability Project Manager Tom Armstrong is leading the off-road cycling planning effort. He didn't have much news to share during his remarks other than to say, "We've gone through some staff changes that have delayed this plan." Perhaps getting out on some trails, meeting advocates face-to-face, and seeing all the positive experiences of others at this event will make him even more determined to move forward.
Armstrong isn't the only important agency staffer who got first-hand off-road experience on Friday. I also saw Portland Parks Planner Maya Agarwal, Metro Parks Planner Karen Vitkay, Portland Parks Land Manager Rachel Felice, and several others.
Another off-road rookie at the event was Mayor Ted Wheeler's Environmental and Sustainability Policy Advisor Amy Rathfelder. "I got into job to help the community," she told the crowd, "And seeing all the great work being done here I'm exciting to help move this issue forward."
CORRECTION, 6/26: This story initially said this was Tom Armstrong's first mountain biking experience. That was incorrect. I regret the error.
— Jonathan Maus: (503) 706-8804, @jonathan_maus on Twitter and jonathan@bikeportland.org
Never miss a story. Sign-up for the daily BP Headlines email.
BikePortland needs your support.