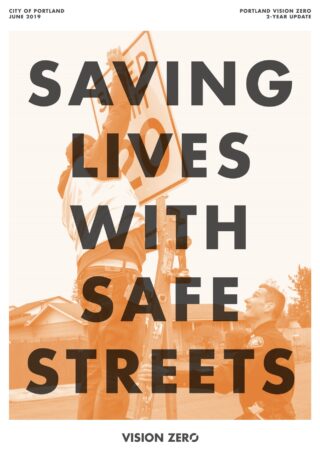 The Portland Bureau of Transportation is making steady progress on their march toward safer streets. They've queued up an impressive slate of capital projects, worked the legislature to gain authority for speed limits and enforcement cameras, and have passed important plans with the policy backbone that enables them to do things like remove auto parking from corners (a.k.a. "intersection daylighting"), install crossing treatments in more places, and so on.
Last week PBOT brought their annual Vision Zero 2-Year Update (PDF) to city council. They don't have to get council's official blessing for reports like this, but PBOT often takes this step to burnish council relationships, lay political groundwork for funding requests, and get explicit support for what might be controversial Vision Zero-related moves down the road.
Things like this usually get unanimous support because PBOT doesn't bring half-baked ideas to council and they brief each commissioner beforehand to make sure they are up-to-speed with the issues and information. So it was a big surprise when Commissioner Jo Ann Hardesty voted no.
"…When every other street has a different speed limit, you're not changing behavior, you're making people lose their minds because they don't know how to legally operate on the street."
— Commissioner Jo Ann Hardesty
Here's what happened…
City council passed a commitment to Vision Zero in 2015. By the end of 2017 they'd passed an "Action Plan" aimed at achieving it, and by spring of that year Vision Zero had become the bureau's chief organizing principle.
Last Thursday's presentation to council was expected to be non-controversial. PBOT Director Chris Warner and his Active Transportation and Safety Division Manager Catherine Ciarlo updated commissioners on planned capital projects (they have eight projects on major streets planned to be completed by 2020), new policy approaches, and near-term actions they're taking to improve road safety (including the left-turn calming initiative we reported on earlier today).
"I'm very disappointed to hear your concerns with this report. If those are your takeaways — which are virtually unfounded — I don't think my bureau has done a good enough job briefing you on this program."
— Commissioner Chloe Eudaly
In one of his first major council appearances since being named PBOT director less than a month ago, Chris Warner spent some of his time explaining why the bureau now erects electronic signs for two weeks at the location where someone was killed in traffic. It's part of a "culture of shared responsibility," which is one of PBOT's Vision Zero priorities. "Sometimes there will be a fatality and a few hours later everything will be cleaned up and people won't really know what happened," Warner explained. "So we really want to raise the focus and awareness for Portlanders to know that was a dangerous spot, that someone died there, and for them to really reflect on how they're driving."
When cautioned by Commissioner Nick Fish about promising the public such a lofty goal as zero deaths, Warner was unfazed. "Unless we have that goal I don't think our job is ever complete. And I don't think we can stop doing what we can to make sure there are no deaths or injuries on our streets," he said.
Sitting alongside Warner, Ciarlo spoke about PBOT's commitment to the "Safe Systems" approach. "If Vision Zero is the performance measure, then Safe Systems is the approach that will get us there," she explained. Ciarlo shared a slide (below) outlining the basic tenets of the approach, which call for (among other things) city staff to be proactive, instead of reactive to problems. It also says road designers and policymakers — not just users of the system — share responsibility for safety outcomes.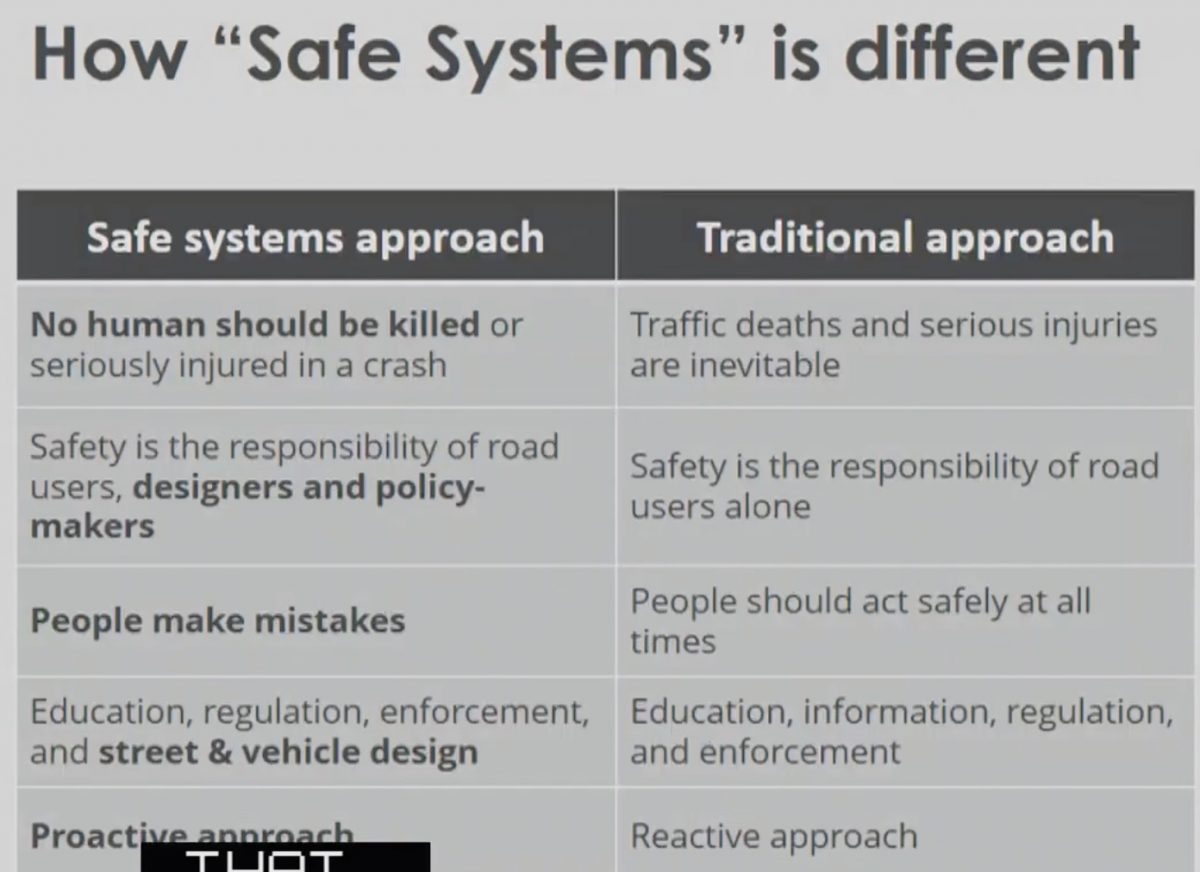 When it came time to vote and comment on the report, Commissioner Amanda Fritz had effusive praise for Commissioner Eudaly and the Vision Zero program in general. She urged PBOT to move even more quickly in their effort to remove parking at corners and offered tips on how to fund the work. Commissioner Nick Fish also strongly supported it, saying "This is a fine piece of work and I'm proud to support it." (Mayor Ted Wheeler was absent.)
Then there was Commissioner Hardesty. As we reported yesterday, she had expressed concerns early in the presentation about the "big issue" of people who walk while using their phones. Turns out that wasn't her only concern.
Hardesty said in her comments before her vote, "I think it's a good vision. I just think it could be a better vision." "It looks like the responsibility we're putting is primarily on the drivers of automobiles as compared to us taking responsibility for the roads we haven't built, the sidewalks we haven't built, the lighting we haven't put in," she added. "There are reasons why there are a lot more crashes in east Portland. The primary reason is there's been a lack of investment in east Portland."
Hardesty's comments touched on several issues she's uncomfortable about.
Hardesty called out PBOT's speed limit reduction efforts – not because she wants people to drive faster, but because she feels they've created a patchwork of different speed limits that make it too hard to follow the law. "You could be going a couple of blocks, and it's [the speed limit is] up another 10 miles, then you turn to the left and it's down 20 more miles [an hour], then you turn to the right and it's up another 10 miles [an hour]. It's very confusing if your goal is to change behavior, when every other street has a different speed limit," Hardesty said. "You can imagine how frustrating it is for people who live in the community who are trying to do the right thing and yet there's no commonality or consistency from one major arterial to the next. I just don't think that's a good way to change behavior. You're not changing behavior, you're making people lose their minds because they don't know how to legally operate on the street."
PBOT's Ciarlo explained that since the City of Portland doesn't have control over the speed limit on all streets (ODOT does), they've had to go "section by section".
Then Hardesty said she believes PBOT is focused too much on individual behaviors when the system itself isn't a level playing field. "I continue to have the concern that we are over-criminalizing one segment of our community and using them as the reason why people are dying rather than the poor conditions of our roads. The lack of lighting, the lack of sidewalks in many places. I think it all works together."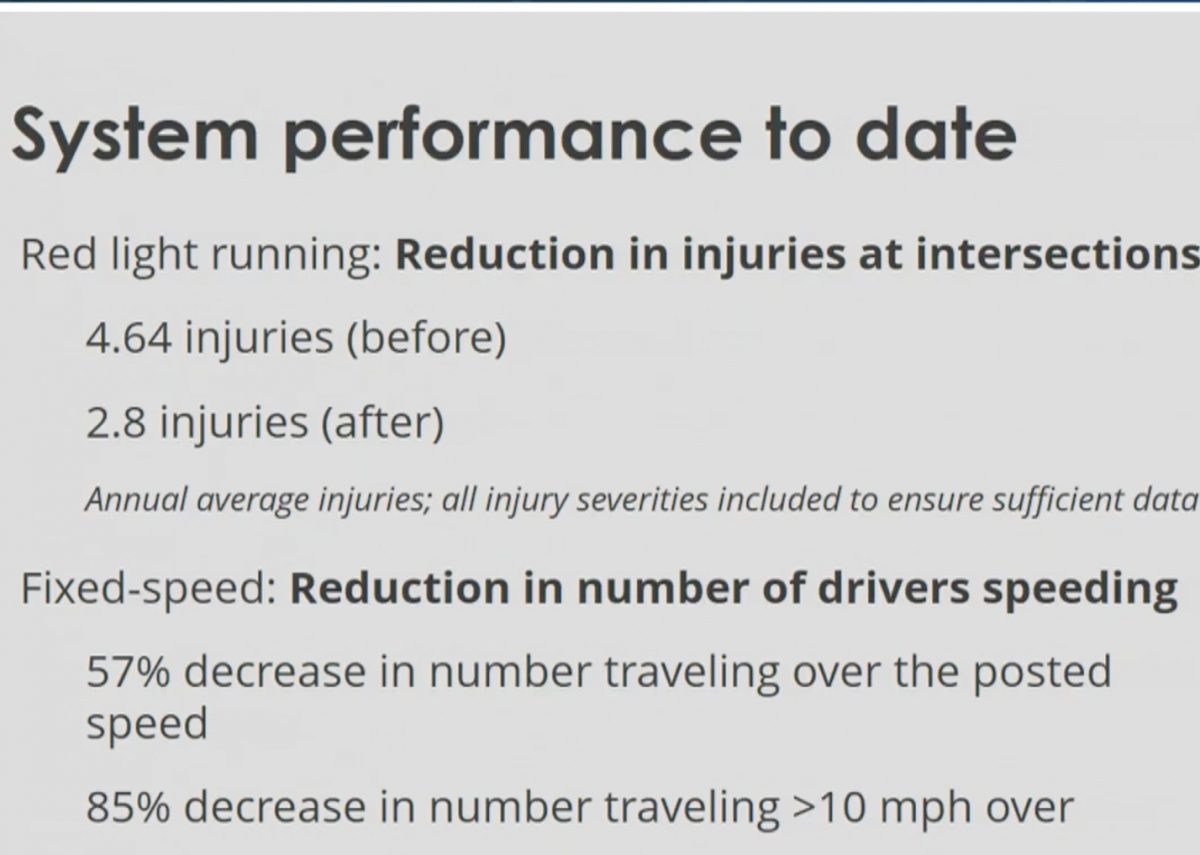 Earlier in the meeting there was a discussion about speed reader boards (signs that show speed limit compared to actual driving speed) and automated enforcement cameras. Hardesty expressed discomfort with cameras due to privacy and racial concerns. Despite stats presented by PBOT that show a clear reduction in speeding in locations where cameras have been installed, Hardesty seems to prefer reader boards which don't have a built-in enforcement and citation mechanism ("90% of people look down and check their speeds when they pass those reader boards," she said). Hardesty pressed PBOT to share demographic data from the speed and red light camera citations. That data isn't currently collected and PBOT said it would be challenging to determine people's race based on the photos taken by the system — not to mention the potential pitfalls of having a staff person make racial determinations based on appearance.
Eudaly said she likes the reader boards too and would welcome more demographic data, but she defended the enforcement cameras as an important tool. "I'm not so interested in being punitive as I am in changing behavior. However, because there's such inadequate enforcement on the street… If there's no ultimate consequence I think we lose that effect over time."
In the end, Hardesty remained skeptical and the presentation didn't allay her concerns. "I guess until I know whether or not we're penalizing folks, and whether we're still using speed readers or whether we're actually going to start giving people tickets, and what that process will be, I will vote no."
"I'm very disappointed to hear your concerns with this report," Eudaly replied. "If those are your takeaways — which are virtually unfounded — I don't think my bureau has done a good enough job briefing you on this program." (Note that this tension between Hardesty and Eudaly around enforcement is not new.)
Yesterday I asked Eudaly's Chief of Staff Marshall Runkell if the two commissioners had spoken since that exchange. He said they're trying to set up a meeting but haven't had a chance to debrief in person. "Commissioner Eudaly is sympathetic with Commissioner Hardesty's concerns about over-policing low-income neighborhoods and the surveillance state, but she did a good job of explaining why PBOT's approach allayed her concerns from the dais during the hearing." (I reached out to Hardesty's office as well but the commissioner and her chief of staff are out until next week.)
While PBOT's Vision Zero Report and 2-Year Strategy was ultimately adopted 3-1 last week, a renewal of the photographic traffic enforcement contract will return to council on Wednesday, June 26th.
— Jonathan Maus: (503) 706-8804, @jonathan_maus on Twitter and jonathan@bikeportland.org
Never miss a story. Sign-up for the daily BP Headlines email.
BikePortland needs your support.