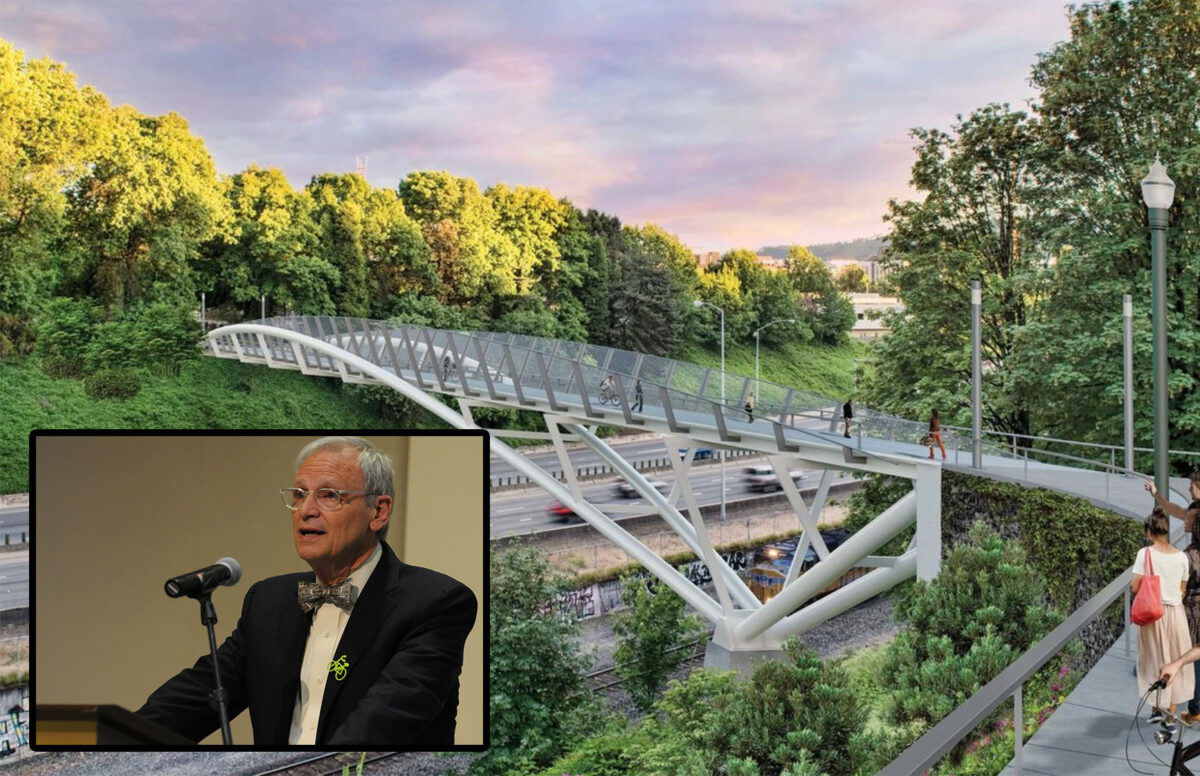 Yesterday evening Portland City Commissioner of Transportation Chloe Eudaly announced that the soon-to-be-built carfree bridge over Sullivan's Gulch and I-84 will be named in honor of U.S. Congressman Earl Blumenauer.
"To have my name associated with that bridge will be a great honor."
— Earl Blumenauer, U.S. Congressman
Currently known as the Sullivan's Crossing Bridge, the $13 million project is slated to break ground this summer and be completed by the end of 2020.
Congressman Blumenauer is a transportation icon in the Portland region for the legacy he created as city commissioner-in-charge of transportation from 1987 to 1996. His vision for transportation — one that favors public transit, bicycling and walking over driving — has left an indelible mark on our city and his work continues to influence people, politics, and projects today. Rep. Blumenauer is by far the loudest and most effective voice for bicycling on Capitol Hill (he's currently pushing a major overhaul to the tax code so it does more to encourage commuting by bike). He's co-chair of the Congressional Bike Caucus and his legendary Traffic and Transportation Class at Portland State University has churned out well over 1,000 graduates.
People who've taken that class include many of the planners, activists, elected officials (including Commissioner Eudaly) and policymakers who will take this bridge project over the finish line.
Asked this morning for his response to this major honor, Rep. Blumenauer said (via text message):

"To have my name associated with that bridge will be a great honor. I have been agitating for and dreaming about that pedestrian bike crossing for decades. It makes so much sense to connect Lloyd District with that rapidly changing area on south side of the freeway.

It will add an important dimension to the walking and cycling experience, and be a powerful visual reminder of our commitment to transportation connectivity and the bike and pedestrian experience."
Speaking about the bridge in a story published by the Willamette Week earlier this month, a Portland Bureau of Transportation spokesperson said, "It's going to really be a postcard-worthy bridge that marks a key entrance to Portland. As people arrive in the city and either drive or take light rail, one of the first times they'll see the downtown skyline, that view will be framed by the new, modern Sullivan's Crossing bridge."
Make that the Earl Blumenauer Bridge.
Actually, Commissioner Eudaly's office says the official name is yet to be determined. What do you think it should be?
(Note: This story will be updated soon with a comment from Commissioner Eudaly.)
— Jonathan Maus: (503) 706-8804, @jonathan_maus on Twitter and jonathan@bikeportland.org
Never miss a story. Sign-up for the daily BP Headlines email.
BikePortland needs your support.