Neighborhood transportation advocates in southeast Portland are sounding the alarm about TriMet's Gideon Overcrossing project. They say opposition from an adjacent business owner could shelve the project.

"It's unfair to me. What it's doing to my business would require me to move."
— Michael Koerner, Koerner Camera
Michael Koerner, owner of Koerner Camera Systems on SE 14th and Taggart, hired a lawyer who sent a letter (PDF) to the regional head of the Federal Transit Administration on December 14th. The letter includes sharp criticisms of TriMet and the Portland Bureau of Transportation, questions the need of a bridge, and asks the FTA to require a Supplemental Environmental Impact Statement before moving forward.
As we reported last June, this project would build a new crossing of the Orange Line MAX light rail and Union Pacific Railroad tracks near the busy Clinton Street transit station. It would be a much-needed replacement to the crossing at SE 16th and Brooklyn Street TriMet demolished during Orange Line construction in 2013.
The new bridge would go from SE 13th on the south side of the tracks to SE 14th on the north. In March 2018, TriMet said that location was "an attractive option for commuters" due to its proximity to the existing light rail station at Clinton St (which would be about 300 feet west of the new overcrossing). The location was also chosen to, "best link to the Powell pedestrian crossing serving the Brooklyn neighborhood to Hosford-Abernethy."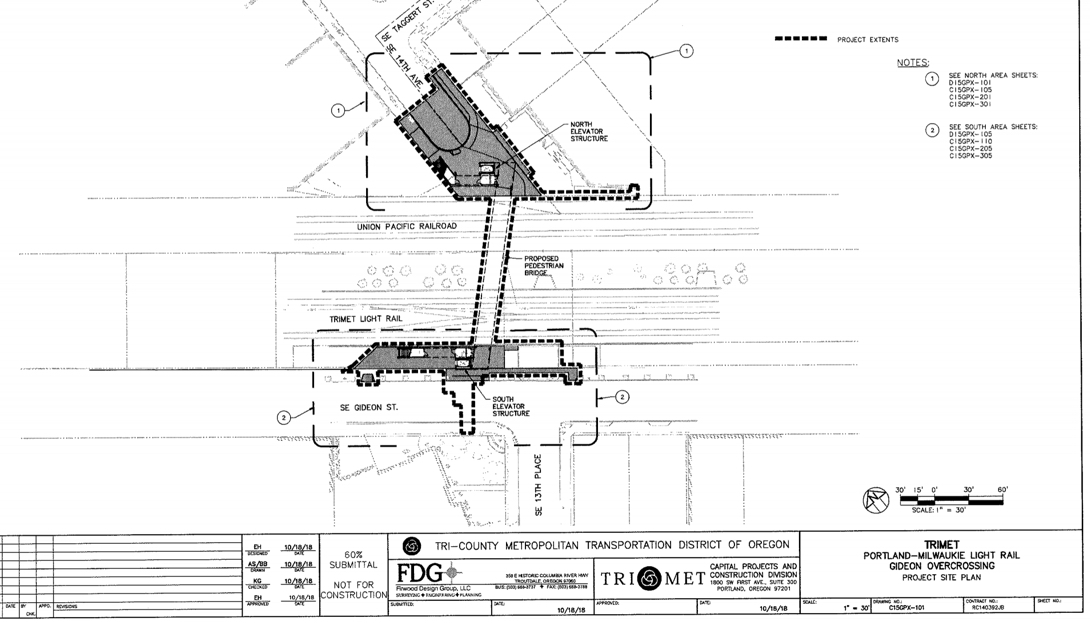 TriMet began the design process this past spring and the new, $14 million bridge was supposed to start construction in the next few months.
But Michael Koerner doesn't want the bridge on 14th Avenue. His camera rental business that supplies high-end equipment to the film and TV industry is directly adjacent to the tracks. As designed, the bridge needs to use existing public right-of-way currently used to access Koerner's parking lot and loading zone. Koerner said his concerns about safety and business impacts have fallen on deaf ears at TriMet so he hired a land-use attorney to fight the project.
In a phone call this morning Koerner told me he doesn't oppose the bridge project, he just doesn't want it on 14th Avenue. In addition to his concerns that mixing trucks and forklifts with bicycle riders and walkers would be a safety hazard, Koerner said, "It's unfair to me. What it's doing to my business would require me to move." Koerner isn't the only business owner opposed to the project. Several others share his concerns and are actively engaged against it.
Koerner's attorney Jennifer Bragar from the law firm of Tomasi Salyer Martin, wrote a letter on December 14th to the regional head of the FTA. In the letter she requests a Supplemental Environmental Impact Statement (SEIS) and poke holes in the plan and the integrity of TriMet and the City of Portland.
"I am respectfully asking that you consider moving the bridge to a different location either up further on 16th St. or even consider 8th or 9th instead."
— Rob Nosse, Oregon House Representative
Koerner also has support from Oregon House Representative Rob Nosse. In a letter dated December 10th and addressed to PBOT Director Chris Warner and TriMet General Manager Doug Kelsey, Nosse wrote that after talking with Koerner and other business owners on 14th Street, "I am respectfully asking that you consider moving the bridge to a different location either up further on 16th St. or even consider 8th or 9th instead."
"I don't think your planning is so far along that you could not consider an alternative," Rep. Nosse continued, "And I think this would be an appropriate compromise." According to Rep. Nosse, the planned alignment would make it difficult for these businesses to operate forklifts and access loading zones with large trucks. The alignment would also, "Potentially harm these very commuters your agencies are attempting to serve," Rep. Nosse wrote.
"TriMet and the City of Portland have determined that the project cannot be built on another street."
— Roberta Altstadt, TriMet
In her letter, Koerner's lawyer Jennifer Bragar says an SEIS done in compliance with the National Environmental Protection Act (NEPA) review process is required because TriMet and PBOT want to locate the new bridge at a different location than the old one. "The FEIS did not suggest that the bridge would be replaced in a location that differed from its original siting at SE 16th and Gideon," Bragar wrote, "nor that it would accommodate bicyclists as well as pedestrians." She adds that while biking and walking projects are typically excluded from the EIS process, one is still needed because, "The proposed bridge will significantly affect the quality of the human environment by altering the physical environment and the relationship of people with that environment."
Bragar also claims her client hasn't been given adequate time to comment on the proposal. Furthermore, Bragar questions the necessity of the bridge altogether. Even if one is needed, she says her client wants it to go somewhere else. Here's an excerpt from Bragar's letter:
"… both Tri-Met and PBOT have failed to provide evidence that the proposal is actually necessary for pedestrians or bicyclists. Neither agency has provided evidence of accidents or injury to either pedestrians or bicyclists at this railroad crossing nor have they provided evidence that the proposed bridge will be useful to bicyclists or pedestrians. If Tri-Met and PBOT believe a pedestrian and bicycle bridge is necessary, the Gideon Overcrossing should be placed in a location that will result in greatest utility for pedestrians and bicyclists – specifically in the location of the previous access bridge at SE 16th and Gideon which supports connectivity between neighborhoods, or other alternative locations that have yet to be examined in an EIS."
While Rep. Nosse and Michael Koerner want the bridge moved to a different location (and Koerner said he's also got support from Oregon House Speaker Tina Kotek and several other business owners in the area), TriMet Communications Manager Roberta Altstadt told us this morning that's just not possible. "TriMet and the City of Portland have determined that the project cannot be built on another street," she wrote in an email. "However, the city and TriMet continue to look for ways to minimized or mitigate the impact on local businesses."
Altstadt said the bridge can't be built at any other location because the FTA funding is tied directly to safety issues at SE 11th and 12th, where long UPRR delays cause some people to cross unsafely and even to walk across stopped train cars. According to Altstadt, FTA guidelines stipulate that a bike/walk bridge must be located close enough to the original location of the safety hazard to "provide a convenient alternative."Placing the bridge at 16th would not address the safety issue that is the basis for the FTA funding. The bridge at 16th would simply be too far away and require too much out of direction travel – particularly for pedestrians — to be a viable alternative," Altstadt explained.
Altstadt says TriMet and the City of Portland analyzed several other locations and for various reasons, none of them could accommodate a bridge because there was either not enough room for the structure or the project would require condemnation of entire businesses.
While TriMet sounds resolute, neighborhood advocates are worried Koerner's opposition could put the entire project in jeopardy.
Brooklyn resident John Karabaic posted his concerns on a local email list as a "call to action" to "save the bridge". "There is a vocal business owner on the north side of the bridge who stands to lose about 11 feet of driveway space that's currently in the public right-of-way," Karabaic wrote, "While that may be inconvenient for them, I believe the benefits of this location far outweigh the slight inconvenience this business owner would incur."
Karabaic said putting the bridge further east at 16th would make it about one-quarter mile from the 11th/12th crossing. "This is a long distance for someone who has trouble walking or is in a wheelchair," he wrote. "It could make the difference in missing a bus or train." Karabaic feels the proposed alignment is ideal because it lines up with an existing crossing of SE Powell Blvd used by a lot of people on bikes and on foot.
As for safety concerns, Karabaic says that claim is unfounded. He cites the nearby Rhine-Lafayette overpass and streets in the Central Eastside Industrial District — both of which interface with industrial businesses while posing no major safety hazards (at least statistically and in terms of popularity) to vulnerable road users.
Hosford-Abernethy Neighborhood District (HAND) Chair Christopher Eykamp says he agrees with some of Koerner's safety concerns. In an email this morning, Eykamp told us he's drafting a letter from HAND to TriMet asking for help to mitigate potential hazards. "The truth is that no one really knows how much of a [safety] factor this will be in practice, and it is possible that if the danger is real, businesses will have to change their practices accordingly."
Eykamp feels the well-documented safety costs of not building the bridge should be weighed against the potential costs to businesses: "And I really don't see much of a contest."
For his part, Koerner said he's already invested about $30,000 fighting the project. His anger with TriMet over how the process has unfolded is palpable. He feels the agency is "ramming this down our throats." "We're screaming from the trees and they're not listening," he shared on the phone this morning. "They've deceived us on more than one occasion and I find this all ridiculous and self-serving. They had no intention of ever working with us."
Eykamp acknowledges TriMet's public process and other missteps around the Orange Line project have caused frustration among many in the neighborhood, but given the choices available, he feels the bridge should be built as planned. "I strongly support moving forward with the project, and I believe a majority of the HAND board does as well."
UPDATE, 12/21: Don't miss the latest post on this story with response from TriMet and PBOT.
— Jonathan Maus: (503) 706-8804, @jonathan_maus on Twitter and jonathan@bikeportland.org
Never miss a story. Sign-up for the daily BP Headlines email.
BikePortland needs your support.