Well over two years into discussions about a north-south neighborhood greenway that will someday connect the Lloyd District to Woodlawn, the City of Portland has finally shared concrete design plans. And they're worth the wait.
The designs are a step beyond what we've seen before. Among the concepts for the Lloyd to Woodlawn Neighborhood Greenway project are an extension of the linear arboretum on NE Ainsworth that would create a "pocket park" traffic diverter in the middle of the intersection. The Bureau of Transportation is also proposing a mini-roundabout at the crossing of the N Going greenway that would allow all road users to get through the intersection without having to come to a complete stop. Perhaps the most bold design of them all is an extension of Two Plum Park (on 7th between Mason and Shaver) that would result in a complete closure of the street to drivers.
PBOT still hasn't decided whether the greenway should be built on 7th or 9th Avenue (or a mix of the two); but the decision should be easier now that the public can more clearly see what's in store. The new designs come as part of PBOT's second open house for the project. It's an online open house that will accept feedback and ask questions via a survey through the end of this month.
Here's more about the proposals for each of the two alignments (note that the routes will be the same between Sumner (two blocks north of Alberta) and Holman):
NE 9th
PBOT is showing two options for the intersection of 9th and Ainsworth. Option A is an exciting, park-like diverter that would extend the existing, tree-lined median (technically a linear arboretum maintained by the Concordia Tree Team) that runs in the center of Ainsworth. Bicycle riders would be able to pass through the intersection while drivers would be forced to turn right. PBOT says this option, "offers a unique opportunity to enhance the crossing while expanding a community resource."
---
Option B for this intersection is much less interesting and would offer nowhere near the comfort of Option A: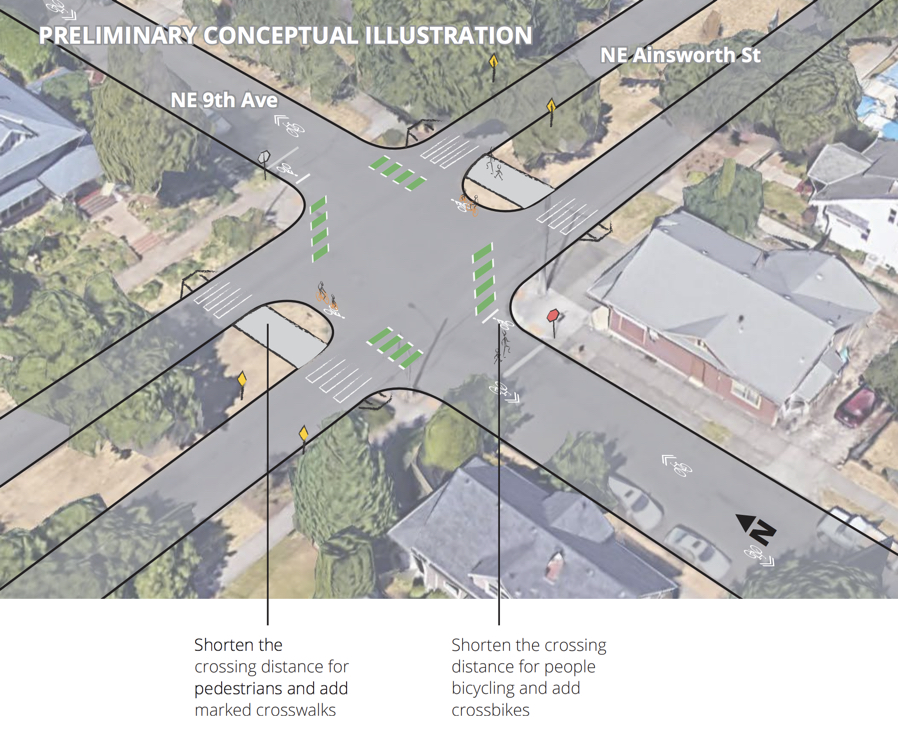 ---
At 9th and Going (a heavily used neighborhood greenway) PBOT says they could build a mini-roundabout that would allow people in cars and on bikes to go through the intersection without stopping:

**The Ainsworth park concept and mini-roundabout at Going apply to both alignments.
---
At Fremont the route on 9th hits Irving Park. To get through the park PBOT is proposing a two-way bike path on the south side of Fremont (that would take space currently used for parking cars):
---
The path would continue around the perimeter of the park and connect to 9th on the other side:
---
Between Broadway and Thompson PBOT is showing another novel concept: smooth cycling strips in the middle of a shared roadway. This section would have sharrow markings, but the smooth pavement strips would have two impacts: They would make cycling more safe and comfortable, and they'd provide a visual cue to drivers that they're on a bike street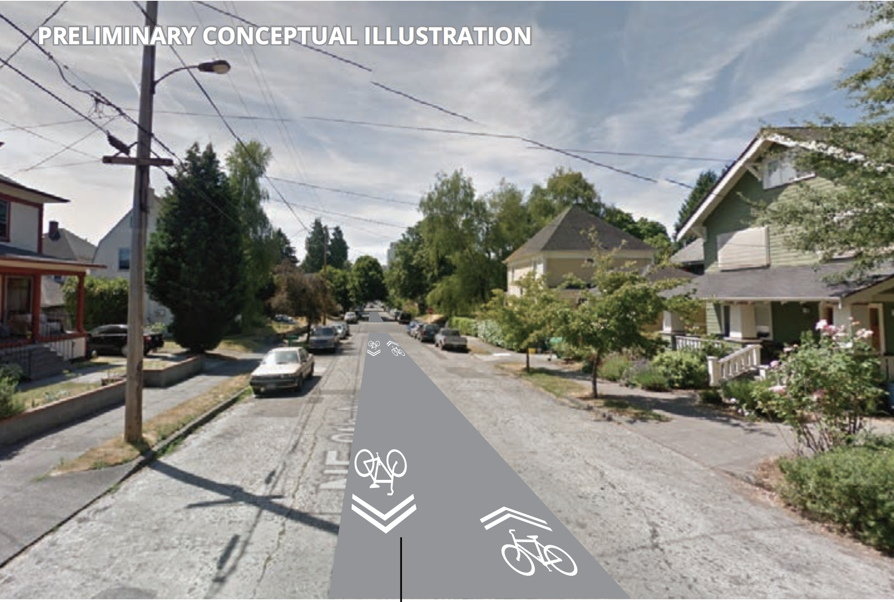 ---
Since the route would begin on 7th in the Lloyd, here's how PBOT would transition bicycle riders over to 9th using Broadway and Weidler:
NE 7th
Because 7th is 1) highly favored to be the greenway and 2) has a relatively high volume of drivers (about 5,500 cars per day), PBOT's designs would aim to dramatically reduce the amount of auto traffic. The most interesting example of this is what's proposed on 7th at Two Plum Park (a small park between Mason and Shaver). Calling it a "unique opportunity to integrate traffic management into existing green spaces," PBOT is proposing an extension of the park across the entire width of 7th Avenue that would close off the street to drivers. "The result," PBOT says, "is simple and effective, and can strengthen a beloved community asset."
---
At Fargo, PBOT wants to install a partial diverter that would prevent driving northbound. Auto users would have to turn off the street and use Martin Luther King Jr. Blvd.
---
At Morris, a partial diverter would prevent southbound auto use.
---
Another big diverter would be installed at Hancock. This one would stretch across the entire street and would force auto users to turn off the greenway.
---
To get bicycle riders safely from Broadway to the greenway, PBOT is proposing to build a protected bike lane northbound:
---
And between Broadway and Weidler they would add green bike lanes and bike boxes:
---
It's worth noting that public feedback so far has been overwhelmingly in favor of the 7th Avenue alignment. This is due to its connection to the forthcoming Sullivan's Crossing bridge over I-84, its more direct and flat profile, and its potential to reduce the amount of people who use cars on 7th as a cut-through. The budget for the project is also a big consideration. It's only about $500,000. That means some of the design concepts being proposed would only be possible if and when PBOT could identify additional funding.
From here, PBOT will continue to do public outreach and there's another open house scheduled for August 1st. A final design will be chosen later this fall and the project will be built in spring 2019. Learn more and visit the online open house on the project website.
— Jonathan Maus: (503) 706-8804, @jonathan_maus on Twitter and jonathan@bikeportland.org
Never miss a story. Sign-up for the daily BP Headlines email.
BikePortland needs your support.