New bike lanes on NW Marshall. See what
it will look like when completed below.
(Photo: Paul Peterson)
New bike lanes are being constructed on NW Marshall between 12th and 14th Avenues in the Pearl District — but these aren't just any bike lanes. What's notable about this project is that the new lanes are being cut right through historic cobblestones (a move that has irked some local residents who say the cobbles are key to the area's charm) and they're part of a larger streetcar project that will make NW Marshall into a bicycle boulevard.
The new bike lanes are part of the Eastside Streetcar Loop project, a $128 million, 3.3 mile extension of the streetcar that will loop from the Pearl District, across the Broadway Bridge and down to OMSI. The project will turn NW Lovejoy and NW Northrup (two blocks north) into an east-west couplet (one-way traffic in each direction). As part of that construction, the bike lanes currently on Lovejoy will be removed and Marshall and NW Johnson (four blocks south) will become the preferred bikeways.
Here's another photo (both photos were sent in by reader Paul Peterson):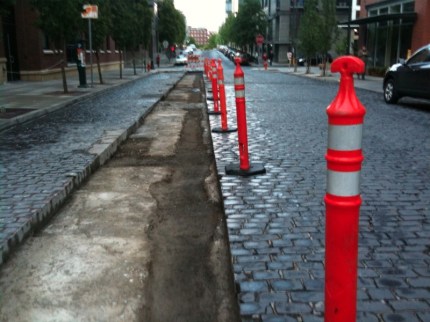 The new lanes will make for a much smoother ride.
PBOT (with sign-off from the Bicycle Advisory Committee) decided that the cobbles on Marshall did not provide the desired level of comfort for people riding bicycles, so the decision was made to pour new pavement to smooth out the ride.
When this idea was first floated to the public back in 2008, some Pearl District residents were not pleased. The NW Examiner detailed the debate (I'm still trying to track down the article) and reader Tom Durkin emailed us calling the idea a "debacle." When he heard about the plans, he said, "What a bunch of baloney. When REI went in on Kearney, the cobbles were restored. Riding cobbles gives riders the feelings of the past, the old world. I am very unhappy about this project."
But local design firm Alta Planning, who helped analyze the Marshall alignment, said the treatment is common in European countries with high bike usage. Alta CEO Mia Birk sent me the photo below as evidence:
How the Dutch do it.
(Photo courtesy Mia Birk)
For Birk and PBOT, a bike boulevard on Marshall is part of a larger effort to make the Pearl District the city's first officially designated "Bicycle District." For a glimpse of what Marshall might look like when construction is complete, here's a conceptual drawing by Alta Planning that shows two newly paved, 5-6 foot wide concrete bike lanes and one large lane for motor vehicle travel while preserving all-important curbside parking on both sides:
Concept drawing by Alta Planning showing NW Marshall between 12th and 14th avenues.
The streetcar project is spurring many changes to how bikes get around this area (especially around the Lovejoy ramp onto the Broadway Bridge). Stay tuned for more coverage of what's in store.