As expected, there was no debate at Portland City Council yesterday where an ordinance to authorize a new 20 mph residential speed limit was on the agenda.
Getting a 5-0 vote in support was a foregone conclusion because the state law council endorsed was crafted by the City of Portland in the first place. Lower speed limits are also a key pillar of Portland's Vision Zero plans.
When there's no real drama, council meetings like yesterday's are often most useful because they give us a window into what our electeds, city staff, and other community leaders think about the policies we obsess about around here all the time.
Before I share a selection of comments and testimony I heard yesterday, let's take a look at the technical aspects of the 25 mph –> 20 mph rollout the Portland Bureau of Transportation will now get started on in earnest:

The official details from PBOT
PBOT project manager Dana Dickman presented the plans to council. She described the places where the new 20 mph speed limit will take effect as, "the streets most of us live on," and "our collective front yard." Dickman also shared that this speed reduction effort is the second of three speed-related actions outlined in PBOT's Vision Zero Action Plan. The first one was to install speed safety cameras (which they've done to great success) and the next one is to redesign streets so they're harder to speed on.
What exactly are "residential streets" according to PBOT? Dickman shared a definition that included the following three criteria:
1. Excludes federally classified collectors and arterials.

2. Has a "statutory speed limit." [This means a limit where state law defines the speed and it doesn't have to be signed in order to be enforced. Places where PBOT or ODOT have created a special "speed zone" with signage do not apply.]

3. Located in a "residence district." [That term is defined in ORS 801.430 as, "territory not comprising a business district that is contiguous to a highway that: (1) Has access to property occupied primarily by multifamily dwellings; or (2) Has an average of 150 feet or less between accesses or approaches to: (a) Dwellings, churches, public parks within cities or other residential service facilities; or (b) Dwellings and buildings used for business.]
Dickman pointed out that some streets — like SE Belmont at 15th — will remain 25 mph even though they go through residence districts.
PBOT has just updated their website with Dickman's entire presentation and a much more detailed map of the new 20 mph streets: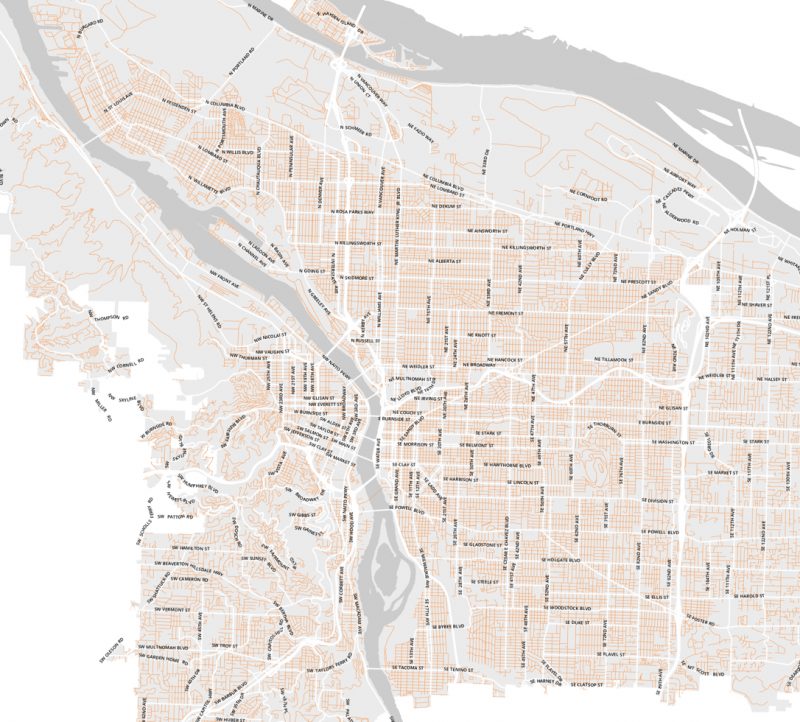 And here's a look at the streets that won't get lower speeds:
If you're wondering when all signs will be changed and the lower speed limit will be in effect citywide, here's a timeline:
What they said
Noteworthy commentary from electeds and leaders.
PBOT Director Leah Treat:
"This is a really significant step… This is primarily about safety, but benefits go beyond that. Our residential streets are not just for cars to travel on, they're where we play basketball, people have block parties, walk to the library… This is about making our streets more livable…

In 2017 45 people were killed by traffic violence in our city; an unfortuhabate upward tick in our fatalities and we want to address that."
Commissioner Amanda Fritz:
"I have lost three family members to traffic crashes involving speed… To people who say this won't work: It might. And I would ask everyone who drives: Do you want to be a driver who causes a fatlity?

… There's a reason for speed limits. I believe that most Portlanders do the right thing if they do what they're supposed to do, and it's defintely the right thing to do to drive 20 mph on residential streets."
Commissioner Nick Fish:
"What we're talking about in preventing unnecessary deaths on our streets and arterials, is preventing families from being torn apart by the tragedy of a completely preventable death… We know there's a problem and there's lots of ways to fix the problem. The question is: do we have the will to implement them? We can argue about whether it's 20 or 25 or what level enforcement… but my view on Vision Zero is: Let's take all the best ideas and implement them. Because if we save a life — if we save someone the horror of burying a loved one — we've done something important.

… As to the notion that we can't change behavior. I think we do it through peer pressure and community pressure. How about setting an example? Like put your goddamn phone down while you drive!"
Mayor Ted Wheeler:
"… I believe this is an important step towards reducing the kinds of interactions we're having on our streets that are leading to some of the negative news stories about how safe our community actually is.

I know there will be those that will say: 'This is the government intervening and trying to change our behavior.' I want to be clear: they are exactly right! But the truth is, the government shouldn't have to come in to change behavior. We shouldn't have to be taking this action. The reason we are doing it is people aren't using the two most valuable tools they have to reduce accidents and injuries on our streets: And that is a reasonable schedule and the clock that you need to make sure you are running on time. If you leave home late for someting you have scheduled you are going to drive faster than you need to. I think the communications program is: Have a resonable schedule; know how long it takes you to get from point-a to point-b and leave on time. Don't leave late. So many of these accidents, people say, 'Gosh, I didn't mean to run this person over, I was running late.' That is epidemic in our society. We are always overscheduled. We are always running late. And the busier and later you are, the more you are not thinking about what you should be thinking about, which is driving the car and doing so in a safe manner.

So this is one tool we are using, but the most important tool is ulimately the decisions we make as drivers before — and while — we get behind the wheel of an automobile."
A note about enforcement
There's been much debate here about how enforcement will — or won't — play a role.
"I can't tell you I'm going to increase enforcement on these streets. Enforcement will stay about the same."
— Michael Crebs, PPB Traffic Division Captain
From a policy standpoint, PBOT's Vision Zero Task Force specifically de-emphasized enforcement due to how it might have an unfair impact on people of color and people. Here's the language from the adopted plan: "The enforcement actions in this plan are limited in order to reduce the possibility of racial profiling and disparate economic impacts." That doesn't mean PBOT can't use enforcement as a tool. The plan called for "targeted enforcement" to "address violations that cause injury and death." They called on the city to "de-emphasize less serious infractions." Is speeding on residential streets considered "less serious"? That probably depends on who you ask.
At council yesterday, Portland Police Bureau Traffic Division Cpt. Michael Crebs said, "I support this 100 percent… this is a big deal folks." He said he too is concerned about enforcement. While enforcement will continue on high crash corridors, Cpt. Crebs said, "I can't tell you I'm going to increase enforcement on these streets. Enforcement will stay about the same." Even so, he thinks the law will slow people down. Crebs also said he believes "the majority of folks" who drive on residential streets are "your friends and neighbors" and that peer pressure alone will be enough to slow them down. I'm not sure where Cpt. Crebs lives, but in Portland right now the big problem is the opposite: People are using residential streets as cut-throughs and they don't care about anything else but getting home a few minutes faster.
Commissioner Fish also shared a concern that enforcement wasn't part of the speed reduction plan. PBOT's Dickman told him, "Our intent is to stay true to the strategy for enforcememt we have now."
---
By April 1st, PBOT should have all the new 20 mph signs up. It will cost them about $300,000 to pay for labor and materials.
— Jonathan Maus: (503) 706-8804, @jonathan_maus on Twitter and jonathan@bikeportland.org
Never miss a story. Sign-up for the daily BP Headlines email.
BikePortland needs your support.