The updated Washington Park Master Plan that passed unanimously by Portland City Council on March 15th is the plan we need for our central city.
Its transportation elements include a vision to: keep cars on the periphery, reduce access for drivers, aggressively encourage transit use, create plaza and green spaces, and build protected paths for cycling and walking.
Washington Park is the "jewel in the crown" of our parks system (to quote Parks Commissioner Amanda Fritz) and it had been operating under a master plan that was passed in 1981. Because of smart management by Explore Washington Park (a city-funded Transportation Management Association, or TMA), auto use has declined considerably in the park in the past five years. In 2014, 80 percent of park visitors arrived by car. Last year that number was down to just 63 percent.
The updated master plan will hasten that curve.

Here are some other noteworthy elements of the plan…
"Reduce the dominance of cars"
Park planners see the transportation issue in two parts: How people arrive at the park, and how they move around once inside it. On both fronts, the plan places a strong emphasis on leaving cars at home. Why? In addition to all the standard reasons, their 2017 visitor survey showed people who use transit and bikes to get to the park are around 17 percent more satisfied with their experience than those who drive.
To help encourage even more transit and bike use, here are just some changes the plan envisions:
strengthening connections from the Goose Hollow and Kings Hill MAX light rail stops and changing their names to "Washington Park North" and "Washington Park Central",
improving the entrance on Burnside at 24th to draw foot and bike traffic from the popular NW 23rd commercial and residential area,
closing SW Tichener and Kingston in the northern end of the park to private vehicles and leaving it open only for biking, walking, shuttles and maintenance vehicles,
a new regional trail along the existing "Zoo Train" right-of-way (which is operated by Metro via a lease from City of Portland),
moving the large surface parking lot at the Oregon Zoo into a new parking structure (to be built someday in the Sylvan area) and replacing it with a "central green space."
The plan's priorities were broken down into three phases. Phase 1 calls for a new transportation management plan (TMP) that will delve deeper into parking, circulation and access issues. The plan will be developed by Explore Washington Park — an organization with a very favorable opinion of transit, biking and walking.
Off-road bicycling — paved and unpaved — and next to the Zoo Train?
People that like to ride dirt trails on bikes fared relatively well in the plan — thanks in large part to strong advocacy from Northwest Trail Alliance (NWTA).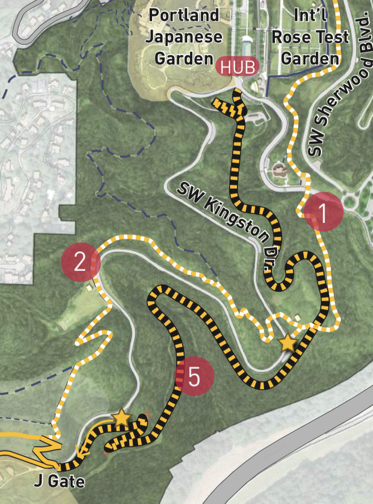 The plan initially called for a new off-road cycling trail between SW Kingston Drive and the southeastern corner of the park to be completed in Phase 3 — a $32 million list of projects to be completed 15 or more years from now. NWTA advocate Andrew Jansky testified during the March 15th hearing that he felt that was too long to wait. Before voting "yes" on the plan, Commissioner Dan Saltzman said he was "sympathetic" to the case laid out by Jansky. "Any chance we can move that into the Phase 1?" he asked Portland Parks Director Mike Abbaté. "Yes," Abbaté replied. (Keep in mind this is a master plan, a visionary/guiding document without funding. It's not an implementation plan and everything is subject to change.)
The other ray of hope for a new cycling experience in Washington Park is a potential paved path to be built within in the next five years either on or alongside the existing Zoo Train right-of-way. Metro (who owns the Zoo) operates the train; but it's been out of commission since 2013 due to costly repairs. The new plan doesn't take a position on whether the train should stay or go; but it makes clear a desire to create a path on its alignment:
"If the Zoo Train remains in operation, a narrower version of the regional trail should be explored. The tracks are never steeper than 4.5%, and a paved regional trail is an opportunity to reconnect the north and south ends of Washington Park."
Given the emotional attachment to trains that many people have, this could become a big debate in the future. Parks sees the right-of-way as a way to achieve two major goals of the plan: to connect the north and south sections of the park and to separate walkers and bikers from auto users.
Sensing its demise, Commissioner Saltzman spoke up in defense of the train with more passion than I've heard from him on any issue. "I think the plan needs to prioritize the train," he said. "I think the train is a fantastical [sic] element of the history of many of us who have grown up here." Then Saltzman said he feels the plan is leaving out the voices of "certain populations… like families with young children and older adults, which I'd wager are the largest population segments in our city."
"A lot of this plan is done with the 'hale and hardy' Portlander in mind," Saltzman said, "And not the family raising four young kids in Hillsboro or the older adults who need accessibility."
Commissioner Amanda Fritz then chimed in to say she's personally experienced the "enthusiasm of rail supporters." "They have a real ability to raise boatloads of money, so I don't think we should discount that." Commissioner Nick Fish concurred. Citing the $5 million raised for the Oregon Rail Heritage Center, he added, "I've never seen such indefatiguable fundraising from any group as train fans."
Suffice it to say the train and a potential new path alongside it will be included in the scope of the upcoming Transportation Management Plan.
No more bikes on Rose Garden Way
The plan calls for turning SW Rose Garden Way into more of a plaza space open only for walking and shuttles. This is currently road preferred by bicycle riders. The new bike route would be to use the less interesting service road just below the Rose Garden.


Cycle-track on SW Knights Blvd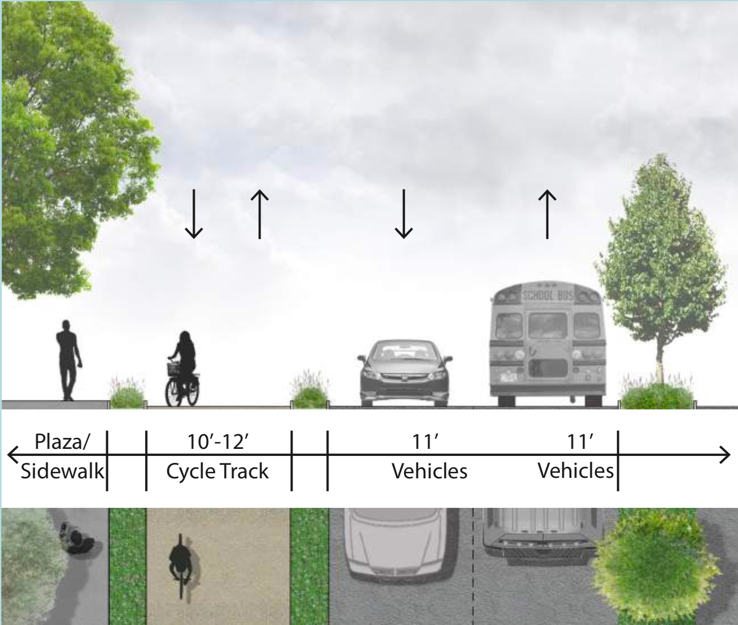 As part of the Phase 3 projects, the plan suggests building a 10-12-foot wide "cycle track" on SW Knights Blvd from the intersection with Kingston all the way to SW Canyon Court (near Highway 26). This would be part of major changes to the south entry of the park. A new cycle track and separated sidewalk would, "Close a gap in the regional trail network between Washington County and downtown Portland, and improves the experience for those hiking the 4T Trail." As you can see in the map below, the blue and black line of the new cycle track could eventually connect to the bike lanes on Kingston.
Bike lanes on SW Kingston
As part of their vision to improve bicycling in the park and reduce driving space (to slow people down), the plan envisions new bike-only lanes on SW Kingston from its intersection with SW Knights Blvd to the beginning of the future regional path along the Zoo Train alignment. "Visitors will be able to bicycle and walk from one end of the park separated from vehicle traffic," the plan states.
Here's how it looks when you put all the new paths together…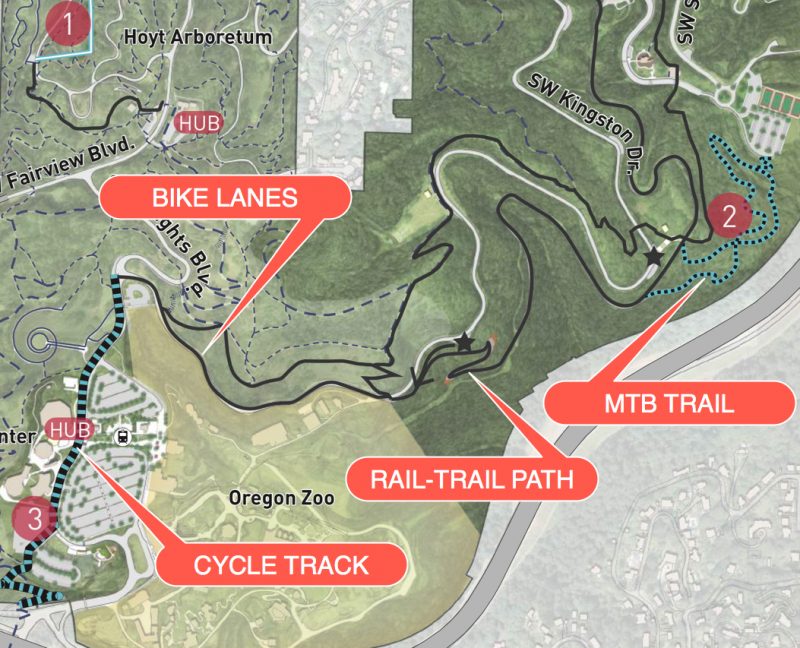 Carfree Kingston Drive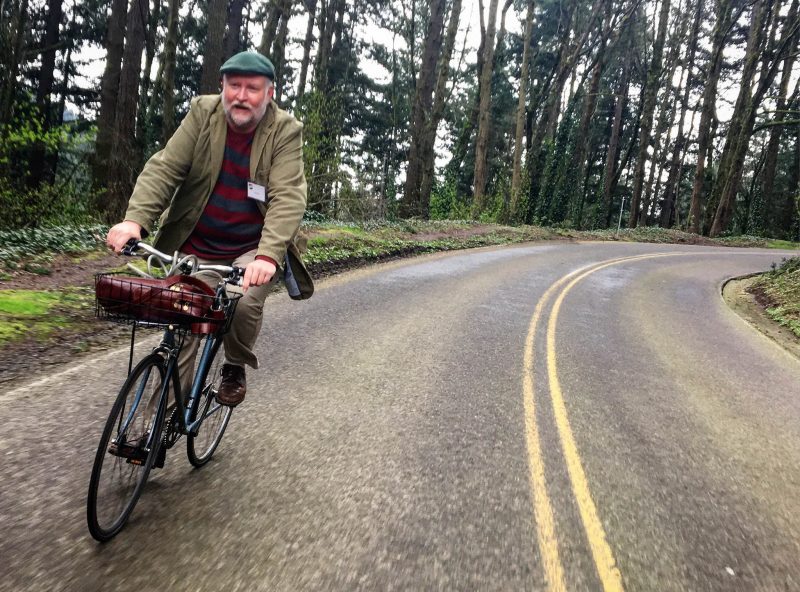 In response to strong community feedback to reduce the amount of cars in the park, the plan recommends closing SW Kingston to private auto use on Sundays or weekends. This is common in major parks in other cities and Portland Parks sees it as a perfect way to test how a carfree Kingston would impact users and other roads. The liken the idea to a mini Sunday Parkways that would, "let visitors walk, run or bicycle the 1.5-mile parkway, car-free."
Kingston has had a car overuse problem for many decades and mixing drivers and bicycle users remains a problem. The 1981 Master Plan addressed the issue too: "Because of the amount of traffic the existing roadbed is unsafe for co-use by bicycles or pedestrians. The perceived danger of the curving narrow roadway and the sharp dropoffs discourages speeding although some misuse does occur by drivers using it as racing loop in connection with S.W Fairview Boulevard."
Everything old is new again
What's striking to me about this new plan is how many of the transportation issues — and the proposed solutions — are the same as we had 1981. In fact, the 1903 report on Washington Park written by the architectural firm of Frederick Olmsted and Sons included a recommendation to have separate pathways adjacent to all the roads, because it was, "neither agreeable nor appropriate to mix different modes of traffic."
The 1981 plan raised concerns about too many cars in the park, a lack of places to park them, a high-stress cycling environment due to a lack of separation from car users, and so on.
And even making Kingston carfree isn't really a bold idea when you consider Parks called for it 37 years ago. The old plan recommended to, "Close Kingston Boulevard on selected well-publicized days to allow for carfree special events such as 'bike days' and foot races."
And while our 2018 plan calls for autonomous people movers, the 1981 plan had an equally futuristic idea: "An overhead tramway system," that would, "carry surprisingly large numbers of people," in podcars that would be, "silent, nonpolluting and require surprisingly little energy."
Fast forward to today and that sentiment is as strong as ever. In his testimony to City Council on March 15th, Arlington Heights Neighborhood Association President Michael Wallace said, "We are particularly supportive of shifting vehicles out of the center of the park and improving access for people walking. We have long recognized that managing private vehicles is the key to improving the overall park experience."
That was great to hear from an influential neighborhood association. And Wallace took it one step further, giving strong support to converting Kingston Drive into a multimodal path. "Removing the cars from SW Kingston Drive and converting it to a multimodal bicycle and pedestrian path should be in Phase 1 of the plan… The park is for people, not for vehicles."
— Jonathan Maus: (503) 706-8804, @jonathan_maus on Twitter and jonathan@bikeportland.org
Never miss a story. Sign-up for the daily BP Headlines email.
BikePortland needs your support.