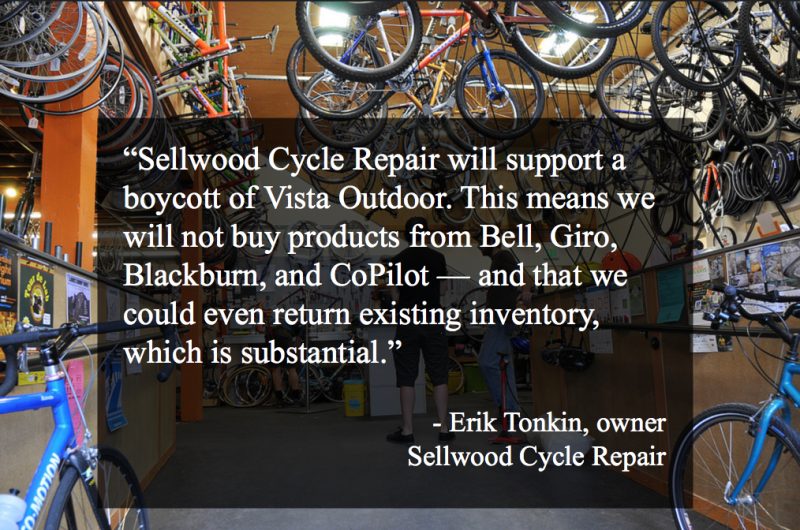 "We will no longer purchase products from companies owned by Vista Outdoors. We will be donating proceeds from the remaining inventory we have of Giro helmets to Everytown for Gun Safety."
— Leah Benson, Gladys Bikes
Revelations this week that several major bicycle brands are owned by Vista Outdoor — one of America's largest sellers of assault weapon ammunition and accessories, and a staunch supporter of the National Rifle Association (NRA) — has sent shockwaves through the Portland bike scene.
We've heard from several readers who now plan to boycott products from Bell Sports, Giro, Blackburn Design, CamelBak, Raskullz, and Copilot. But for bike shop owners who sell helmets, racks, packs and child seats, the issue is much more complicated. Some say they'll boycott the brands until ties to the NRA are severed, others say they'll steer clear of them in the future, and one was in such a moral quandary, they asked to remain anonymous.
Immediately after our story posted we heard from several Portland shops who said they'll boycott all Vista Outdoor brands.
Clever Cycles, who doesn't currently sell any Vista Outdoor products, wrote on Twitter that it's, "Terrible to hear that a company pedaling child seats and safety equipment is also supporting an industry of terror," and, "We are proud to not carry any products that @VistaOutdoorInc distributes." Go By Bike owner Kiel Johnson shared that, "We won't sell those brands either!" Mel Birgé who owns Recumbent PDX says, "I would never knowingly sell products from a weapons manufacturer. We didn't sell Bell, Giro or Blackburn and now we won't start."

Upon hearing the news of Vista Outdoor's ties to the NRA, Gladys Bikes owner Leah Benson wrote on her shop's Facebook page that, "This is frustrating and disappointing on a whole multitude of levels. Of Vista's many brands, we currently only stock Giro helmets, and we had just placed a fairly sizable (for us) order with them. I'm not going to lie: This puts us in a tricky place financially. That said, there are a lot of things that are more important than money (for instance: human life); we're committed to finding a way to not support them moving forward."
Benson shared more with us in an email this morning:
"We will no longer purchase products from companies owned by Vista Outdoors. Additionally, we will be donating proceeds from the remaining inventory we have of Giro helmets to Everytown for Gun Safety… I know that some folks will disagree with my opinions or tactics here, and I respect that, and won't deny that this is a relatively easy decision for me to make since Gladys is small and our pre-season investment in these brands was not nearly as large as other shops in the area. I respect that every shop has good reason for the choices they're making with regards to Vista; we all have different ways of existing in business and in the world."
All three of those shops are relatively small. And Clever Cycles doesn't even carry the brands, so they don't have much to lose by coming out strong against Vista Outdoor.
Cyclepath owner Bill Larson also doesn't carry Vista Outdoor products, saying they just discontinued selling Giro and Bell last year, "Due to a dislike for Vista's typical business practices." (That's a sentiment we heard several times over the past few days. Shop owners told us Vista Outdoor's corporate culture, failure to protect the retail prices of their products, and selling to online discounters made them hard to work with.) Larson added that he didn't know about Vista Outdoor's NRA ties before this week. "I can honestly say that if I had learned about this topic while still carrying their brands, it would've shaped our buying decisions," he shared with us via email. "There are many brands to choose from in the market now so theres no reason to stick with a brand if they don't offer a compelling reason to be on our shelf. We truly believe in voting with our dollar."
What about shops that do a significant amount of business with Vista Outdoor? Their responses revealed just how difficult it can be to extricate business dealings from moral stances in these days of corporate dominance in the bike industry.
Metropolis Cycles has been doing business on North Williams Avenue for nine years. Co-owner Nathan Roll said they currently sell products from Giro, Blackburn and Bell and have done so for several years, before the brands were acquired by Vista Outdoor.
Here's his statement:
"We are deeply dismayed by this news, and are trying to determine how to proceed. We were previously unaware of Vista's connection to and support of the NRA. I personally find the NRA's rhetoric and actions reprehensible and disgusting, and would happily cut ties with anyone that supported them, but as the owner of a business, it's not that easy, for several reasons.

The simplest is that we have thousands of dollars of their merchandise already in stock, and have committed to buying thousands more through the course of the coming year. In addition, we have a relationship with the brand(s) and their employees, none of whom had a say in who purchased their employer. Some of them are our friends and neighbors, and this clearly affects their livelihoods. We are currently re-evaluating our relationship with Vista Sports, but as I'm sure you are aware, the bicycle business is hardly lucrative, especially for small neighborhood shops like us, and we can't afford to give away product, or even discount it deeply in an effort to unload it. The Giro/Bell duo is also by far the largest player in the domestic helmet market, and though there are alternatives, we will have to consider them carefully before making any decisions."
Sellwood Cycle Repair celebrated its 25th year in business in 2017. It's a local institution and its influence goes well beyond Portland. Owner Erik Tonkin has helped design and influence several Kona Bicycle Company models over the years and he's a force in the racing scene, having supported an all-women cyclocross racing team through international competition this past season.
Tonkin told me this morning he carries a large amount of products from Vista's brands. Even so, he'll support a boycott. Here's his statement:
"Sellwood Cycle Repair will support a boycott of Vista Outdoor. This means we will not buy products from Bell, Giro, Blackburn, and CoPilot — and that we could even return existing inventory, which is substantial. I was sad to learn a few years back these companies had been acquired by Vista. At the time, I was most disappointed because — for the first time ever — we'd be doing regular business with a vague holding company rather than a focused or independent bike businesses, like Kona Bicycles, Giant Bicycles, Quality Bicycle Products, Cyclone Bicycle Supply, and the list goes on.

And then there was Vista's substantial investment in shooting sports, not to mention its support of the National Rifle Association.

I need a specific, stated purpose to support a boycott — a goal or an outcome to pursue. For me, that goal is to ask Vista to drop its support of the NRA — or failing that, to sell off its brands Giro, Bell, Blackburn, and CoPilot."
And then there was the bike shop owner who didn't want to be identified:
"Well, this is an ethical dilemma I wasn't expecting to confront this morning. My initial reaction is 'fuck those guys'. We vote with our wallets. The idea of me giving money to a company that then gives it to the NRA is revolting. 

So I've been talking about this to the management and staff. The issues that are raised are matters of consistency. Are we going to hold all of our suppliers to a standard, and if so, what is the line? I'm afraid that if we dig deep enough into any of our suppliers, we're going to find stuff that is undesirable. And in order to not be hypocritical, we would have to do so. 

I don't know what to do at this point. Does the good (supplying well designed and produced bike stuff that help keep cyclists safe and comfortable) outweigh the bad?

I'm in a bind. I could take a stand and say we're not buying products from those companies. It might make a bit of a difference at some point, and now that this is public, I'm sure more will consider if they will support the companies. We sure will. 

One thing I have to consider is that Bell-Giro is our #1 most profitable brand, percentage wise. If we drop them, our sales will drop and profits will drop. It is likely that we would have to lay someone off or otherwise cut payroll. How would that person feel about my decision?

It is already difficult to be a small business in this day. I don't have the luxury to make a lot of decisions by how my heart feels. Sadly…but I do what I can do." 
Given the #NRABoycott effort that's sweeping the country, there are probably more shoes to drop in terms of what happens at Vista Outdoor. They purchased these bike brands very recently in an effort to diversify their holdings because the gun market is so vulnerable to political winds. If they don't want to cut ties to the NRA, they might end up selling these non-gun brands. As the gun debate heats up, companies might have to choose: They can sell guns or bikes, but not both.
— Jonathan Maus: (503) 706-8804, @jonathan_maus on Twitter and jonathan@bikeportland.org
Never miss a story. Sign-up for the daily BP Headlines email.
BikePortland needs your support.