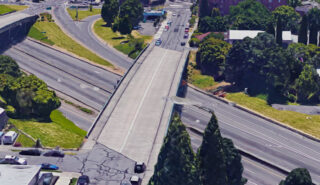 The Flint Avenue bikeway and bridge — a popular route from north/northeast Portland that will be torn down if the I-5 Rose Quarter project moves forward — will be the site of a protest rally Tuesday morning. The event is being co-hosted by No More Freeways and BikeLoud PDX.
Organizers want to raise the profile of opposition to the $450 freeway expansion ahead of a City Council hearing on Thursday where Mayor Ted Wheeler and commissioners are set to adopt amendments to the Central City 2035 plan.
No More Freeways says the I-5 Rose Quarter project is an, "unnecessary, counterproductive $450 million freeway boondoggle." The Flint Avenue bridge has become a focus of their campaign not only because it's a cycling route but also because of the "vital connection" it offers to Harriet Tubman Middle School, a Portland Public School set to re-open to students this fall.

The Oregon Department of Transportation (ODOT) says the bridge must go in order to widen I-5. Once Flint is gone, ODOT says they'll build a new bikeway that will cross over I-5 between Hancock and Dixon. For the thousands of riders who enter the central city from southbound Vancouver, this means you'll no longer jog onto Flint before going right onto Broadway. The new Hancock-Dixon bridge would be higher at its midpoint than Flint and would require a bit of a climb — especially up from Dixon.
Last month we published a post from freeway critic and Portland-based economist Joe Cortright. He says ODOT's plans will, "sever an important local street" and its removal runs counter to claims made by project backers and Mayor Wheeler that the wider freeway and related street projects will "reconnect the community."
In addition to the loss of street connectivity, No More Freeways is highlighting air quality issues at Tubman school. A recent article from environmental journalism outlet Cascadia Times reported that despite the desire from Tubman School advocates to build a new sound and pollution wall between I-5 and their campus, ODOT says there won't be enough room once they add the new lanes:
"In a recent meeting, two senior Oregon Department of Transportation engineers informed Portland Public Schools that any pollution-mitigation wall the school district might build below Harriet Tubman School to try to block some portion of the toxic emissions coming off Interstate-5 may not survive the highway's proposed Rose Quarter expansion…

While the pollution-cutting impact of a tall wall – similar to the "noise walls" seen alongside highways – is uncertain, PPS sees it as the best potential bet to shield students outside the Tubman building from roadway emissions. Pending input from an environmental consultant, the district is also considering adding trees to the mix to boost the pollution-cutting effect. A wall would cost around $750,000; trees another approximately $250,000, Vincent said.

It's unclear if the district would spend that money for measures that may last only five years…"
There are several clean air and environmental organizations among the 30 who support the No More Freeways campaign. They include: the Audubon Society of Portland, OPAL Environmental Justice Oregon, Neighbors for Clean Air, Eastside Portland Air Coalition, Climate Justice Collaborative, and 350PDX.
Instead of more lanes that will make driving easier and more convenient, the coalition is pushing for congestion pricing on the existing lanes with the revenue going toward "robust investments" in public transit, biking and walking.
At Tuesday's rally, No More Freeways promises coffee and donuts, and the opportunity to sign their petition they will deliver to City Hall at the January 18th hearing.
Learn more at NoMoreFreewaysPDX.com.
— Jonathan Maus: (503) 706-8804, @jonathan_maus on Twitter and jonathan@bikeportland.org
Never miss a story. Sign-up for the daily BP Headlines email.
BikePortland needs your support.
If you have questions or feedback about this site or my work, feel free to contact me at @jonathan_maus on Twitter, via email at maus.jonathan@gmail.com, or phone/text at 503-706-8804. Also, if you read and appreciate this site, please become a supporter.