Volunteers from several north Portland neighborhoods are seizing on a paving project as an opportunity for the City of Portland to make long-awaited changes to Willamette Blvd that would improve bicycle access on a key link in the network.
The Friends of Willamette Blvd have set up a website and are urging people to call Mayor Ted Wheeler, City Commissioner Dan Saltzman, and PBOT Director Leah Treat. They also have an online petition to gather as many signatures as they can by the end of this week.

University Park neighborhood resident Robert Ping is one of the group's leaders. He's been working for two years now with an ad hoc committee that includes representatives from several north Portland neighborhoods and the University of Portland (a small college whose campus is on Willamette). The group has presented their idea at many neighborhood association meetings during that time. They've also run the idea by PBOT and have been in touch with Commissioner Saltzman's office. "So far all the feedback we've gotten has been positive," Ping shared in an an interview today.
Ping says he's lived in the neighborhood for 14 years, rides Willamette twice per day on average, and he wants it to be safer.
Willamette Blvd currently has unprotected bike lanes and one standard vehicle lane in each direction. It also has an extra lane currently used as free parking for adjacent residents (nearly all of whom also have large driveways and/or parking spaces available on sidestreets). The Friends of Willamette Blvd want the city to repurpose that northern curbside lane for mobility purposes instead of free parking, which would create the space needed to restripe the street with wider and buffered bike lanes in both directions, and a five-foot wide shoulder on the bluff side for people who want to walk or run with a view of Swan Island and the downtown skyline.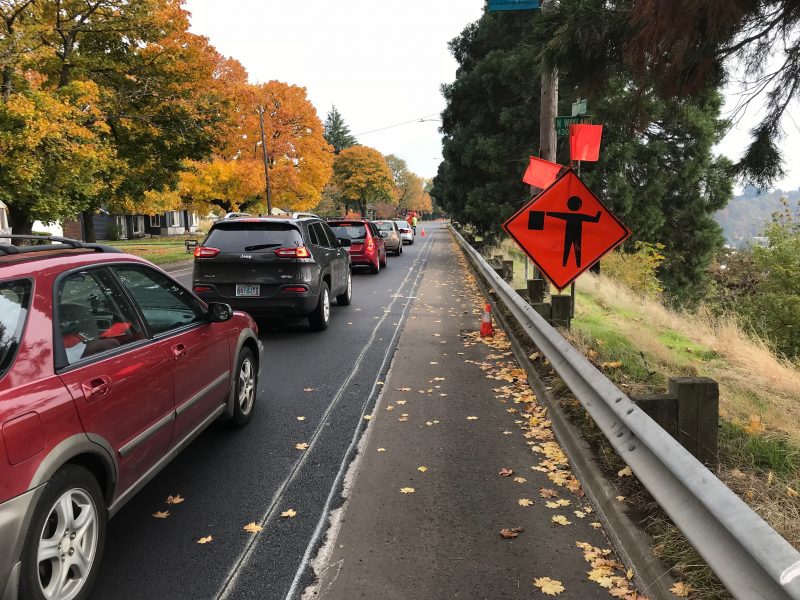 "Given the low utilization of existing on‐street parking and availability of alternative parking opportunities on nearby cross streets, private driveways, and garages, there may be opportunities to prohibit on‐street parking in order to pursue innovative bicycle treatments on Willamette Boulevard."
— PBOT in 2011
Willamette has long been on the radar of PBOT as a street in need of better bicycle access. In 2011 PBOT undertook the North Willamette Boulevard Bikeway Development Project. Their plans were also to create more space for cycling by reallocating space currently used to park cars. But before the project even got started, PBOT accepted defeat because homeowners didn't want to give up their parking spots the space they use to park cars in the street. As we reported at the time, The Oregonian called PBOT's retreat, "a troubling statement about where Portland's 2030 Bike Plan is headed without better work from the folks at the top."
PBOT promised to look at "other options" but the project was shelved and not much has happened since. Thankfully PBOT hasn't completely forgotten about Willamette. In recent years the bikeway has been widened and an extra stripe added to the southbound bike lane. The speed limit has also been recently reduced from 35 to 30 miles per hour (which is still very dangerous when drivers put their cars just inches from vulnerable road users).
But it's not enough. As Portland has grown, auto use has gone up and many drivers use Willamette as a cut-through to avoid Lombard (this is epidemic happening on dozens of Portland streets right now, but that's a different post).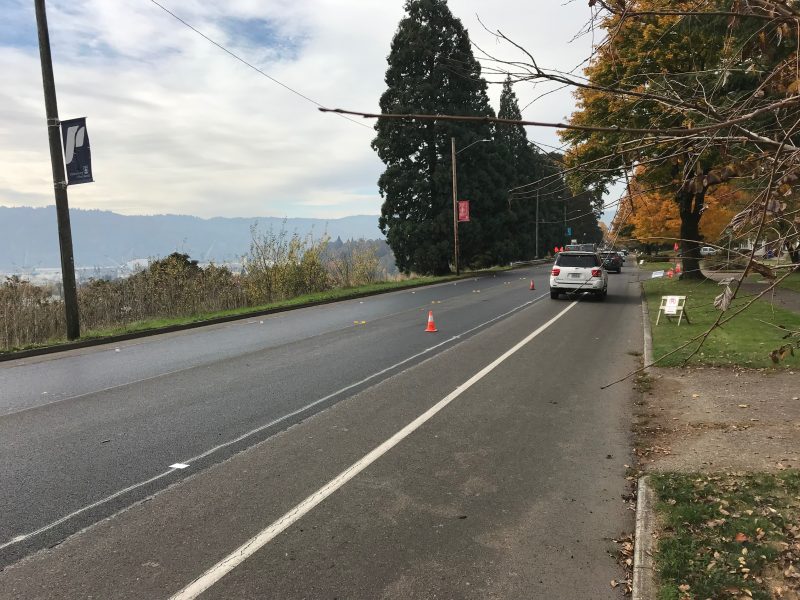 The current paving project came up rather abruptly, with sources telling us that PBOT and their maintenance division weren't as coordinated as they should have been. With several bad potholes forming since winter, conditions on Willamette have worsened. People in cars and on bikes swerve to miss the holes and debris, which leads to extremely unsafe situations.
"Every house along Willamette from Bryant to Woolsey has 100 feet of frontage on Willamette and they have a driveway. They literally have four times what any other average home has for parking and they still complain about losing less than half of it."
— Robert Ping, Cathedral Park neighborhood resident
The Friends of Willamette Blvd think now is the time to make it better and are asking people who live, work, or ride on Willamette to sign their letter. Here's the text:
To Commissioner Saltzman and Leah Treat

The Friends of Willamette Blvd is a group of residents and business owners in the University Park, Overlook and St Johns neighborhoods who believe that N Willamette Blvd must safely serve people who walk, bike, and take transit. N Willamette is a crucial link in the transportation network for people in our neighborhoods. It is the only connecting street from N Rosa Parks to N Woolsey other than N Lombard (Oregon State Highway 30). For years, members of our community have asked the city to make N Willamette Blvd safe and accessible for people who walk, bike, and take transit.

Currently N Willamette Blvd fails to provide people with transportation facilities they can use safely and comfortably. People accessing transit have no place to wait for westbound buses. People walking on the south side of N Willamette are forced to pick their way along a make shift deer trail with a steep ravine to one side. People bicycling do so next to speeding traffic in narrow bike lanes. As such a vital connection for active transportation, N Willamette must be improved for the city to meet is transportation, livability, and climate goals.

Fortunately, the city has an immediate opportunity to improve the street for people who walk, take transit, and bicycle. The Portland Bureau of Transportation is paving N Willamette Blvd between Rosa Parks and Woolsey. Now is the time to re-purpose the low-use on-street parking to improve safety, comfort, and access for people traveling actively.

We ask that Commissioner Saltzman and Leah Treat direct PBOT to make N WIllamette Blvd a street where all transportation users have safe facilities and access to where they need to go. The opportunity to act is now and the failure to do so means a city that is less safe and less healthy.
Ping says the only pushback to the idea are likely to be the same people complained about parking loss when PBOT last approached them six years ago. To Ping, there's simply no justification for using limited roadway space in this relatively small section of Willamette for free private auto parking. "Between Rosa Parks and Woolsey, I often see only two or three cars [near a church, which also has an off-street lot]. Every house along Willamette from Bryant to Woolsey has 100 feet of frontage on Willamette and they have a driveway. They literally have four times what any other average home has for parking and they still complain about losing less than half of it."
Back in 2011, some local residents started an online petition opposing PBOT's plans. They said the project would take away "100 much needed parking spaces" (PBOT analysis disagrees) and would turn Willamette into "a constant thoroughfare" that, "will decrease the quality of living for existing residents while simultaneously creating a more dangerous N. Willamette Blvd. for all stakeholders." 15 people signed that petition.
The Friends of Willamette Blvd's petition has about 60 names so far.
Asked whether PBOT will consider new striping with their current paving project, spokesman John Brady told us this morning that, "Yes, we will review the striping and look for ways to improve it." When they last looked at the issue in 2011, PBOT's plan was to shift auto traffic to the south and stripe a two-way bikeway on the north side.
What the striping ultimately looks like, and whether or not PBOT will use the full width of the street to create safer access for vulnerable road users — or if they'll continue to protect free parking for a few dozen homeowners — remains to seen.
— Jonathan Maus: (503) 706-8804, @jonathan_maus on Twitter and jonathan@bikeportland.org
Never miss a story. Sign-up for the daily BP Headlines email.
BikePortland needs your support.