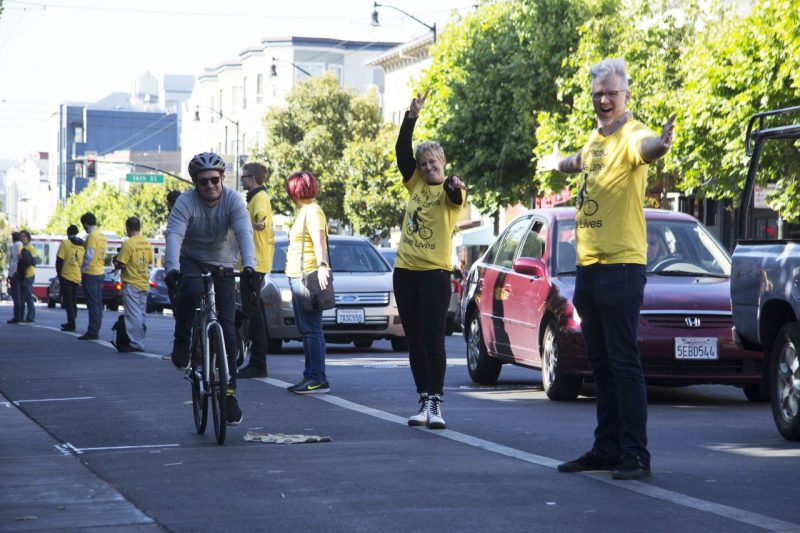 As the City of Portland prepares to remove the temporary protected bike lane along its downtown waterfront, some Portlanders see a one-time chance to grab the public imagination.
A group of residents and others who support protected bike lanes in the central city and elsewhere are planning to line up along the soon-to-be removed Naito Parkway protected bike lanes at 6 p.m. on Thursday, Sept. 28, to touch arms and create a half-hour "human-protected bike lane," complete with music, then capture the image for a crowdfunded advertising campaign in support of permanent bike lane protections.
"I think it's gonna be awesome," said Emily Guise, the co-chair of advocacy group BikeLoudPDX. "We're taking inspiration from people who have done them around the globe: Dublin, San Francisco, New York. … It's going to be a really positive event."
"The goal is to show support for protected bike lanes in the lead-up to the Central City multimodal plan," said Kiel Johnson, a Lloyd District resident helping organize. "This is an opportunity to put in some world-class bikeways in Portland. And it's time for all of us advocates to get off our butts and show that we support these things, and that there is support for them in the city. … There is not going to be a better-timed opportunity than next Thursday."
Johnson, who owns and operates the Go By Bike shop and free bike valet in the South Waterfront, just launched a crowdfunding campaign aiming to raise $5,000 for a billboard that would display a photo from Thursday's event and the caption "Portland supports protected bike lanes."
Go By Bike will put up the first $500, he said.
The two-way Naito protected bike lanes and on-street walkway will be removed for the winter Oct. 2. They're currently expected to be reinstalled in late spring for the start of summer festival season, but the Portland Business Alliance's seeming fascination with the 16-block bike lane makes every future reinstallation a political gut-check for city leaders.
Guise described the human-protected bike lane event's goal as being "to show support for Better Naito, appreciation to City Council for installing it again, and to ask that it be made permanent."
"It's really the only part of the central city plan that is in place now that people can experience now, and I think it would be a really important part of the central city plan," she said.
Organizers say they'll also invite TV crews to attend.
Human-protected bike lanes are a new bike-activism innovation that began in San Francisco in May and have since appeared in Boise, New York, Mexico City and Dublin.
Johnson said he feels Portland has "dropped the ball" in recent years by missing some opportunities to install excellent bike infrastructure and that this is a chance for Portlanders to ensure it doesn't happen again.
"I would tell people that if there's one activism event that they go to this year, come to the human-protected bike lane on Naito," Johnson said. "This has been a hard year, and if people are feeling like they want to do something that can create positive change, come out for this event and we can change how our community functions in a more sustainable and community-oriented way."
If you're interested in joining or helping out, here's the official Facebook event and a sign-up sheet for spending time on Naito letting users know about the event.
— Michael Andersen: (503) 333-7824, @andersem on Twitter and michael@portlandafoot.org
Never miss a story. Sign-up for the daily BP Headlines email.
BikePortland needs your support.