Jonathan's enjoying Europe, so I wanted to revive the Weekend Open Threads and ask what bikey or outdoorsy things you did this weekend. I got out to Sunday Parkways- maybe the first one I've been able to attend this year. Parkways was well-attended; I suspect that's because people are feeling the "end of summer" pressure.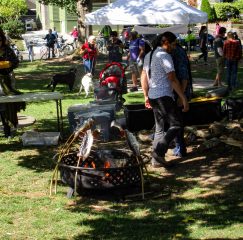 One highlight of the event was a person I met while stopped for coffee in Milwaukie. He was admiring my classic Raleigh, so we talked a bit. He is from Southern California and came to Portland for a weeklong conference. Now that the conference is over, he is riding to Eugene and will take the train back home from there. He felt embarrassed for carrying so much gear (front and rear panniers), but he had "nice clothes" for the conference and all of the wet-weather gear he might need for riding. I'm sure he'll enjoy the ride.
Some of my random observations:
I'm always pleased at how family-friendly the ride is. Lots of "kid trailers", tag-a-longs, Co-Motion triples and quads, balance bikes, bikes with training wheels, and one kid who was stopping Fred Flintstone style.
It's great to see people attending who don't hop on their bikes very often. It's unfortunate to see drivers with bikes attached to the car, who drive without awareness of other pedestrians, cyclists, and drivers around them near an event like this.
So many volunteers. Always great to say "thanks" to as many as possible.
I was happy to run into some friends- Adam H and Armando– though I missed a few others that were there.
No Sellwood Bridge on the route this year.
So, did you attend Parkways? Go racing? Run errands? Share your weekend adventures in the comments. Email pictures to be placed in this post, or submit a subscriber post. Also feel free to share thoughts on the bike news of the week, or stuff you think we should cover next week.
— Ted Timmons, @tedder42 on Twitter and ted@timmons.me
Never miss a story. Sign-up for the daily BP Headlines email.
BikePortland needs your support.