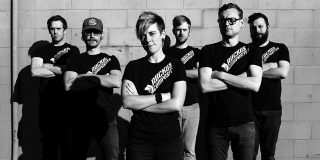 Ruckus Composites has come a long way since we first visited their shop seven years ago.
Back then company founder Shawn Small worked in a rough shop space in the Brooklyn neighborhood that he shared with another company (Portland Design Works, which has grown quite a bit itself since those days). A mechanical engineering grad who's now 32 years old, he worked alone with just his tools, machines, and big ideas to keep him going. Part bike lover, part mad scientist (he used to write our "Bike Science" column), and part entrepreneur, Small has definitely managed to keep going.
As he approaches a decade in business he announced two new hires today which brings the Ruckus staff up to six full-timers (not including himself).

While he envisioned a company that would make a full suite of bicycle components — and maybe even a line of bicycle frames — Small has zeroed in on one niche: carbon fiber bicycle frame repair. Since finding that focus around 2012, Small has invested in training and tools to make his operation as efficient as possible. Many of the 60-70 bikes that come through the shop each month are fixed and returned to their owners within 1-2 weeks. That's possible in part because of things like the shop's graphic design prowess and vinyl plotter that allows them to create and print frame stickers and graphics themselves.
Another competitive advantage is their ability to 3d-print replacement parts like derailleur hangers. It's a complicated process; but with a lack of standardization in the bicycle industry, it's a must. "We're the only shop in the world that does that," Small said during our visit to Ruckus' central eastside industrial shop space last summer. On that note, Ruckus has also grown because of a lack of competition. The company finds customers through traditional marketing and has also become the go-to source of repairs for many carbon bike manufacturers and large bike shops. When a carbon frame cracks under warranty, it's usually much cheaper to have it repaired than to scrap it and send out a new frame.
For Small, Ruckus doesn't exist to simply fix broken bikes, they aim to make broken bikes better. All the carbon used in repairs is imported from Sweden in rolls just one-third of a millimeter thick. Small says it's the best carbon fiber available because of its stiffness and purity. Beyond keeping people riding, Ruckus sees their mission as a way to keep carbon bikes out of landfills. "We give once broken frames a new life, fulfilling our fundamental concept of 'remade in the USA,'" reads a company statement released today.
Small estimates about 4,800 bikes have come through Ruckus' doors for repair. And none of the repairs have failed.
That's a seriously good track record that has helped lead to serious growth for this small business. But it's not all serious at Ruckus. If you've seen the Ruckus Test Team at the local races (hard to miss with their perenially outlandish team kit) or if you follow them on Instagram, you'll know that the people behind this brand are as silly as they are smart. Last year Small built a 28-foot long, 40-pound carbon fiber glider and entered it into the Red Bull Flugtag flying competition. He's also gained a bit of celebrity for launching a hot dog into space.
It's all about having fun and being open to new ideas. In a statement today about the new hires, Ruckus said they plan to continue to expand their technical expertise and educate more bike shops around the country about carbon repair. "We are also thinking heavily," the statement continued, "about what sort of bike should be on the first Mars Colony."
— Jonathan Maus, (503) 706-8804 – jonathan@bikeportland.org
BikePortland is supported by the community (that means you!). Please become a subscriber or make a donation today.
If you have questions or feedback about this site or my work, feel free to contact me at @jonathan_maus on Twitter, via email at maus.jonathan@gmail.com, or phone/text at 503-706-8804. Also, if you read and appreciate this site, please become a supporter.