Gas prices? What gas prices?
The great gasoline plunge of late 2014 hasn't cut the rate of Portlanders biking to work, at least not in 2015.
In fact, drive-alone commuting among Portland residents hit a modern-day low last year — the fifth such record in six years — and public transit commuting jumped to a modern high of 13.4 percent.
Thursday's data was the first to reveal whether the recent gas price drop has reduced bike commuting nationwide.
That's according to the Census Bureau's annual commuting estimates, released Thursday.
The number of low-car Portland households, those with more adults than autos, was stable for the fifth year in a row. At least 24 percent of all Portland households remain in this category, and they account for 49 percent of household growth since 2005.
Bicycle commuting surged in many U.S. cities, most dramatically in Portland, during the gas price spike of the 2000s. More recently, the drop in gas prices has led to a rebound in driving. Thursday's data was the first to reveal whether that shift had also reduced bike commuting.
It didn't.
That's good news, Portland Transportation Director Leah Treat said in an emailed statement Wednesday.
"Portland is growing, but our roadway space is not," she wrote. "If we want to avoid choking on congestion, we have to reduce our reliance on single occupancy vehicles. That's why I am heartened by these latest Census numbers."
Bike commuting rates hold steady nationwide
Portland's estimated bike-commuting rate was 7 percent in 2015, statistically equivalent to the 7.2 percent estimate from 2014.
That makes it nearly certain that the 2014 surge in bike commuting — 5,000 new commuters, ending a five-year plateau — was no polling fluke.
Also in 2015, Portland's bike-commuting gender balance ticked closer to parity, reaching 37 percent female. The national figure is 29 percent. Portland's ratio was 29 percent in 2005 and has been trending mostly upward since.
Elsewhere in the country, bike commuting rates were mostly stable in 2015. Nationally, they remained at 0.6 percent, continuing a four-year plateau.
What might be called the "Big Five" bike commuting cities — Portland, Minneapolis, San Francisco, Washington and Seattle — all held more or less steady. Of that group Minneapolis saw the biggest uptick, cracking 5 percent biking for the first time.
Among the nation's biggest cities, Chicago continues to show the steadiest growth. Powered by major bike infrastructure investments, the city (which happens to be Treat's previous employer) doubled bike-commute rates over the last decade and is up to an estimated 1.8 percent bike commuting.
New York City and Los Angeles both posted 1.2 percent in 2015, continuing their plateaus of the last few years.
Driving hits a new low thanks to public transit rebound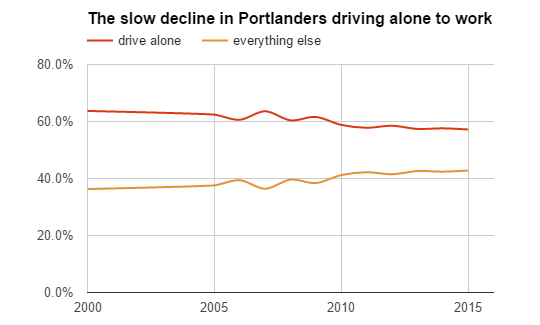 Thursday's figures brought TriMet some of its best news in 10 years.
Portland's regional transit agency has had a rough decade. First, the new Yellow and Green MAX lines delivered no large payoff in ridership; later, an 11 percent service cut during the Great Recession sent wait times upward, especially at bus stops.
In Portland, transit commuting slipped to a long-term low of 11.1 percent in 2012. Until today, it seemed as if that might have been the start of an indefinite downward shift.
But things seems to have turned around in 2015, at least among Portland commuters. An estimated 13.4 percent of Portlanders got to work by mass transit last year, well up from an average 11.8 percent over the previous five years. If the trend holds, it'd bring mass transit commuting back to 2005 levels.
Thanks to the transit increase and to a smaller rise in foot commuting, Portland's drive-alone commuting rate slid to 57.2 percent, probably its lowest level in decades.
Alan Lehto, TriMet's director of planning and policy, said Wednesday that he wasn't sure what had driven the apparent rise in transit commuting by Portland residents.
"There's not one obvious thing to point to," he said. "We've clearly made some improvements in service throughout the city."
TriMet service finally surpassed its 2009 levels this year, Lehto said. But he said most of those bus frequency improvements were midday, not during rush hours.
Oddly, though, he said it's midday TriMet service that seems to be struggling most for riders lately.
"Our overall system annual ridership is pretty much the same this year as it was last year, and it's been running in the same range the last few years," Lehto said.
Lehto said the agency is "doing some more analysis" to study its current ridership strengths and weaknesses.
This is a sign that Portland policy is working – but a course change is being planned anyway
Widening Interstate 5 at the Rose Quarter would cost an estimated
$350 million
as of 2013.
Portlanders' continuing decline in driving to work, in the face of a strong economy and falling gas prices, follows decades of investments by the state and city in non-car transportation like bikes, buses and light rail.
At every level, Portlanders have elected politicians who say they support lower driving rates, especially within the city.
Thursday's Census figures are the latest sign that this is working. Each of the last eight years, drive-alone rates have fallen by eight-tenths of a percentage point on average. If that continues, by 2025 less than half of Portland commuters will drive alone.
But the state and city are currently planning a major investment in driving.
The agencies are beginning a push toward funding what would be the biggest freeway capacity expansion within Portland city limits in many years: new lanes on Interstate 5 at the Rose Quarter.
A major goal of that $350 million project, of course, is to make it easier for more people to drive on Portland's freeways during rush hours.
The Rose Quarter freeway widening might wind up as a piece of a possible transportation bill under discussion for 2017. It's also possible that Measure 97, the corporate sales tax on November's ballot, could accidentally send the state transportation department enough new money that it wouldn't need to ask for a gas tax hike.
In any case, Treat focused her statement Wednesday on helping people escape congestion without setting aside more urban space for driving.
"Portlanders continue to get out of their cars and into alternative modes of transportation," she said. "At PBOT we will continue to do our part to support these important trends. We will continue to work on initiatives like Biketown, the Central City Multimodal Project, making freight delivery more efficient and Vision Zero to make it easier and safer for Portlanders to get from place to place."
— Michael Andersen, (503) 333-7824 – mike.andersen@gmail.com
BikePortland is supported by the community (that means you!). Please become a subscriber or make a donation today.