Multnomah County continues to inch closer to completion of the Sellwood Bridge project; but some of the final changes mean yet another temporary closure.
Starting this Friday the 19th at 7:00 pm through Tuesday morning the 23rd (no later than 6:00 am), the bridge will be closed to all users. When it reopens you'll notice new lane striping and new traffic signals at each end of the bridge.
A new signal at SE Tacoma and 6th will aim to reduce cut-through traffic through nearby residential neighborhoods and the neighborhood greenway one block north on Spokane Street. Auto users going northbound on 6th will only be allowed to turn right (east) onto Tacoma. Bicycle riders and people on foot will be able cross Tacoma and get onto the bridge westbound thank to sensor loops in the pavement and/or push buttons.
Here's an image of the new signal from the County: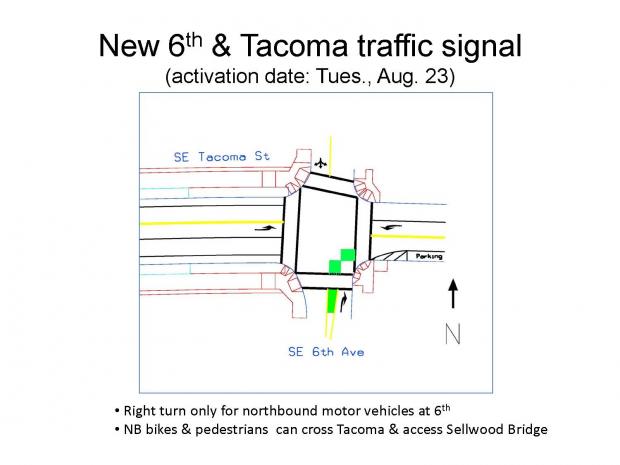 Learn more about this project at SellwoodBridge.org.
— Jonathan Maus, (503) 706-8804 – jonathan@bikeportland.org
Our work is supported by subscribers. Please become one today. You can also make a one-time donation here.
Contact Jonathan at @jonathan_maus on Twitter, via email at maus.jonathan@gmail.com, or phone/text at 503-706-8804. Also, if you read and appreciate this site, please become a supporter.