A bridge that will allow people to walk and bike — but not drive — over I-405 at Northwest Flanders just came much closer to reality. The Oregon Transportation Commission has approved $2,877,000 for the project through the state's Connect Oregon funding program.
The award means the City of Portland is on track to start construction of the bridge in 2018.

""We think a project like this will grow our economy and continue to make the downtown area the economic hub of the region."
— Dylan Rivera, City of Portland
The Flanders bridge was one of 39 "non-highway" projects from all across the state to receive a total of $49.5 million in funds generated by lottery-backed bonds.
The total cost of the Flanders project is estimated by the City of Portland to be about $6 million. The Bureau of Transortation has already pledged $3 million for the project — which it intends to get from system development charges (fees paid by developers to mitigate transportation impacts). And no, in case you're wondering, a pending lawsuit backed by developers and the Portland Business Alliance against the city's use of SDC funds does not impact this project.
This is great news for the northwest Portland bike network and once the bridge is completed it will also mean this part of town will have its first ever neighborhood greenway. Flanders is currently well-positioned to be a bike-priority street, but it lacks a crossing of I-405.
Portland leaders have been working for over a decade to close this gap. Former mayor Sam Adams first proposed the idea of a new bridge over Flanders in 2006 when he was PBOT Commissioner. He continued to work on the project until his run for mayor in 2008 but was not able to make it happen.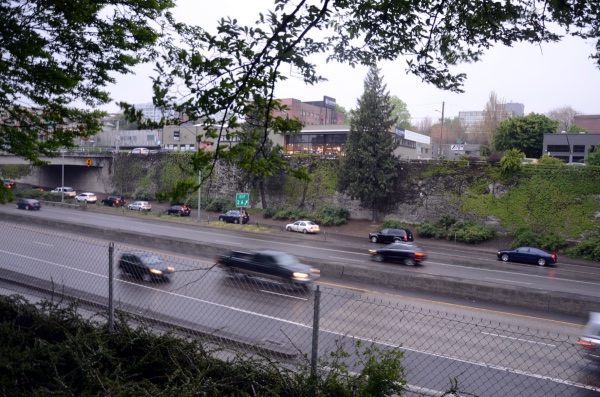 According to the city's grant application, the bridge would likely average about 3,000 crossings as soon as it opens as people shift their routes from the busy and high-stress crossings at Everett, Glisan and Couch. Once greenway elements like speed bumps, signage, and diverters are added to the street, it's estimated that the new bridge would see 9,100 trips per day. That's more than the amount of daily bike trips over the Hawthorne Bridge.
Given its low cost and high estimated usage (thanks to its location in dense northwest), we've reported that it could be the city's best bridge project in years.
So far, PBOT is planning for the bridge to have a 24-foot cross-section evenly split with two six-foot bike lanes in the middle and six-foot wide sidewalks on each side.
PBOT sees the bridge as a crucial centerpiece in their goal to reach their climate change goals and the 25 percent biking mode share laid out by the 2030 Bike Master Plan. The bridge would connect the Pearl District to Northwest Portland, two of the most densely populated neighborhoods in the Pacific Northwest.
City spokesman Dylan Rivera says the project is also about economic development. "Every week we hear about another software company moving here from the suburbs and citing bike routes, public transit and food carts as the reason they need to be downtown," he shared in a phone interview today. "We think a project like this will grow our economy and continue to make the downtown area the economic hub of the region."
The OTC also chose to fund several path projects including the Tigard Street Trail ($700,000), a bridge on the Yamhelas Westsider Trail in Yamhill County ($1,000,000), a segment of the Waterhouse Trail in Tualatin ($400,000), and a multi-use trail in Kronberg Park in Milwaukie ($1,185,000). See the entire list of projects here (PDF).
UPDATE, 3:06 pm: Here's a news release about the project just sent out by PBOT.
— Jonathan Maus, (503) 706-8804 – jonathan@bikeportland.org
Our work is supported by subscribers. Please become one today. You can also make a one-time donation here.
If you have questions or feedback about this site or my work, feel free to contact me at @jonathan_maus on Twitter, via email at maus.jonathan@gmail.com, or phone/text at 503-706-8804. Also, if you read and appreciate this site, please become a supporter.