We know it's stiflingly hot right now but the forecast is for cooler temps on Sunday. It should be a perfect day to enjoy your streets the way they intended to be used — by walking, rolling, and riding on them during Sunday Parkways.

The City has prepared a seven-mile loop of carfree streets for your enjoyment and they've stuffed them full of activities, food, entertainment, and activities at four parks along the way. If you have friends in town who need bikes, grab a Biketown bike. Over half of the Parkways route is within the service area and you don't have to worry about the other half because the city is waiving all out-of-area fees for the duration of the event (11:00 am to 4:00 pm).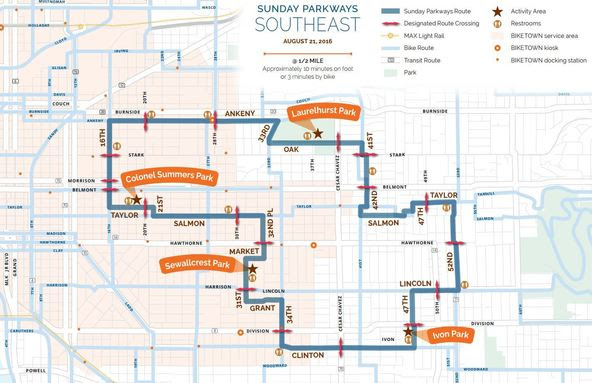 Combined with the Connect the Park Blocks event on Saturday followed by the Jade Night Market, this is truly the open streets weekend of the year! Get out there and enjoy it.
— Jonathan Maus, (503) 706-8804 – jonathan@bikeportland.org
Our work is supported by subscribers. Please become one today. You can also make a one-time donation here.
Contact Jonathan at @jonathan_maus on Twitter, via email at maus.jonathan@gmail.com, or phone/text at 503-706-8804. Also, if you read and appreciate this site, please become a supporter.