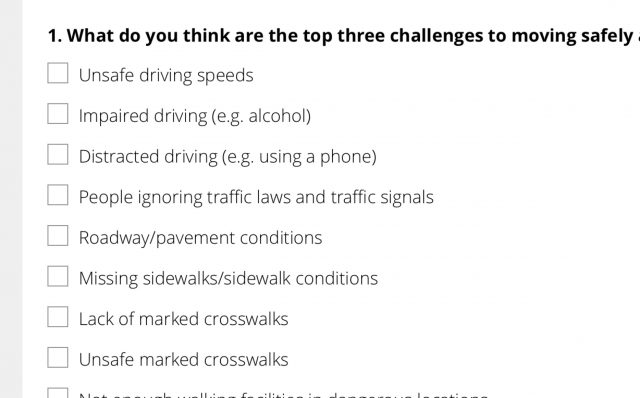 The Portland Bureau of Transportation wants your input on two very important issues: the Clinton Street traffic diverters and Vision Zero. They've released an online survey for each of them and we'd like to officially encourage you to take a few minutes and fill them out.

When PBOT installed traffic diverters on SE Clinton Street back in January you might have missed the fact that they were billed as only a temporary measure. In order to calm potential backlash and/or make the project less politically dicey, PBOT (smartly) did the project as an "evaluation." Now they need to get public feedback to help inform whether or not the diverters should stay or go (or change).
As we reported last week, many people who bike on Clinton say the diverters have helped a lot. Fewer people are driving on the street and in general, people who bike on it say it feels much more comfortable (citizen activist Josh Chernoff being a major exception). However you feel about the diverters, please let PBOT know. "The results will be used to determine if the diverters should be permanently installed," says PBOT, "and where additional modifications for traffic calming (if any) are needed to achieve necessary traffic speed and volume results."
~ Take the Clinton Neighborhood Greenway Evaluation Survey
Another area where PBOT wants your input is on their Vision Zero efforts. The city hosted its fourth Task Force meeting today and they're starting to put together a draft plan that will be released at the end of August. PBOT safety staffer Clay Veka said at the meeting today that the main reason for the survey is to use people's experiences and opinions in order to create more effective messaging and educational materials. Here the questions asked in the survey:
1. What do you think are the top three challenges to moving safely around Portland? (Select three)
2. Have you ever been seriously injured in a traffic crash in Portland?
3. Do you know someone who has been killed or seriously injured in a traffic crash in Portland?
4. When the person you know was killed or seriously injured, were they walking, biking or driving?
5. What main factor caused the crash?
6. Do you ever feel threatened by people driving when you're walking in a crosswalk?
7. If a person driving kills a person walking in a crosswalk, how do you think they should be punished?
8. Do you support using automated cameras to ticket people who SPEED while driving?
9. Do you support using automated cameras to ticket people who RUN RED LIGHTS while driving?
10. What is Vision Zero?
11. Who do you think is in charge of keeping Portland's streets safe for people traveling?
Please take a few minutes and let the city know what you think.
~ Take the Portland Vision Zero Survey
— Jonathan Maus, (503) 706-8804 – jonathan@bikeportland.org
Our work is supported by subscribers. Please become one today.