The Gresham Police Department reported on Sunday that a 22-year-old Portland woman is recovering after she alleged she was sexually assaulted Friday afternoon (3/18). The suspect is still at large.

Here's how police describe the incident:
At 4:20 p.m. on March 18, police were called to Walmart in the 3900 block of W. Powell Blvd., where the victim ran to call 911. She had been riding her bicycle westbound on the trail when her tire went flat. While changing the tire, the woman flagged down a man riding a dark colored mountain bike and asked for his help.

The man talked with her for a short time before threatening to kill her with a knife if she screamed. He then forced her into a wooded area to the south of the trail and sexually assaulted her.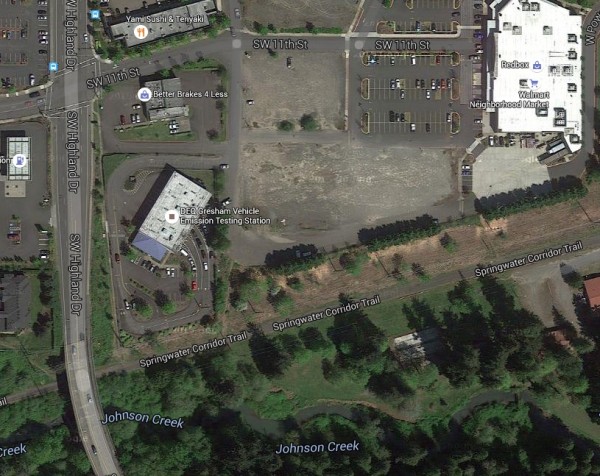 Aerial view with Springwater path and Walmart in the upper right.
The suspect is described as a bald white man in his 40s, "medium build," approximately 6-feet to 6-feet-two-inches tall and clean shaven. He was wearing a red jacket, blue jeans and a dark colored backpack.
If you saw anything related to this case, please call the Gresham Police tip line at (503) 618-2719.
— Jonathan Maus, (503) 706-8804 – jonathan@bikeportland.org
BikePortland can't survive without subscribers. It's just $10 per month and you can sign up in a few minutes.
If you have questions or feedback about this site or my work, feel free to contact me at @jonathan_maus on Twitter, via email at maus.jonathan@gmail.com, or phone/text at 503-706-8804. Also, if you read and appreciate this site, please become a supporter.