Posted by Jonathan Maus (Publisher/Editor) on January 4th, 2016 at 12:18 pm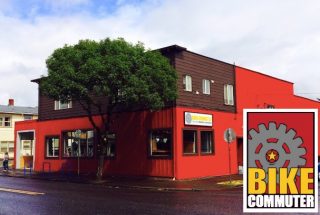 The Bike Commuter at SE 17th and Clatsop.
The Bike Commuter, a neighborhood bike shop that has served the Sellwood area since 2010, is closing its doors.
The Bike Commuter was a family-friendly, neighborhood bike shop owned by Eric and Naihma Deady. When it opened in January 2010, the shop was located at SE 13th and Umatilla on the main bikeway that took people from the Springwater on the Willamette to the Springwater Corridor.
10 months after opening, the shop moved a few doors down. Then in the summer of 2014, they made a major move into a much larger space at SE Clatsop and 17th. Along with more space the Deady's aimed to make the store a "cycle lounge" with beer, music and community events.

Eric Deady posted news about the closing to the shop's Facebook page on January 2nd. Reached via email, Deady told me he's simply ready for a new adventure. "I'm closing mostly because I just have itchy feet," he wrote. "I don't want to stagnate, or get too settled in my career. I'm ready to see what else is out there for me. I'll miss the people, and 'my sanctuary', but I'm ready for a change!"
Deady plans to take a few months off and see where he ends up, which might — or might not — be in the bike industry.
But before then, there's a sale to be had. The Bike Commuter will be open for another month or so until all remaining inventory is gone. Everything in the store is 50 percent off, and pints of local beers are $3 "until the kegs are gone!".
The closing of The Bike Commuter leaves Sellwood Cycle Repair (7953 SE 13th) as the only remaining shop in the area.
— Jonathan Maus, (503) 706-8804 – jonathan@bikeportland.org