Love the shadow.
(Photo: Eric Deady)
Portland's Sellwood neighborhood is on a roll. Their new bike boulevard opened last month (although it's not 100% done yet) and now a new bike shop, Bike Commuter, is set to open this Friday.
Bike Commuter is located at 8315 SE 13th Street, just south of Umatilla, which is the cut-through street for the popular Springwater Corridor Trail
The shop is owned by husband and wife team of Eric and Naihma Deady (pronounced Dee-dee). The Deadys live right around the corner from the shop with their two kids, ages 10 and five months. We caught Eric on the phone this morning between hanging photos and building up bikes in preparation for opening day.
advertisement
Eric, 38, said he's been dreaming of opening a shop for about 20 years. When a perfect space opened up, he finally decided to leave his job as a deckhand for a tugboat company (which he said he "was complaining far too much about") to make that dream a reality.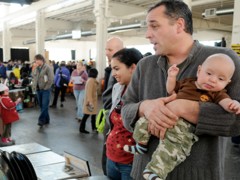 The Deadys at BikeCraft V.
Eric is a former mountain bike racer and graduate of United Bicycle Institute who said he's been the go-to mechanic for his friends and family for years. His goal for Bike Commuter is to "make it a family-friendly, community store." Eric also hopes to, "Empower people and have them start understanding that using a bike is a viable alternative to a car for short trips in most cases."
Bike Commuter has about 1,400 square feet of space (split between an upstairs and downstairs space) and Eric says they'll carry bikes from Raleigh and Washington-based Traitor Cycles and a full selection of racks, bags, lights, and other gear. While in the shop you can also enjoy the awesome bike-inspired stencil paintings of local artist Anthony Baysore, who Eric met at last month's BikeCraft event.
Bike Commuter will be open six days a week (closed Mondays) from 10-7.
The shops joins Sellwood Cycle Repair in helping stoke Sellwood's bike-friendly future. (Eric tells us that Sellwood Cycle owner Erik Tonkin has been "very welcoming and helpful" and that the two are eager to keep the local bike momentum going.)
Bike Commuter Opening Day Celebration
10-7, January 8th
8315 SE 13th St.
More info at PDXBikeCommuter.com