The new project as seen looking north from the corner of Williams and Mason.
(Renderings by Myrhe Group Architects)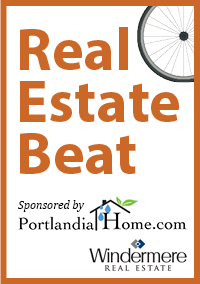 A large lot on inner North Portland's Williams Avenue corridor would become one of the city's biggest new housing-retail projects under a proposal made public last week.
The site between Williams, Vancouver, Mason and Skidmore that currently hosts the Oregon Association of Minority Entrepreneurs and Ethiopian restaurant Dalo's Kitchen would get 268 apartments and townhouse-style units plus, 25,370 square feet of commercial space and what the architect calls a "woonerf" running down the middle of the block: a narrow Dutch-style street that allows cars to pass through but treats them as "guests."
The project is the latest in a building boom that's about to change Williams — nationally known as an example of "bike-oriented development" — in much the way Southeast Division Street has changed in the last year.
"Within two to three years, you're going to have over 1,000 new residents in that stretch, you're going to have 300 office workers," said Stephen Gomez, land use chair of the Boise Neighborhood Association. "Williams is going to be a completely different street."
The planned complex, which will consist of a six-story building along Skidmore, a five-story building along Williams and a three-story building with front stoops facing Vancouver Avenue, would sit on top of a new underground parking garage with 237 auto parking spaces, 185 of them for residents. The other 52 stalls will serve the commercial space, which will be slightly smaller than the 30,000-square-foot New Seasons store built a few blocks away in 2013.
Boise NA president Kay Newell said she's been impressed with the project's supply of auto parking — there'll be enough spaces for two-thirds of apartment dwellers to park a car on site if they choose — and its development team, which approached her and other key neighbors about a year ago, long before they even bought the site.
"They listen to our suggestions, modify them and use whatever they can," Newell said. "I wish that all of the builders had these same standards. … We've got some good developers in the community, but these guys are outstanding."
Gomez agreed, at least as far as this project was concerned.
"They're using for the most part good-quality materials: brick, metal, good window systems," he said. "It's a good project."
A public comment period for the project's design review process began on Friday and continues through March 28.
This is the latest chapter in an interesting story for the block. Donated to the nonprofit OAME by PacifiCorp in 1990, it was sold at approximately market price 15 years later to what Willamette Week described as "a group of the nonprofit's insiders." It continues to serve as OAME's headquarters. City records show the property changed hands again last December, again at approximately market price. The city lists its current owners as a Seattle investment company and SP Williams LLC, an anonymous corporation registered in Delaware.
The townhouse-style units would have front stoops facing Vancouver Avenue.
Here's the project's description of the "woonerf" area, which runs north-south along the route an alley might run if it were a subdivided block:
The interior of the site between the buildings is developed as a shared pedestrian and vehicle space or 'woonerf'. Under Dutch law the term has specific legal meaning, but in North American usage woonerf generally means shared pedestrian and vehicle space with a brick or paving block surface. … A variety of scored and colored concrete paving treatments, as well as raised planters and bollards, help to define the vehicle and pedestrian zones in the woonerf. Six units in the Williams Building face the woonerf at ground level, have attached internal garages, and are identified by the applicant as 'live-make' units that could serve as shared residential/commercial units. The north end of the woonerf includes a large loading stall underneath the overhanging upper floors of the Skidmore Building, which is broken apart at the ground floor 'portal' to provide through woonerf traffic. The western portion of the woonerf is developed as a pedestrian-focused space with stoop access to units in the Vancouver Building, large stormwater planters, and bench seating.
Woonerfs are common in the Netherlands, where they have special legal status that gives people on foot or bike the right of way. Similar designs have been popping up recently in Santa Monica and Seattle. Last summer, a new state law cleared the way for Oregon cities to, if they wish, give people on foot the right of way on residential streets that are less than 18 feet wide.
But whatever its legal status, Newell is enthusiastic about the woonerf area as a way to safely allow occasional loading and unloading while giving people a place to socialize outdoors.
"There'll be one or two commercial spaces that can open up into that space," Newell said. "It'll be like a community courtyard."
— The Real Estate Beat is a weekly column sponsored by real estate broker Lyudmila Leissler of Portlandia Home/Windermere Real Estate. Let Mila help you find the best bike-friendly home.
Michael Andersen was news editor of BikePortland.org from 2013 to 2016 and still pops up occasionally.