Will race promoters suffer from the
allure of the open (gravel) road?
(Photos: J. Maus unless otherwise noted)
As we wrote this time last year, predictions are for suckers.
It's way cooler (and much safer, if anybody happens to look back with hindsight) to list the things you don't know yet. So, once again, we've done our best to anticipate the questions that'll shape Portland's next year of biking news.
Are we asking the right ones? Which have we forgotten? Add your own in the comments. Or, if you're a daredevil, try laying down some answers in advance.
City politics and funding
Will any of the holdouts on Portland's city council — Dan Saltzman, Nick Fish or Amanda Fritz — join Mayor Hales and Commissioner Novick to approve a relatively flat transportation income tax in the early weeks of 2015? If so, how well-funded will the opponents be — and will they get the 20,897 signatures required to send the issue to voters?
Will the City of Portland's neighborhood parking stakeholder committee settle on a plan this spring to redesign the city's paid parking permit system? Will it recommend that the proceeds go to PBOT's general fund, or be set aside for neighborhood-specific improvements?
Will Mayor Charlie Hales have a credible challenger for the 2016 election by the end of this year? If so, what issues will he or she choose to run against? What about Transportation Commissioner Steve Novick?
Fun on bikes
Tilikum Crossing will open in August, with Providence
Bridge Pedal participants getting the first ride.
(Photo:
Will Vanlue
)
Will 2015 be the year that Portland finally gets some local single track for mountain biking? Two major possibilities are the Forest Park area and Riverview property — both of which are stalled due to politics and other complications.
Will someone figure out how to create a BB-8 costume for this June's Star Wars vs. Star Trek ride?
Will the new Tilikum Crossing Bridge live up to the hype after its big debut in the Bridge Pedal ride in August?
Will unsanctioned gravel and adventure riding continue its huge growth and lure riders away from competitive racing events?
Will the Grand Prix of Portland find the sponsors it needs to bring a high-profile professional bike race to our streets in August?
Street projects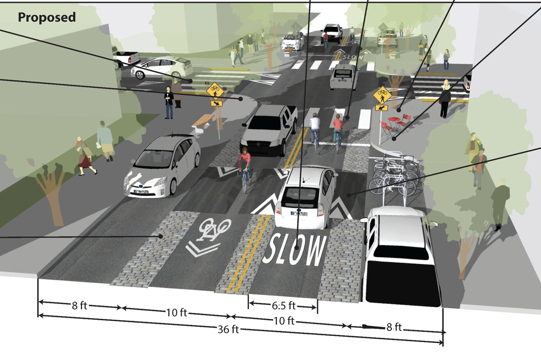 Could a new type of American street rise from
the ashes of the 20s Bikeway?
(Rendering: Kirk Paulsen, Nick Falbo, Brian Davis)
Will Union Pacific Railroad and the City of Portland finally strike a firm deal on a legal railyard bike route between Swan Island and the Rose Quarter area, in time for Daimler Trucks North America to expand its workforce in 2016?
Will Old Town create a local business district that could pay for a permanent redesign of 3rd Avenue? Will the result include a protected bike lane, or just a pedestrian plaza?
Will property and business owners on 28th Avenue find common ground with bike advocates over a proposed "commercial greenway" on 28th Avenue?
Will the city keep making changes to the troubled redesign of North Williams? Will it also avoid an organized backlash from bike lane opponents?
Now that ODOT's own study has shown big advantages of adding continuous bike lanes to Barbur Boulevard, will the agency prioritize improvements? Will state legislators or other officials apply pressure from Salem?
Will Washington County agree to build its first modern protected bike lane on Merlo Road near Nike? Will it be contagious?
Will a firm plan for a top-notch bikeway on Southwest, Northwest, North and Northeast Broadway finally get the city's first world-class on-street bike route (not a project, but a complete A-to-B route) underway?
State politics and funding
Will a grand alliance of transportation interests (including gas stations) convince Oregon's legislature to hike its gas tax?
If so, will the projections for future gas consumption be revised downward, the way that Washington state's newly cautious projections were?
Will the package include a surcharge that would pay for state-owned city streets like 82nd Avenue or North Lombard to finally be transferred to local control?
Public strategies and priorities
Is there room for bikes on SE Powell?
What will Portland's survey of neighborhood greenway data reveal about their usage? Will the results be seen as a sign that it's more important to rapidly expand the network, or to improve the existing routes?
Will the Portland Police Bureau finally get serious about bike theft by developing an internal program to address the issue?
How much staff time will the City of Portland allocate in fiscal year 2016 to its half-funded but seemingly back-burnered bike share project?
What will the Portland Bureau of Transportation's two-year work plan — the one that's supposed to have a road map to a Vision Zero policy — look like?
Will early plans for TriMet's Powell-Division bus rapid transit project preserve any space for bike lanes? How much?
Private services and economics
Lents finally got a new bike shop in 2014. Will any follow its lead where local shops are needed even more: east of Interstate 205?
What regulations will Portland manage to put on Uber-style companies before the ride-hailing service launches permanently in April?
Will Uber's Portland fleet include the bike racks being piloted in Seattle?
With a new corporate team in charge of Alta Bicycle Share, will the mystery sponsor that got cold feet last spring and killed Portland's impending bike share launch return to the table in order to get its name on the system?
Will gas prices keep falling? If they do, will the number of miles driven by the average Oregonian climb for the first time since 1999?
Land use and development
The Lloyd District could become a heart of
Portland biking culture if a few things go right.
(Rendering: GBD Architects)
When the 657-apartment Hassalo on Eighth project in the Lloyd District opens for leases, will it fill up as quickly as the rest of the city's low-car apartment projects have? Will it land the grocery store that would truly transform the Lloyd?
Once the new bridge links the South Waterfront and inner Division, will SoWa's Zidell family find a development project that looks lucrative enough to sell off their barge business? Will Fred Meyer pull the trigger on a long-planned small grocery store in the South Waterfront?
Will anti-demolition advocates find a way to reduce demolish-and-rebuild projects in central Portland without also blocking density increases?
Will the City of Portland's building boom keep outpacing Washington County's, or will the suburbs catch up?
And finally:
Is somebody going to call in a code violation on the "Keep Portland Weird" mural, or what?