The corner of Southeast Ankeny at 15th, midafternoon on Tuesday. The Imago Dei church is on the left.
(Photo: M.Andersen/BikePortland)
One of the city's first bike boulevards may be on its way to a quick upgrade.
Southeast Ankeny Street would get additional speed bumps and a new diagonal traffic diverter at 15th under a plan advanced by advocacy group BikeLoudPDX, endorsed by Portland Bicycle Planning Coordinator Roger Geller and tentatively backed by the Buckman Community Association.
The plan came together quickly this fall after Buckman-area residents who are active in BikeLoudPDX set a goal of winning BCA's endorsement of a new traffic diverter between 12th and 20th avenues. Restricting traffic in that stretch would prevent people from driving on Ankeny to avoid the Burnside-Couch couplet during the morning rush hour.
"In the morning rush hour, if you stand at the intersection of 16th and Ankeny, not far from Buckman Elementary, you'll see lots of cars whipping a left turn off Burnside, often at a high rate of speed," wrote Chris Shaffer, a BikeLoud advocate and Buckman homeowner, in a September email to the BCA explaining the problem. "They turn right on Ankeny westbound, heading toward Sandy Boulevard or 11th and points south."
With the help of letters like Shaffer's, another BikeLoud advocate and local resident, Soren Impey, secured a spot on the BCA's agenda that month and presented city traffic data that showed the problem.
Impey, who works as a professor at Oregon Health and Science University, said there was "some skepticism" at first by some BCA board members, but that the BCA board also includes some biking advocates and many who worry about safety on Ankeny in general.
Skepticism seemed to dissipate, Impey said, once residents saw that city data showed rising traffic even before this year's removal of a westbound travel lane on East Burnside in order to reduce crashes there.
The following month, Geller (who is himself a Buckman resident) attended the BCA meeting with more data. Below are some of the charts Geller presented.
Here are two that compare traffic on patterns on Ankeny in 1997 and 2013. Note the pink line that represents westbound traffic east of 14th — there's been a huge spike during the morning rush hour, just as Shaffer described.
Here's a chart of which road segments see the most cars and trucks (here described as vehicles per day or VPD):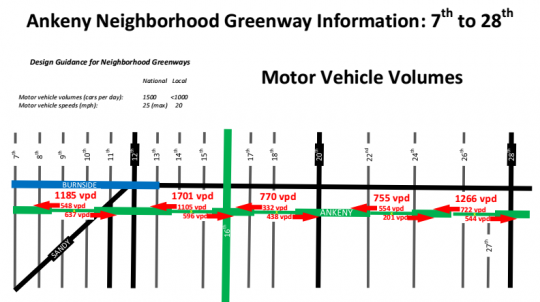 And here's how fast they're moving at the 85th percentile (in other words, 15 percent of cars are moving faster than these speeds):
Geller said the street is currently engineered to be driven at 25 mph. Adding a few more speed bumps would bring this down to 20 mph.
A person hit by a car that's moving at 30 mph has a 40 percent chance of dying. At 20 mph, that falls to 5 percent.
In the morning rush hour on Ankeny at 15th, 80 percent of all westbound vehicles in October 2014 were bicycles. For the full day, the figure is 68 percent. Among Buckman residents, about one in five workers commutes by bike, according to the U.S. Census.
After Geller's presentation, the BCA wrote him a letter saying that traffic volumes and speeds are both "too high" on parts of the Ankeny greenway. BCA endorsed "advancing the idea" of a diverter at 15th and Ankeny so long as the city conducts adequate outreach to neighbors and businesses.
Geller said Monday that a diverter-speed bump project would cost about $30,000 from the city's general neighborhood greenway improvement fund and the city's "missing links" capital improvement fund. In an email to Impey, he wrote that he expects to start working on the project in February and make the changes this spring.
The amount of outreach and planning required "depends on what we hear from the public," Geller said Monday. "If people are generally supportive of what we're doing it could be one meeting. If people are more concerned about things … it probably would take a couple months."
It's worth noting that this intersection becomes a major destination in its own right on one day of the week: Sunday. The southeast corner is the Imago Dei church, a thriving, young and relatively politically conservative congregation that (despite having been described on Beliefnet.com as "so cool, you'd think Jesus Himself shopped at American Apparel") arrives overwhelmingly by car.
Impey said Tuesday that BikeLoud is planning to do its own outreach on the project, including to local businesses.
"It seems like pretty much if the public outreach is moderately favorable, it's going to happen," he said.
He hopes that if this work is completed by spring, it'll serve as a test case for future neighborhood greenway upgrades that the city has begun to study.
If you'd like to get involved with BikeLoud's effort, contact him: sorenimpey@gmail.com.
Impey said he was motivated by frustration with the failure of the 20s bikeway project to create a direct biking connection through his neighborhood's main commercial node.
"I was just really annoyed with what happened with 28th, so I wanted to do something to help," he said.
Michael Andersen was news editor of BikePortland.org from 2013 to 2016 and still pops up occasionally.