Inspired by the changes on NE Multnomah in the Lloyd District, a new proposal would transform SW 2nd and 3rd avenues.
(Photo by J. Maus/BikePortland)
A coalition of 30 Old Town bars, restaurants and entertainment venues is proposing adding a quarter-mile of planter-protected bike lanes and street cafe seating to 2nd and/or 3rd avenues.
Inspired by nearby projects on SW Ankeny and NE Multnomah, the six-month-old Old Town Hospitality Group sees their experimental road diet concept, which could narrow the streets' car-oriented area from three travel lanes to one or two and might remove some on-street auto parking, as a way to make the neighborhood safer, more comfortable and better to do business in.
Dan Lenzen, owner of the Dixie Tavern at NW Couch and 3rd ("Downtown's biggest party every Fri & Sat night"), said the recently redesigned Multnomah Street, which converted two general travel lanes to planter-protected bike lanes, is "our model."
"I love that thing," Lenzen said. "When I ran into that I was like, 'Wow, this is an awesome multi-use street.'"
The proposal (see it below) is one of a buffet of proposed changes motivated by the anticipated end, this fall, of a different program that has closed Old Town's entertainment district to all vehicle traffic late on weekend nights. If successful, the new plan could create a comfortable new bike route that might one day link the Steel and Hawthorne bridges. It'd also be consistent with early versions of the city's West Quadrant Plan, which has discussed designating both 2nd and 3rd avenues as all-ages bike routes through Old Town.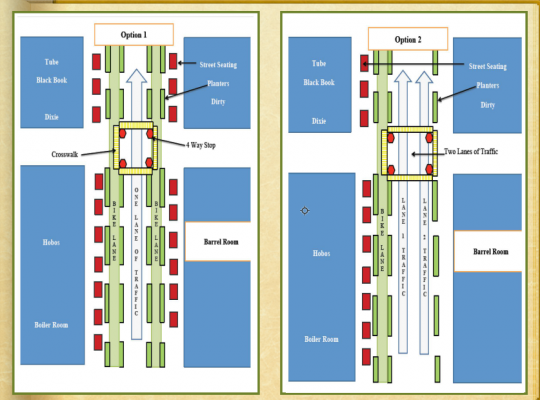 Above and below: three concept sketches by the Old Town Hospitality Group for a redesigned NW 3rd Avenue near Couch Street. On these maps, south is up. Click to enlarge.
Howard Weiner, chair of the Old Town Chinatown Community Association, supports the idea, which is seen as stretching from NW Glisan to SW Pine. He, too, thinks making the area less car-oriented could be good for business.
"I remember when they said they were closing down Ankeny and I was like, 'Who cares? It's an alley,'" said Weiner, who also owns Cal Skate Skateboards at NW 6th and Davis. "Now look at it. It's thriving."
Howard Weiner on SW 3rd earlier today.
Weiner said the concept is in "very, very preliminary conversations" with the city and others. But he's enthusiastic.
"We will be turning in recommendations in September or October" to Mayor Charlie Hales' office, Weiner said.
Both the new hospitality group that Lenzen helps organize and the broader community association that Weiner leads are somewhat dissatisfied with the current situation in Old Town every weekend: police-enforced barricades on Friday and Saturday nights that block all car and bike traffic in a six-block area that includes eight late-night clubs, bars and event spaces.
Both Lenzen and Weiner said that operation has successfully reduced conflicts between people walking and driving, but that patrons have complained about the heavy police presence, the frequent need to tow cars from the area and the difficulty of navigating the barricades.
Instead, businesses are looking for a "24-hour solution" that would calm traffic permanently rather than banning it two nights a week.
A planter-protected bike lane in Vancouver BC might have some similar elements to the concept floated by the Old Town Hospitality Group.
(Photo: M.Andersen)
Lenzen thinks that using protected bike lanes and street seating to narrow the wide pavement on 2nd and 3rd streets would do the trick. Meanwhile, the bike lanes would make it easier for people to get north and south across Burnside, a longtime goal of local businesses, and converting auto parking spaces to street seating would let more restaurants offer outdoor cafe seating.
He thinks businesses would be happy to cover the maintenance cost for planters that might separate bike and car traffic.
"I think we've got a heck of an opportunity to beautify that area," he said. "I would buy a planter myself."
Lenzen said he's proud of the amount of consensus that's emerged for the idea so far among Old Town hospitality businesses.
"It's a start, and we're going to keep on fine-tuning this thing," he said. "And I'm going to lead the charge and try to manage the speeding train."