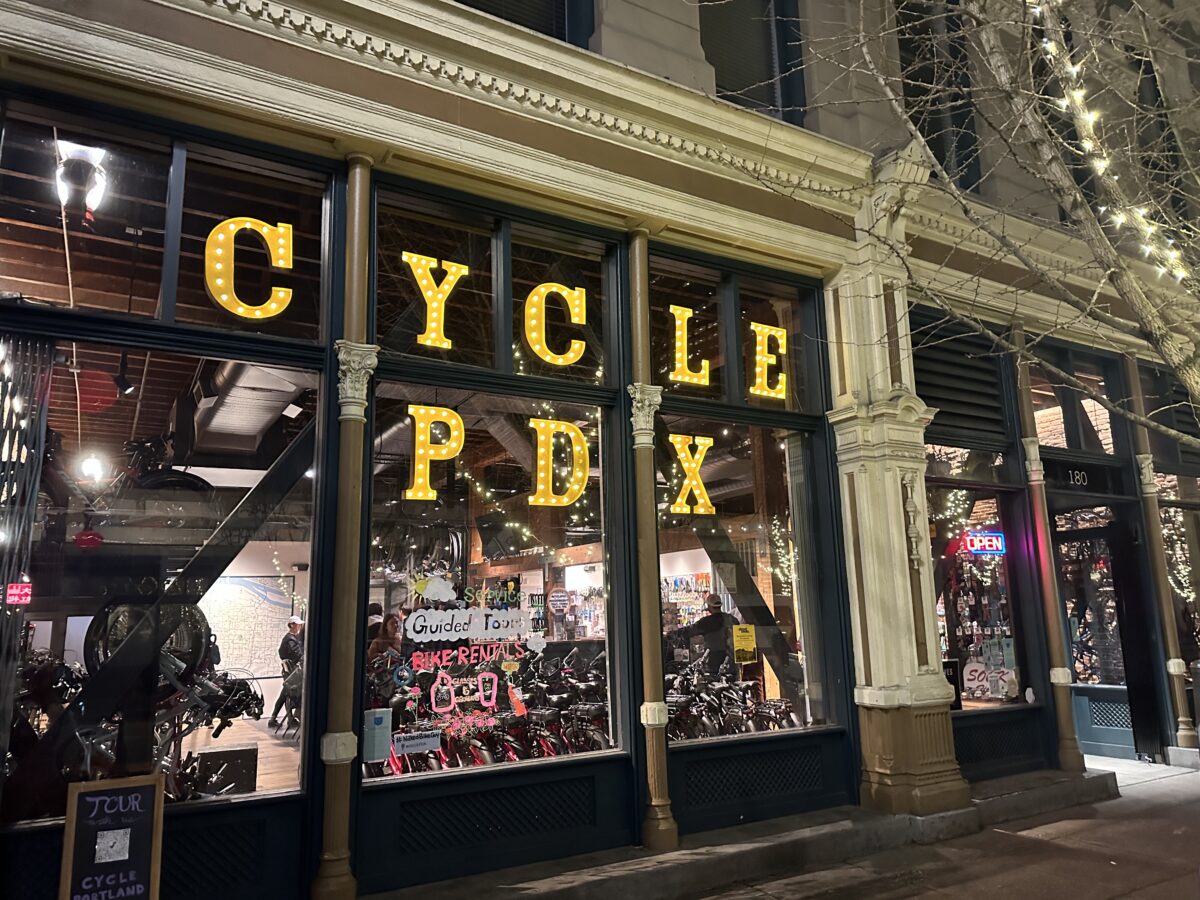 Cycle Portland has been a local staple for rental bikes and tours since 2007. Now, almost three years after shop ownership changed hands, Cycle Portland has moved just around the corner from its former location on NW 2nd into a new, more spacious Old Town spot — and the owners have exciting plans for how they're going to utilize it.
The new shop is on the corner of NW 3rd and Davis in a space that formerly housed a Starbucks. It's bright and airy inside, with plenty of room for a large assortment of rental bikes and a service shop in the back. Co-owners James, Kurt, and Renee — who bought the shop from founder Evan Ross in 2020 — have done a great job of making the place their own, but there's still a cafe feel to the space giving it a unique, inviting atmosphere.
This is exactly what the owners want. At a grand reopening party in February, co-owner James Kelly told me he hopes the shop can become more than just a bike rental facility — he wants it to be an event space where people come to watch bike races or just to socialize while getting their bike tuned up.
"Ideally, people can come watch the Tour de France, or we would just host cool bike-related events," Kelly said. "Ever since Velo Cult closed, there hasn't really been a spot like that. We won't be able to take up everything they did, but that's kind of what we want to do."
Much of the work Cycle Portland does revolves around bike tours and rentals for people visiting from out of town. They have a variety of bikes for people to rent and have come up with multiple different tour routes to showcase our city by bike. It's a big responsibility to guide someone's first time biking in Portland, and Cycle Portland offers a much more personal approach to bike rental than you could get from just downloading the Biketown app and taking off by yourself.
"We envision a future where our city is the most sustainable destination to live or visit in the country. We believe one of the most positive impacts a visitor can have in our region is choosing the bicycle over a car while here," Cycle Portland's website says. "Local businesses and residents will be thankful to see visitors choosing to cycle as part of their trip."
It was clear from the energy at the re-opening party that Cycle Portland means a lot to people. The shop was buzzing with longtime friends and current and former staff who oohed and ahhed at the roomier facilities and chatted excitedly about future opportunities as shop dog Baikal roamed the floor.
Be sure to check out the new location — even if you don't need to rent a bike or get yours serviced, you can partake in a glass of wine or draft beer and browse the wall of funky socks or just sit and chat. I'd love to see this spot become a watering hole for tourists and locals alike to share stories and tricks of the trade, so I'm very eager to see what's next to come for Cycle Portland.