Posted by Jonathan Maus (Publisher/Editor) on March 7th, 2014 at 10:42 am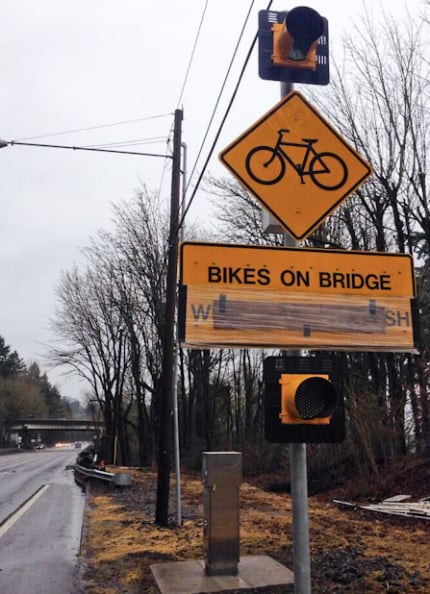 -NOTE: The signs will be turned on Thursday, 3/13-
Looking to improve the quality of bicycle access on a controversial and deadly stretch of SW Barbur Boulevard, the Oregon Department of Transportation will turn on four new "bicycle warning beacons" next week (they were first proposed last spring). ODOT says the new flashing signs will be the first of their type ever used in Oregon.

The signs will be placed at each end of the Newbury Street and Vermont Street bridges and will activate automatically as people on bicycles roll past sensors embedded in the pavement. ODOT is pouring $5 million into rehabilitating these two bridges and these bicycle signs are the result of public input on that project. ODOT's Public Information Officer Don Hamilton says the four signs cost the agency $180,000.
When ODOT first announced the bridge project, concerned users of SW Barbur Blvd implored them to use the opportunity to put the large arterial on a "road diet" and add a dedicated bikeway. Barbur, a potentially perfect bicycling connection between southwest and downtown Portland, currently has just a standard bike lane that abruptly drops at the two bridges, placing bicycle riders directly in a lane shared with fast-moving traffic.
Despite pressure from citizen activists and advocacy groups — including the Bicycle Transportation Alliance — ODOT and Portland Bureau of Transportation Commissioner Steve Novick have opted to delay any major changes on Barbur for now.
While a major re-design of Barbur isn't on the table, ODOT says these signs will increase safety. Here's more from them via a statement they'll send out later today:
When the beacons are activated, motorists will be alerted to bicyclists on the bridges and can then make appropriate driving decisions, such as slowing down or changing lanes. Cyclists will still need to use caution and watch for a gap in traffic before safely moving into the traffic lane.

Here are the features:

• The signs increase awareness by drawing the attention of motorists to bicyclists in the right lane.
• No stopping is required. The signs are activated by an automatic sensor.
• The signs will be located prior to the bridges in each direction.
We'll see how the signs perform once they're up and running. If you ride on Barbur, please drop us a line and tell us how the signs change your experience.
— Browse our past coverage of SW Barbur Blvd here.
Jonathan Maus is BikePortland's editor, publisher and founder. Contact him at @jonathan_maus on Twitter, via email at maus.jonathan@gmail.com, or phone/text at 503-706-8804. Also, if you read and appreciate this site, please become a supporter.