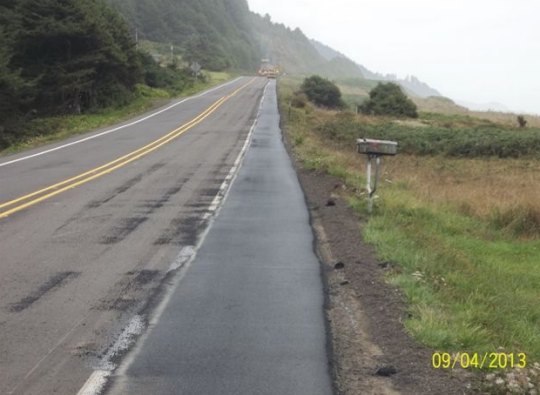 ODOT image of fresh pavement on shoulder of Highway 101 south of Florence.
(Photos: ODOT)
In the latest twist to the ongoing saga of the Oregon Department of Transportation's (ODOT) problematic paving job on Highway 101, a regional manager announced today that they've already made significant progress in making it better.
As we first reported last month, ODOT came under fire after a Portland man (who also happens to have over 30 years experience at the Portland Bureau of Transportation's bike program) raised alarms about dangerous paving on the Oregon Coast Bike Route. In order to cut costs on a repaving job south of Florence, ODOT contractors placed a new layer of pavement just a foot or two over the fog line. The new layer of pavement left a ledge smack dab in the middle of the shoulder where people ride bicycles on the popular touring route. After a bit of digging, we learned via ODOT Region 2 Manager Sonny Chickering that this repaving job was done in 2011 after a new policy went into place outlawing the practice. That new policy went into place specifically as a bike safety measure.

This morning, Chickering offered another update via email to make good on his promise to fix the situation after the "regrettable" oversight.
Here's the salient excerpt from Chickering's email:
"I am pleased to report that we have made significant progress regarding the shoulder paving issue on US 101 in Lane County. [ODOT District 5 Manager David]Warren has rapidly assembled a crew composed of this Region's most skilled employees and equipment, supplemented with machinery and…and in a single day [September 4th] of construction, they were able to repave about half of the shoulder identified as nonconforming."
Chickering added that they should be able to complete the rest of the shoulder paving work in a single day. Unfortunately, the weather has been a bit wet on the coast so he said they hope to get it finished by September 13th.
It's nice to see such quick and capable action on Highway 101; but as we pointed out last month, this problematic paving practice has occurred on state highways throughout Oregon. We hope Chickering's story spreads around the agency so these shoulders can all be brought up to current paving standards.
If you have questions or feedback about this site or my work, feel free to contact me at @jonathan_maus on Twitter, via email at maus.jonathan@gmail.com, or phone/text at 503-706-8804. Also, if you read and appreciate this site, please become a supporter.