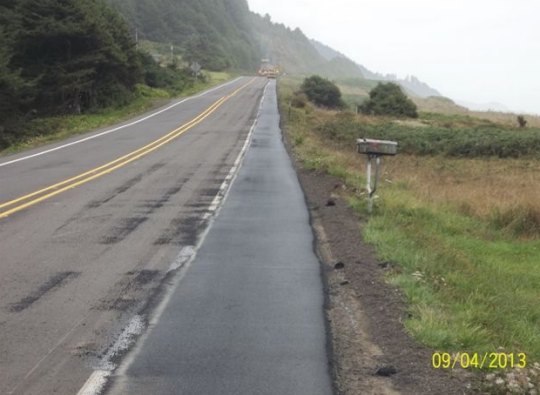 ODOT image of fresh pavement on shoulder of Highway 101 south of Florence.
(Photos: ODOT)
In the latest twist to the ongoing saga of the Oregon Department of Transportation's (ODOT) problematic paving job on Highway 101, a regional manager announced today that they've already made significant progress in making it better.
As we first reported last month, ODOT came under fire after a Portland man (who also happens to have over 30 years experience at the Portland Bureau of Transportation's bike program) raised alarms about dangerous paving on the Oregon Coast Bike Route. In order to cut costs on a repaving job south of Florence, ODOT contractors placed a new layer of pavement just a foot or two over the fog line. The new layer of pavement left a ledge smack dab in the middle of the shoulder where people ride bicycles on the popular touring route. After a bit of digging, we learned via ODOT Region 2 Manager Sonny Chickering that this repaving job was done in 2011 after a new policy went into place outlawing the practice. That new policy went into place specifically as a bike safety measure.